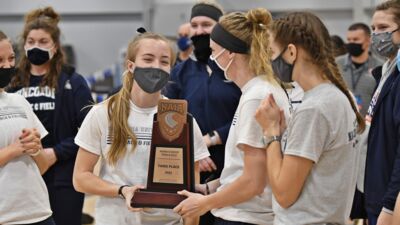 MEN
Head Coach: Matt Beisel (6th year)
2021 Indoor Finishes: 3rd (GPAC); 12th (NAIA)
2021 Outdoor Finishes: 4th (GPAC); T-28th (NAIA)
2021 All-Americans returning (indoor/outdoor): Zach Bennetts, Chase Berry, Jacob Jennings, Cade Kleckner, Wyatt Loga, Colton Meyer, Chris Wren.
2021 All-Americans lost (indoor/outdoor): *Jacob Cornelio, Cody Williams.
2021 Indoor National Qualifiers returning: Zach Bennetts, Chase Berry, Jacob Jennings, Cade Kleckner, Wyatt Loga, Maccoy Menke, Colton Meyer, Calvin Rohde, Camden Sesna, Chris Wren, Zach Zohner.
*National Champion
--NOTE: list of national qualifiers includes athletes who traveled to the 2021 NAIA indoor meet.
WOMEN
Head Coach: Matt Beisel (6th year)
2021 Indoor Finishes: 1st (GPAC); 3rd (NAIA)
2021 Outdoor Finishes: 1st (GPAC); 3rd (NAIA)
2021 All-Americans returning (indoor/outdoor): Jordyn Anderson, *Rachel Battershell, Keri Bauer, Morgan De Jong, Rylee Haecker, Kylahn Heritage, Sarah Huss, Mackenzie Koepke, Sarah Lewis, Elle Luehr, Erin Mapson, Jacee Pfeifer, *Josie Puelz, Sarah Ragland, Grace Reiman, Amy Richert.
2021 All-Americans lost (indoor/outdoor): Emily Loy, Kennedy Mogul, Sydni Schernikau, *Addie Shaw, *Liz Stottlemyre.
2021 Indoor National Qualifiers returning: Rachel Battershell, Keri Bauer, Jamey Broman, Oliva Buschow, Amira Cummings, Morgan De Jong, Abby Gerber, Rylee Haecker, Kylahn Heritage, Sarah Lewis, Elle Luehr, Erin Mapson, Jacee Pfeifer, Josie Puelz, Sarah Ragland, Grace Reiman, Amy Richert, Katie Severt, Lainey Werts.
*Past National Champion
--NOTE: list of national qualifiers includes athletes who traveled to the 2021 NAIA indoor meet.
Outlook
It's meet week for the perennially strong Concordia University Track & Field programs, which are getting set to host the Concordia Early Bird meet. The women's program has rattled off a string of five-straight GPAC titles while consistently earning top 10 finishes at the national championships. On the men's side, the Bulldogs are making strides towards claiming a banner of their own. Head Coach Matt Beisel enters his sixth season as leader of the Bulldogs.
Between the men's and women's teams, Concordia returns 22 athletes who garnered All-America awards at the 2021 indoor and/or outdoor national meets. More significant than that, the Bulldogs like where they're at in terms of building a program that not only competes at a high level, but also represents what it means to be a Concordia student-athlete.
Said Beisel, "The type of kid who says 'yes' to Concordia Track & Field typically is the kind of kid who cares more about other people than themselves. They're not all inwardly focused and about themselves. I think organically that creates a great team dynamic. Most of these kids have a strong faith background. I love the fact that they make it a priority to do Bible studies together, to go to chapel together and go to Praise together outside of practice. It helps cement those relationships and those friendships. When you bring all that to competition, suddenly really great chemistry happens. That ends up helping us competitively."
Women
The Concordia women spent most of the 2021 outdoor season ranked No. 1 in the NAIA by the U.S. Track & Field and Cross Country Coaches Association. While the Bulldogs came up short of winning their first team national title since 2016, they can look back at the 2021 indoor and outdoor campaigns and consider them a resounding success. Concordia continued its reign atop the GPAC and placed third nationally for both indoor and outdoor.
The Bulldogs have said goodbye to two past national champions (Addie Shaw and Liz Stottlemyre) from last year's outdoor roster but return a pair of athletes that have already put themselves among the program's all-time greats – national champs Rachel Battershell and Josie Puelz. Plus, there's plenty of depth to go with them.
"I feel like we're in a good position," Beisel said. "We did graduate some heavy hitters, but at the same time, we're returning other really talented, accomplished athletes, and we have some freshmen and transfers coming in who I think will be immediate contributors. You really can't tell what's going to happen between now and indoor nationals and now and May, but I'm really hopeful on both sides that we're going to be able to continue to compete for a conference title and place really well at nationals."
Beisel is now a six-time GPAC Coach of the Year while having helped build the women's program into a power, along with longtime assistant coaches Ed McLaughlin, Mark Samuels and Jason Berry. New to the staff last season, Benjamin Hinckfoot rounds out the group of full-time coaches. Success not only comes from Concordia's ability to develop national champions, but also in its blossoming of athletes in all event groupings. The Bulldogs wound up with 34 all-conference individuals at the 2021 indoor conference meet.
It makes sense to begin the discussion with Battershell and Puelz, two names that litter the program record books. Battershell repeated as the NAIA indoor 400-meter national champion while Puelz accomplished the rare feat of sweeping NAIA pole vault national titles. The incredible Battershell is an eight-time All-American who is frequently pushed by good friend Sarah Lewis (six-time All-American) in the 400 meter and hurdle events. Stars like Battershell, Lewis and Puelz are each model student-athletes and play a big role in what makes the program special.
"I'm constantly amazed by the dedication of my teammates and the positivity," Puelz said. "I'm always so grateful for it. We have people who show grit and power through difficult things. Little pieces at a time are what makes the difference over time. People like Sarah Lewis, Rachel Battershell and Hannah Mulligan – there are so many people that make you want to be a better person and a better athlete. I think that's what is unique about our women's team – how positive and encouraging and inspiring each of them are. It helps us grow as a team and be better teammates. We get to see that pay off in things like championships at GPAC and nationals, all that good stuff."
Puelz leads a strong group of vaulters that includes four-time All-American Erin Mapson and returning national qualifier Amira Cummings. On the track, Battershell and Lewis are joined by fellow All-Americans in Keri Bauer (4x400m relay), Rylee Haecker (1,000m; DMR), Kylahn Heritage (DMR), Jacee Pfeifer (4x400m relay) and Grace Reiman (DMR). Haecker recently qualified for nationals in cross country. Considering the depth, the Bulldogs should put together one of the nation's top 4x4's once again.
The throws are always a strength at Concordia. No one individual can replace Addie Shaw, an 11-time All-American and two-time discus national champion. However, both Elle Luehr (shot put) and Sarah Ragland (weight throw) garnered All-America awards at last season's indoor national meet. The Bulldogs also bring back All-American throwers in Jordyn Anderson, Morgan De Jong and Sarah Huss and national qualifiers Olivia Buschow and Abby Gerber while continuing to develop younger long-tossers on their way up. De Jong is the reigning GPAC weight throw champion.
As a multi-event athlete, Amy Richert is a budding star who earned outdoor All-America awards last season in both the heptathlon and high jump as a freshman. The Gresham, Neb., native has the ability to break program multi-event records and rise up the national ranks. Hinckfoot has a deep jumps group to work with that also includes national qualifiers in Jamey Broman and Katie Severt. Meanwhile, Cora Olson is looking to get back to nationals. Olson is often one of the team's top point scorers at the conference meet with her ability to place highly in a large number of sprint and jumps events. Also a member of the basketball team, Mackenzie Koepke was an outdoor All-American in the high jump.
There are many others who figure to contribute to Concordia's bid for more GPAC titles. Said Beisel, "From a women's side, I think we're in great shape to repeat another indoor and outdoor title. Then with nationals, we ended up a little short. We thought we could win a title and we ended up in third for both indoor and outdoor. We learned some lessons from that. What we're doing now is focusing on the here and now and taking it a week at a time. We have to handle it a piece and a step at a time and not overthink it."
Men
The Concordia men are hoping to close the gap near the top of the GPAC and win the program's first conference title since the 2015 GPAC outdoor meet. The Bulldogs turned in 2021 GPAC placements of third for indoor and fourth for outdoor. Among the highlights from a year ago, Concordia finished 12th in the NAIA at the indoor national meet. Seven athletes who earned 2021 All-America awards are back in the fold, helping lessen the blow of the departures of past stars in Jacob Cornelio (two-time national champion) and Cody Williams.
Without Cornelio, Beisel hopes new national title contenders will emerge. A major strength will be the team's depth of runners in the 400 meters.
"We work just as hard to recruit and develop the guys," Beisel said. "We've come up a little short in the conference. We haven't won a conference title since I've come here, but not because we haven't done everything we can. Doane has just stayed a step ahead of us and congratulations to their staff for doing a great job. We always want to be top three and we really want to win. The question is how long will that take to happen? Hopefully this year."
Returners in Jacob Jennings, Cade Kleckner and Colton Meyer each contributed to an All-America finish in the indoor 4x400 meter relay last season. Jennings and Kleckner both transitioned nicely to the track after having begun their Concordia careers in other sports. Kleckner progressed throughout indoor and outdoor season and made his way to outdoor nationals in the 200 meters. He also teamed up with Jennings, Meyer and Joel Rathe on a GPAC championship winning outdoor 4x100 meter relay. Adding to this group is the addition of transfer Mark Cooke, who has the talent to rewrite school records.
The Bulldogs will also benefit greatly from the healthy return of Xavier Ross, a Chicago-area native who raced to 2020 indoor All-America status in the 400 meters. With Ross back in the fold, it will be a challenging task just to figure out the best combination of four runners for the team's 4x4.
Said Kleckner, "We now have that confidence. I wouldn't say we were lacking confidence at the beginning of last year, we just weren't sure where we stood among other teams in the country and other teams in our conference. We return three of the four guys on our 4x4 relay and we have Xavier Ross coming back. We're deep in the 400 now – I think that was part of the problem last year. We had some injuries that bogged us down a little bit. As long as we have a healthy year, we can go above and beyond what we did last year. I think we can repeat as All-Americans indoor and be in a good spot to be All-Americans outdoor as well."
Watch out for the pole vault group, which gets a major boost from former Doane star Tyce Hruza, the 2020 NAIA indoor national runner up as a freshman. Hruza adds to what was already a talented bunch, featuring past All-Americans in Zach Bennetts and Chase Berry as well as national qualifier Zach Zohner.
Based on last season, Chris Wren (weight throw All-American) may take over as the new leader of the throws group. A young bunch progressed steadily during an outdoor season that saw Wren qualify for nationals along with Andy Amos, Dagne' Buck and Ben Moll. Freshmen like Connor Asche also figure to make an impact.
Elsewhere on the track, the distance crew believes it can contribute in a significant way. Both Calvin Rohde and Camden Sesna were all-conference honorees in cross country and national qualifiers. Freshman Sam Plante has the potential to make his mark as well. Beisel believes the pieces are there for a much stronger for 4x800 meter relay this winter. As for the jumps, Wyatt Loga garnered All-America status last season in the high jump while Cade Lutz was an all-conference performer in the triple jump.
The hope is that it all adds up to improved results. Said Beisel, "I see some really cool things happening. We do testing a couple of times during the fall with things like standing long jump and shot put. We saw phenomenal marks not only from our returning athletes but also from a great freshman class that came in this year. We had a lot of good things happen and we're excited about what the distance and mid-distance athletes can contribute at the conference and national levels."
Added Kleckner, "We have all the pieces to go far. As long as we compete to our ability, we're going to show the country what we can do."
In closing
The standing goals for the program are to compete for GPAC and NAIA national titles every season. The pursuit begins this weekend as the Bulldogs host the Concordia Early Bird Meet (Dec. 10-11).
Says Beisel of the program goals, "Win conference, win nationals – it's pretty simple. It doesn't mean we'll get it, but that's what every ounce of our effort goes towards – in recruiting, in developing these kids and all the work we do leading up to it. As a staff and as a program, we always want to be in a position to win national titles and to win conference titles. Our women have had success on the conference side the last five times we've done it. There are great teams in the conference that really challenge us, so there's nothing ever guaranteed. We're in a great position."