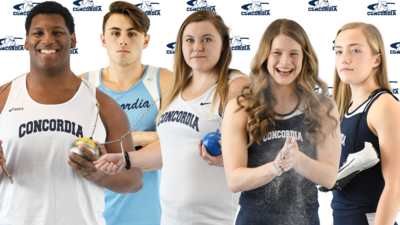 MEN
Head Coach: Matt Beisel (5th year)
2021 Indoor Finishes: 3rd (GPAC); 12th (NAIA)
2019 Outdoor Finishes: 3rd (GPAC); 31st (NAIA)
2021 Indoor All-Americans: Zach Bennetts (pole vault); Chase Berry (pole vault); Jacob Jennings (4x400m relay); Cade Kleckner (4x400m relay); Wyatt Loga (high jump); Colton Meyer (4x400m relay); Henry Reimer (4x400m relay); Cody Williams (heptathlon); Chris Wren (weight throw).
NOTE: Due to COVID-19, the NAIA did not hold an outdoor national championship in 2020. Current Bulldogs who earned All-American awards at the 2019 NAIA outdoor national meet are Jacob Cornelio (hammer throw) and Christian Van Cleave (4x800m relay).
WOMEN
Head Coach: Matt Beisel (5th year)
2021 Indoor Finishes: 1st (GPAC); 3rd (NAIA)
2019 Outdoor Finishes: 1st (GPAC); 5th (NAIA)
2021 Indoor All-Americans: Rachel Battershell (*400 meters; 4x400m relay); Keri Bauer (4x400m relay); Morgan De Jong (weight throw); Rylee Haecker (distance medley relay; 1,000 meters); Kylahn Heritage (distance medley relay); Sarah Lewis (4x400m relay); Elle Luehr (shot put); Erin Mapson (pole vault); Kennedy Mogul (distance medley relay); Josie Puelz (*pole vault); Sarah Ragland (weight throw); Grace Reiman (distance medley relay); Sydni Schernikau (4x400m relay).
NOTE: Due to COVID-19, the NAIA did not hold an outdoor national championship in 2020. Current Bulldogs who earned All-America awards at the 2019 NAIA outdoor national meet are Rachel Battershell (4x400m relay), Sarah Lewis (4x400m relay), Erin Mapson (pole vault), Jacee Pfeifer (4x400m relay) and Addie Shaw (discus and hammer throw). Shaw is a two-time discus national champion.
*National Champion
Outlook
After a year hiatus due to the COVID-19 pandemic, outdoor track and field is back. That's something to be thankful for as Head Coach Matt Beisel's program ramps up for a return to action this Friday. It's been nearly three weeks since the Bulldogs wrapped up the 2021 indoor season with NAIA national place finishes of third on the women's side and 12th on the men's side. Considering the array of events that make up outdoor track, Concordia believes it can be as good or better this spring.
The lack of a 2020 outdoor season simply meant that the women's program took a break from dominating the GPAC. National champion Rachel Battershell and company have captured four GPAC team titles in a row, dating back to the 2019 conference indoor meet.
"I'm just completely grateful to God," Beisel said just days after the indoor national meet. "The biggest joy we have as a staff is seeing all of these athletes, who have worked so hard and scarified so much, having the opportunity to celebrate some big things. It's a blessing to be able to bring in great kids who develop and achieve great things – we're never content. We're always looking to improve and we're excited about outdoor nationals."
Both teams have the ability to place in the top 10 at nationals this outdoor season. With eight-time throws All-American Addie Shaw back in the fold to use up her outdoor eligibility, the women's team is especially stacked. A total of five past individual national titles are owned by the likes of Battershell, Shaw and Josie Puelz. Athletes coming off of 2021 indoor GPAC championships include Battershell, Morgan De Jong, Kylahn Heritage and Cody Williams. The results show that Beisel and his staff have built up the program to succeed across all event groups.
Named the Women's Coach of the Year in the GPAC and in the NAIA Midwest Region, Beisel had envisioned some of what is currently taking place when he arrived five years ago. The program's depth is exhibited in the numbers – Concordia produced 51 All-GPAC honorees, 37 national qualifiers and 22 All-Americans this past indoor season (men and women combined). No other program in the NAIA had more women's national qualifiers than the 23 achieved by the Bulldogs.
Battershell continues to race down a path to greatness. She's now a two-time indoor 400 meter national champion after having blazed to a time of 56.03 in her latest mountaintop moment. Meanwhile, Puelz vaulted to her first career national title in an NAIA competition that saw her again achieve her own school record in the pole vault (13' 4 ¾"). Puelz won the pole vault competition at every single 2021 indoor meet except one (she placed second at the GPAC championships).
The women's team has plenty of other exceptional athletes beyond Battershell, Puelz and Shaw. As part of a loaded pole vault crew, Erin Mapson earned the third All-America award of her career. In addition, Sarah Lewis picked up her fourth career All-America award. Like Battershell, Lewis has starred in events such as the 400 meters, the hurdles and as part of the 4x400 meter relay. It's also worth keeping an eye on freshman Rylee Haecker, one of the program's top distance runners. She was an indoor All-American in the 1,000 meters. The team's leading point scorer at the GPAC indoor meet was Cora Olson, part of a strong jumps crew (including national qualifiers Jamey Broman and Katie Severt).
The men's team got better immediately when the focus flipped to outdoor season. The 2020 indoor weight throw national champion, Jacob Cornelio will finish out his collegiate career this spring. Cornelio commands respect not just for what he does in the ring, but for the way he carries himself as a leader. The native of Elk Grove, Calif., could have graduated and moved on, but he wasn't ready to be done yet.
In an interview in April of 2020, Cornelio stated, "I really see it as loyalty to the program and Concordia to finish off the year here. Ed (McLaughlin) talked about possibly looking at other places and trying to finish at a different school. I would have nothing to do with that. I told him that's not going to happen. I was like, 'If I'm going to finish anywhere, it's going to be here at Concordia.' I've loved this school ever since I touched the soil and visited back in 2016."
Past national qualifiers Jerod Peters and Bethany Shaw have also returned to the throws group. Even without these additions, Coach McLaughlin's crew produced four All-Americans this indoor season in De Jong, Elle Luehr, Sarah Ragland and Chris Wren. Notably, the Bulldogs welcomed Elizabeth Stottlemyre, a transfer from the now closed Concordia University, Portland. She has the ability to be one of the NAIA's top javelin throwers. In other words, the women's team has a whole lot of firepower on board.
Cody Williams continues to perform as one of the top athletes in the men's program. He won the 2021 GPAC heptathlon title and then placed third in the event at the national meet. He garnered 2019 GPAC Outdoor Athlete of the Year honors. Williams makes up part of a strong pole vault group that features All-Americans in Zach Bennetts and Chase Berry. Other standouts on the men's side include past All-Americans such as Colton Meyer and Xavier Ross (both 4x400 relay contributors and standouts in individual events). The hope is that Ross (or "X" as he's often called) will be back to health this outdoor season.
There are so many other names that could also be mentioned for a program that may end up taking an even larger number of national qualifiers to Gulf Shores, Ala., in May. The women's team will enter outdoor as the GPAC favorite with an expectation of bringing home another national team trophy (top four finish required). The men's team also appears poised to take a step forward.
"I'm really optimistic about where we're at," Beisel said. "We had a ton of success in indoor, but we were missing some of our heavy hitters like Jacob Cornelio, Jerod Peters, Addie Shaw and Bethany Shaw. They really add to the great athletes we already have for outdoor. Then we also add Elizabeth Stottlemyre from Concordia-Portland. I could keep going. We have some phenomenal 400 runners that are also amazing hurdlers. I've got about 12 athletes between the men and women who have been training for the steeplechase. I think we're going to have some fun adding these new events. Indoor is very distance and middle distance heavy. The field events really come into play in outdoor. I think we have an opportunity to really knock it out of the park."
The first meet of the outdoor season is set for this Friday when the Bulldogs will compete in the Grand View Viking Relays in Des Moines, Iowa. The first home appearance will come April 9-10 when the program hosts the Concordia Invite. The full schedule can be viewed HERE.