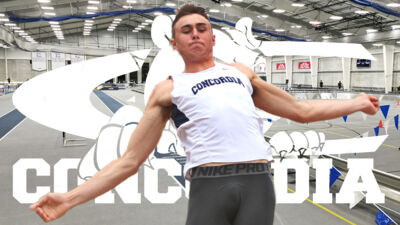 At a glance
MEN
Head coach: Matt Beisel (3rd year)
2018 indoor finishes: T-4th (GPAC); T-42nd (NAIA)
2018 outdoor finishes: 6th (GPAC); T-69th (NAIA)
2018 All-Americans returning: Jacob Cornelio (weight throw; hammer throw); Cody Williams (heptathlon).
2018 All-Americans lost: None.
2018 Indoor National Qualifiers returning: Jacob Cornelio (weight throw); Josiah McAllister (1,000 meters); Tyrell Reichert (pole vault); Cody Williams (heptathlon; high jump).
WOMEN
Head coach: Matt Beisel (3rd year)
2018 indoor finishes: 5th (GPAC); 9th (NAIA)
2018 outdoor finishes: 3rd (GPAC); T-12th (NAIA)
2018 All-Americans returning: Samantha Liermann (*shot put-2; weight throw); Johanna Ragland (shot put; hammer throw); Adrianna Shaw (shot put; *discus); Carley Skorepa (discus).
2018 All-Americans lost: None.
2018 Indoor National Qualifiers returning: Anna Baack (pole vault); Jazzy Eickhoff (shot put); Jodi Fry (shot put); McKenzie Gravo (pole vault); Leah Larson (triple jump); Samantha Liermann (shot put; weight throw); Johanna Ragland (shot put; weight throw); Adrianna Shaw (shot put; weight throw).
*National champion
Team National Champions: 2015 men's outdoor | 2016 women's outdoor
Concordia all-time conference titles
MEN – indoor: 2014 | outdoor: 2014, 2015
WOMEN – indoor: 2010 | outdoor: 1998, 2010, 2012
Concordia all-time conference runner-up finishes
MEN – indoor: 2003, 2009, 2010, 2011, 2012, 2015, 2017 | outdoor: 2002, 2009, 2011, 2013, 2016, 2017
WOMEN – indoor: 2003, 2005, 2009, 2014, 2015, 2016 | outdoor: 2005, 2009, 2013, 2014, 2015, 2016

Outlook
With the Blue-White intra-squad meet in the books, the Concordia University track and field programs now have their sights set on the official start of the 2019 indoor season. Head coach Matt Beisel's 2018 squads were disproportional from a class perspective. Seventy-four freshmen held down roster spots. Such dynamics point to a more experienced and battled tested bunch this winter.

The short story: the men believe they are positioned to make a push back near the national top 25 while the women appear capable of scoring huge points at national meets.

"We brought in a lot of new recruits last year," Beisel said. "They brought a lot of talent. We had a bunch of state champions and state runners up. When you get to the GPAC and the NAIA national level the competitiveness is so high. It takes a while for them to put on more strength and raise their mental ability from high school to meet the new expectations. I think this is particularly true of guys. You have to build a lot more power and strength and it takes time to do that. All of our fall testing and our intra-squad meet indicates that we're primed for some big improvements over last year."

Proven top-of-the-line athletes return on the women's side. Most prominent among them is senior Samantha Liermann, a two-time shot put national champion and seven-time All-American. She is one of seven current Bulldog female athletes with at least one career All-America award. That group includes fellow throwers in junior Addie Shaw (three-time All-American), the 2018 discus national champion, and seniors Johanna Ragland (two-time All-American) and Carley Skorepa (2018 discus All-American).

Over the past five years, the Concordia throws program has been undeniably the best in the NAIA and one of the most accomplished at any level of collegiate athletics. In 2018, Liermann and Shaw came through with the program's 13th and 14th throws national titles since the start of 2014 track seasons (more than any other NAIA program).

"I think it will be exciting this year because of the experience we have," Liermann said. "Last year we were pretty freshman heavy. I'm excited to see how they step up. Outdoor was a lot of fun. People stepped up in roles that maybe we didn't think they would, like Addie winning the discus. I don't think anyone could have predicted that going in – not even her. I'm excited to see how it all plays out again."

On paper, the pole vault looks to be a strength on both sides. The women should get a significant boost with juniors Allie Brooks (2017 indoor All-American) and McKenzie Gravo (three-time All-American) both returning from redshirt seasons. They rank Nos. 1 and 2 on the program's all-time list in both the indoor and outdoor pole vault. The crew also returns past national qualifiers in sophomore Anna Baack and junior Tristen Mosier as well as potential standouts in newcomers to the scene in Erin Mapson and Jacee Pfeifer.

One example of a rising star is junior Jessica Deterding, a 2018 outdoor national qualifier in the heptathlon and triple jump. Besiel referred to Deterding as a "beast" and added, "I think she has a really good shot at being an All-American both indoor in the pentathlon and outdoor in the heptathlon." She works closely with another multi-event star in sophomore Kennedy Mogul. The women's field events are further strengthened by top triple jumper in senior Leah Larson, who will be gunning for the school record along with Deterding in the triple.

The top performer on the track is expected to be 2018 GPAC outdoor 10,000 meter champion Taylor Grove, who is fresh off qualifying for the cross country national championships and has already secured a spot at the 2019 outdoor track national championships in the marathon. The women's distance crew also features All-GPAC cross country runners in freshman Abi DeLoach and junior Rebekah Hinrichs.

Another offseason of development should pay dividends for not previously mentioned national qualifiers such as sophomores Mika Brees, Jodi Fry, Madison Holt and senior Jazzy Eickhoff and junior Bethany Shaw. The former is a Seward native who established herself as one of the program's top sprinters as just a freshman. Meanwhile, Eickhoff, Fry, Holt and Shaw are part of the vaunted women's throws group.

"I think our women are loaded this year," Beisel said. "As a staff, we think we have a shot at a conference title this year. I also believe our women can be top three at nationals. Last year we ended up ninth in indoor and 12th at outdoor, which is not bad. Top 12 nationally is something we're not unhappy with, but I really believe we're going to be in the running for top three this year. We're bringing some redshirts back in who are all healthy and looking great."

It wasn't unexpected that the men's team took a step back in 2018 after graduating 2017 national champions in Cody Boellstorff, Zach Lurz and Lucas Wiechman. Most of the key figures from last season are back, including All-Americans in junior Jacob Cornelio and sophomore Cody Williams. Both have the ability to win conference titles and to make a move up the national ladder.

Williams entered Concordia more advanced as a freshman than Wiechman, who enjoyed the type of senior campaign that many athletes only dream about. A native of Imperial, Neb., Williams could find similar success over his career based on his current trajectory.

"Cody Williams has really gotten a fire lit under him," Beisel said. "He trained hard all summer. He came in this fall ready to go. His maturity has grown. We have three freshmen multi-event guys who he has taken under his wing. He's acting like a senior. He's shown true leadership. They're having a lot of fun. He's really pushing them and they're all growing. He's hit a new level in where he is mentally."

On the track, Josiah McAllister has hopes of joining Williams as an All-American. McAllister has made his way to three national championship meets. At the 2018 GPAC indoor championships, the senior from Atkinson, Neb., earned all-conference honors in the one mile and 1,000 meters and helped the 4x800 meter relay to a runner-up finish.

McAllister decided to go out for cross country this past fall and gave the team a lift. The middle distance and distance crews believe they are ready to make a big impact in 2019.

"It's always tough for indoor track coming off cross country," McAllister said. "You have to get your legs under you and it's a lot shorter races. Sometimes it doesn't suit everyone. I think with the team we have we're built to score a lot more at conference in the distance events than we have in the past. That's something we're looking forward to with some of those freshmen and underclassmen. They have a season under their belt and they're ready to get after it."

The men's pole vault crew may be the deepest event area for the Bulldogs, men or women. Williams is one of the stars for a group that has additional returning national qualifiers in sophomore Tucker Platt and senior Tyrell Reichert. There's a whole lot more in terms of potential. Transfer Gavin DeHaai is another intriguing athlete.

Benjamin Pratt (jumps) and Thomas Taylor (distance) are also familiar names with the ability to score big points at the conference championships. Additionally, the Bulldog men's program is used to having stellar groups in the hurdles and relays. The men took a 4x800 meter relay to the 2018 outdoor national championships.

Another freshman class filled with quantity and quality will also impact the 2019 season. Look out for the likes of Claire Cornell, Angela Hurtado, Cora Olson and many others.

"I'm really excited about who we have on the squad right now," Beisel said. "We've signed many great kids for next year and have a number of others making final decisions. I think our men and women are just going to continue to blossom with ability. Our coaching staff talks about it how this could be pretty cool. We have fierce competitors in the GPAC. It's well-coached and well-recruited. We go up against powerhouses in our conference. We'll have some good competition in the GPAC. It's going to be a lot of fun."
The indoor season is set to officially get started the weekend of Jan. 11-12 with the University of Nebraska Graduate Classic and the Ward Haylett Invite hosted by Doane. Beisel's staff again includes full-time assistant coaches in Wayne Earney, Ed McLaughlin and Mark Samuels.