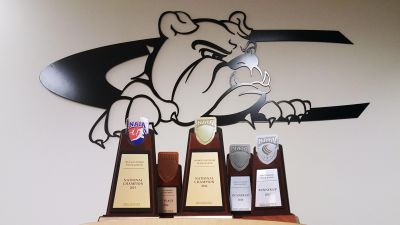 At a glance
MEN
Head coach: Matt Beisel (1st year)
2016 indoor finishes: 3rd (GPAC); 3rd (NAIA)
2016 outdoor finishes: 2nd (GPAC); 2nd (NAIA)
2017 indoor finishes: 2nd (GPAC); 2nd (NAIA)
2017 indoor All-Americans: 4x400 Meter Relay (Wiechman, Rodgers, Matters, Muller); Cody Boellstorff (*weight throw); Zach Lurz (*shot put, weight throw); CJ Muller (600 meters); Lucas Wiechman (*heptathlon, pole vault, 60 meter hurdles, hurdles).
2016 All-Americans returning: Cody Boellstorff (*weight throw); Philip Kreutzer (hammer, weight throw); Zach Lurz (**shot put, hammer, discus, weight throw); Nathan Matters (4x400m); CJ Muller (600m; 4x400m); Lucas Wiechman (decathlon, heptathlon, pole vault).
2016 All-Americans lost: Trey Barnes (shot put); Trevor Bresson (4x400m); Jose Rojas (hammer, shot put-2); Josh Slechta (hammer, discus, weight throw); Jaap Van Gaalen (4x400m).
*National champion
WOMEN
Head coach: Matt Beisel (1st year)
2016 indoor finishes: 2nd (GPAC); 5th (NAIA)
2016 outdoor finishes: 2nd (GPAC); 1st (NAIA)
2017 indoor finishes: 4th (GPAC); 7th (NAIA)
2017 indoor All-Americans: Allie Brooks (pole vault); Samantha Liermann (shot put); Sydney Meyer (weight throw); Kali Robb (weight throw, shot put); Adrianna Shaw (shot put).
2016 All-Americans returning: McKenzie Gravo (pole vault-2); Samantha Liermann (shot put-2); Kali Robb (hammer, discus, weight throw, shot put-2); Tricia Svoboda (discus).
2016 All-Americans lost: Kattie Cleveland (hammer, discus, weight throw); Stephanie Coley (discus, shot put-2, weight throw); Liz King (*hammer, javelin, weight throw); Kim Wood (1 mile, 1,000m, 800m).
*National champion
Season Outlook
The Concordia University track and field programs have made a seamless transition while adjusting to head coach Matt Beisel, who is in his first year leading the Bulldog cross country and track teams. Thanks in large part to three individual national titles and an incredible weekend for senior Lucas Wiechman, the Bulldog men's squad has now made it five-straight national meets with top-five finishes.
During that time, the men have turned in national placements of fifth, first, third, second and second, respectively. The women haven't fared so bad either over that time frame that dates back to the 2015 NAIA indoor championships. They have turned in finishes of 11th, fifth, fifth, first and seventh.
"Any time we end up top 10 at nationals for either girls or guys and outperform projections, I'm really pleased," Beisel said. "Lucas Wiechman getting athlete of the meet for both conference and nationals was icing on the cake. At the national level because of so many teams involved and so many circumstances, simply to make the top 10 at nationals is a big deal. I'm already excited to do what we're going to do outdoors, but you can't count on anything. We take care of business one day at a time and one kid at a time – and we pray a lot."
This is it now for a senior class that has been a major factor in the unprecedented run of success at the national level. That group includes not just Wiechman, a 10-time All-American, but also fellow national champions in Cody Boellstorff and Zach Lurz (14 career All-America plaques). Boellstorff is a two-time national champ in the weight throw and a one-time titlist in the hammer throw. All four of Lurz's national championships have come in the shot put. He will attempt to do the same thing he did in 2016 – sweep indoor and outdoor shot put titles.
Those three have been so good throughout their careers, that they have sometimes overshadowed seniors CJ Muller (seven-time All-American) and Kali Robb (nine-time All-American), both major players on Concordia's recent national championship teams. Muller placed as the national runner up in the 600 meters at this past indoor national meet and has been a regular on All-America 4x400 meter relays. Robb has been a GPAC titlist and a national runner up on multiple occasions. Perhaps her last go-round will produce her first career national title.
No matter what, Beisel is at peace knowing he has a star-studded group that knows how to handle whatever is thrown at it.
"I think what made them so good at indoor nationals is this calm ability to process what they need to do and get it done," Beisel said. "That's something that you find in seasoned returning athletes who have been on the big stage before. They know exactly what they need to do and I don't sense an urgency. They trust the timeline we have for training and competition. With seven weeks until conference and nine weeks until outdoor nationals, they're ready to go one piece at a time and see what unfolds. I think we'll have some big national qualifying marks at our first outdoor meet."
In recent seasons, the Bulldogs have been even better outdoors compared to indoors. Both national championships over the past two years have been celebrated in Gulf Shores, Ala., site of the NAIA outdoor national meet. It's a place where Concordia throwers, tutored by Ed McLaughlin, have gained a reputation as the best in the nation.
Outdoor track is favorable to the Bulldogs in part because it brings additional throwing events to the table: the javelin and the discus while replacing the weight throw with the hammer throw. This year's group of long tossers also includes past All-Americans Philip Kreutzer, Samantha Liermann, Sydney Meyer and Adrianna Shaw. Also in the mix this outdoor season is Leah Mussell, who specializes in the discus. The biggest loss from 2016 is Liz King, who won last year's hammer throw national title and was the runner up in the javelin.
The women's team could make up some of those points in the pole vault. Assistant coach Jason Berry's crew includes two national championship contenders in Allie Brooks and McKenzie Gravo. Brooks won the indoor GPAC pole vault title, broke the school record and placed third at nationals. Gravo, who sat out this indoor season to save eligibility for future years, claimed 2016 indoor and outdoor conference pole vault championships and was also an All-American. Brooks and Gravo will likely battle each other for school records, conference titles and other accolades for years to come.
It's obvious that Concordia has the top-of-the-line athletes that make it the envy of many other NAIA track programs. Beisel also wants to focus on building depth, which is essential for making runs at conference titles. The Bulldog men came up agonizingly short of a 2017 GPAC indoor title, but could make another strong push this outdoor season. Beisel likes what his team has coming along in outdoor-exclusive events like the steeplechase, the 400 meter hurdles and the 10,000 meters.
Continued development of athletes other than the vaunted seniors will make this program even more dangerous. Six Bulldogs took their first career trips to nationals this March, including juniors Ben Hulett and Jake Rodgers, sophomores Scott Johnson, Ryan Olson and Johanna Ragland and Shaw, already a top-tier shot put thrower as a rookie.
Not mentioned are the many other Concordia athletes who earned all-conference honors during this past indoor season. To be exact, 45 different Bulldogs collected All-GPAC accolades in one or more events courtesy of their performances at the conference indoor meet.
Beisel hopes that momentum will translate to the outdoor season, which is set to open up this weekend at the Wildcat Classic hosted by Wayne State College. Due to impending weather, the meet has been moved to a Saturday-Sunday event. The adjusted schedule can be viewed HERE.
"You always hope that momentum does carry over and that even the people who didn't compete at nationals will catch some of that team pride and spirit," Beisel said. "Hopefully they'll want to be part of that and be motivated to train harder and smarter so they can perform even better. We have a number of events in outdoor that we're good at that we are unable to do indoors."