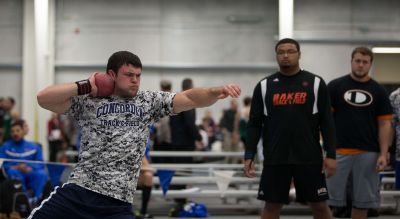 Season preview: 2015 Concordia indoor track and field
By Taylor Mueller, Athletic Communications Assistant
At a glance
Head coach: Kregg Einspahr (23rd year)
2014 men's indoor GPAC finish: 1st
2014 men's indoor national finish: 17th
2014 women's indoor GPAC finish: 2nd
2014 women's indoor national finish: 11th
2014 men's indoor All-Americans (7): Jonathon Becker (4x400 meter relay), Cody Boellstorff (weight throw), John Cartier (4x400 meter relay), Carson Farr (pole vault), Alex Heiden (4x400 meter relay), Zach Lurz (shot put), CJ Muller (4x400 meter relay)
2014 women's indoor All-Americans (8): Stephanie Coley (shot put), Jamie Crouse (weight throw), Lydia Pomerenke (pentathlon), Erika Schroeder (4x800 meter relay), Marti Vlasin (4x800 meter relay), Jenean Williams (4x800 meter relay), Kim Wood (4x800 meter relay, 1,000 meter run), Shelby Yelden (pole vault)
Outlook
A year removed from capturing the program's first ever men's track and field GPAC championship, the Bulldogs are preparing once again to make another run at the conference title. With both the men's and women's teams boasting balanced squads, expectations remain high.
Head coach Kregg Einspahr returns for his 23rd year as the head coach for the Bulldogs, taking the reins once again of a program that has had substantial success in sending numerous athletes to the national meet. With a core group of well-seasoned athletes returning, attaining the conference title and notching several national qualifying marks are realistic goals.
"We have a real good bunch coming back from last year and they, overall, are improved," Einspahr said. "We have a pretty balanced team. We've got a really good throwing group, some good multi eventers and pole-vaulters who have improved over the last year. I think our long distance and middle distance look pretty good. Hopefully we can fill in with the distance and score some points there as well. We're a balanced team and we're looking forward to seeing what we can do."
Defending national javelin champion Liz King sees bright things in the near future for a women's squad that returns 11 individuals who garnered all-conference honors as well four athletes who earned All-American status.
"I think we have a really good shot to be at least top three in the conference and I think we have a really good chance to battle it out to be the conference champ," King said. "That would be a goal I have for our team. We need to have everyone stay healthy and get a lot of high places at the conference meet. I think we're going to be a well-versed team. We just need to be up there in the top sixes to score points."
King went on to explain that it will be crucial for the team to not lean too heavily on a few select groups or individuals, but that it will take a total team effort if they want to win the conference championship.
"We're going to need everybody," King said. "We're going to need a wide variety; we just can't rely on one single group. We can't rely on only the runners, we can't rely on only the jumpers, we can't rely on only the throwers. We all need to step up our games."
Coming off All-Conference honors in cross country, junior sensation Kim Wood will provide a significant lift. After winning the conference 1,000 meter and one mile titles, Wood claimed All-American honors in the 1,000 meter run last season as well as in the 4x800 meter run alongside senior Erika Schroeder and sophomore Marti Vlasin. Junior All-American Stephanie Coley will return to the throwing ring with her eyes on a conference title after finishing third 3rd at the conference meet and sixth at the national meet a year ago.
The 4x800 meter relay team will look to improve on their second-place conference finish from a year ago as they return three members of the team in Schroeder, Vlasin and sophomore Angie Steinbacher.
The shot put will provide plenty of in-team competition as senior Brittany Erdmann and sophomore Kali Robb finished seventh and eighth, respectively, at last year's conference meet.
Despite losing several key contributors to graduation, the men's squad also returns numerous individuals who were influential in the team's title run a year ago.
Although experience certainly helps, Einspahr noted that improvement from a year ago will be crucial if the team hopes to attain more success again this season.
"Well every year you hope that the guys who were freshmen, sophomores and juniors last year are going to be better and more experienced," Einspahr said. "It didn't always happen overnight for some of the guys that just graduated. They got better and better every year. We're looking to have a lot of our returners improve and score one or two more places better at the conference meet. That would be a major help for us. We'll just have to see how we fill those spots."
Stepping in to fill one of those roles will undoubtedly be junior Jaap Van Gaalen who claimed the 600 meter crown last season and was a member of the 4x800 meter relay team that finished third at the conference meet.
A native of Enschede, Holland, the "flying Dutchman" is excited to see what his team will do this year.
"I feel pretty confident with what we have," van Gaalen said. "It's kind of a rebuilding year because we lost a lot of seniors, but if everyone steps it up and shows up to practice, we should be able to repeat as GPAC conference champions. I think we have more depth in the field events this year. We definitely need to step it up in our sprinting events to be able to repeat the successful year we had last year."
Having been in training mode since early September, van Gaalen commented on the team's outlook, and what he has seen up to this point.
"So far we are pretty good," van Gaalen said. "We've had minimal injuries so far and we have different running groups that are becoming more in sync in terms of running the same times at practice. Everyone's getting in better shape and getting stronger."
The men return 15 individuals who earned all-conference recognition last season as well as All-American throwers Zach Lurz and Cody Boelstorff.
A loaded 600 meter field should provide plenty of entertainment as Concordia returns four individuals who placed in the top six in the conference meet last season. Led by van Gaalen, the remaining field includes senior Matthew Chapa and juniors Jacob Kettner and Trevor Bresson.
Do-it-all distance phenom Ben Sievert will look to finish his storied career strong. Sievert placed in the top three in the mile, 3000 meter and 5000 meter runs at the conference meet last season.
An area of the team to certainly keep an eye on will be the 4x400 meter relay team who returns just one individual in sophomore CJ Muller from last year's championship squad and third place finish at the national meet.
Though a chance at another title run is on everyone's mind, Einspahr noted that at this point in the very young season, it is difficult to make any bold predictions as how the fiercely competitive GPAC will stack up. The main emphasis on Einspahr's mind is ensuring that his team improves and puts in the work and effort to prepare for the opening meet.
"I think we're in a position where we'd like to be able to compete for the conference championship," Einspahr said. "We don't know how things are really going to shake out yet. It depends on what other schools bring to the table and obviously you can't control that. I think as competitive as this conference is, it's just real early to speculate, to project where we're going to be in two-and-a-half months. Part of that is that we don't know who other (teams) have, who has improved considerably from last year that they're bringing back. There's always some major surprises and new recruits that are coming in from other schools. It's awful early to say how things are going to shape up for the conference championship."
"For us, we need to have a good winter break of training where our student-athletes go home over Christmas," Einspahr said. "It's important that they go home and maintain their fitness levels. I think it's always extremely important to try and stay healthy during the season; that's a major key. That helped us last year as we were able to get to the ends of the indoor and outdoor seasons in really good shape."