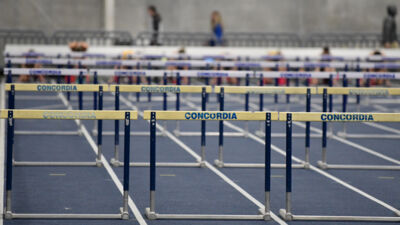 SEWARD, Neb. – The 2023-24 indoor track & field schedule has been set as Head Coach Matt Beisel used the copy-and-paste method from past campaigns to formulate the upcoming season catalog. The season will get underway for the fifth year in a row with the Bulldog Early Bird Meet.
Last indoor season, Concordia grabbed GPAC finishes of first on the women's side and third on the men's side. The women's program will enter 2024 having won nine-straight GPAC championships with the men's program looking to seal their first GPAC championship under Beisel.
Concordia will open the Walz Fieldhouse for four meets this season, including Bulldog Early Bird (Dec. 8-9), the Concordia Polar Dog Invite (Jan. 19), Concordia Classic (Jan. 26-27) and the Concordia Indoor Invite (Feb. 9).
The Bulldogs won't hit the 60-minute road mark for away meets traveling to: the University of Nebraska Graduate Classic (Jan. 12-13), Scott Nisely Memorial Classic hosted by Doane (Jan. 13), Frank Sevigne Husker Invitational (Feb. 2-3) and the Fred Beile Classic hosted by Doane (Feb. 3).
Yankton, S.D. and Mount Marty will be the host site for the GPAC Indoor Track & Field Nationals for the first time in history. They will join five GPAC schools in Dordt, Nebraska Wesleyan (former GPAC), Doane, Concordia and Dakota Wesleyan who have hosted the GPAC Indoor Track & Field Championships. The Ruth Donohoe First Dakota Fieldhouse had its grand opening in 2020 and hosted their first NAIA Indoor Track & Field National Championships in 2021.
The NAIA Indoor Track & Field National Championships will take place in Brookings, S.D. for the third-straight time. The Sanford Jackrabbit Athletic Complex will serve as the host venue for the final time in 2024 ending a three-year contract that started in 2022.