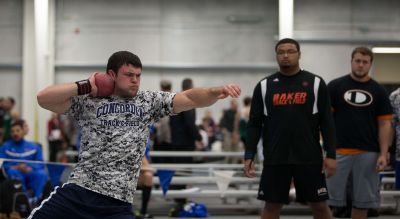 Robb's program record throw grabs NAIA national athlete of the week honor
SEWARD, Neb. – Known for its deep group of throwers, the Concordia University track and field team has been home to two-straight GPAC/Hauff Mid-America Sports Women's Field Athletes of the Week. On Wednesday sophomore Kali Robb received not only weekly honors from the GPAC, but also the award for NAIA National Women's Indoor Field Athlete of The Week.
A native of Sidney, Neb., Robb collects the prestigious national honor after breaking the Bulldog women's program record in the indoor shot put with her first-place toss of 47' 5" at last week's Concordia Indoor Invitational. She also placed first in the weight throw with her mark of 60' 5", making her one of three Bulldog females ever to eclipse 60 feet in the event. In the national rankings, Robb sits second in the weight throw and fourth in the shot put.
Robb and the Bulldogs will host the 2015 GPAC Indoor Track and Field Championships on Friday and Saturday in the Walz Fieldhouse. Last season Robb collected all-conference honors and qualified for the national championships in the shot put and weight throw for both indoor and outdoor.
A business major, Robb is also a member of the Bulldog trap and skeet team. Robb is the second-straight Concordia female to be named GPAC field athlete of the week. Junior Stephanie Coley booked the same honor on Feb. 11.
2014-15 GPAC Women's Field Athletes of the Week
Feb. 18 – Kali Robb, Concordia
Feb. 11 – Stephanie Coley, Concordia
Feb. 4 – Carly Henry, Doane
Jan. 28 – Jennifer Maag, Hastings
Jan. 23 – Karen Ettleman, Hastings
Jan. 16 – Karissa Blank, Doane