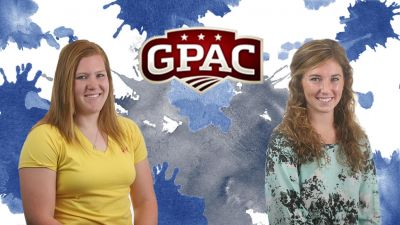 SEWARD, Neb. – The Concordia University women's track and field program has swept GPAC weekly honors. On Wednesday the conference named junior Kali Robb the GPAC/Hauff Mid-America Sports Women's Field Athlete of the Week and senior Kim Wood the GPAC/Hauff Mid-America Sports Women's Track Athlete of the Week. These are first GPAC track and field honors handed out in 2016.
This is the second career weekly award for Wood (April 2014). Meanwhile, Robb reeled in national and GPAC field athlete of the week recognition in February 2015.
Robb, a native of Sidney, Neb., qualified for nationals in both throwing events at last week's season-opening Nisely Classic hosted by Doane. The two-time All-American won the weight throw with a toss of 55' 11 ¼" – a figure that ranks No. 5 among all female competitors in the NAIA. She also recorded a shot put mark of 46' 1 ¼" that puts her third on the national list and second behind teammate Stephanie Coley on the GPAC leaderboard.
Meanwhile, Wood again starred on the track. The senior from Greeley, Neb., raced to national qualifying times of 5:06.77 in the one mile and 1:35.80 in the 600 meters, putting her just outside of her personal bests. Wood currently leads the nation in the one mile and ranks second in the 600. She also ran a 2:15 leadoff leg for the Concordia 4x800 meter relay that placed second (9:49.85) at the Nisely Classic. In 2015 Wood won three GPAC indoor titles and garnered All-America honors in the indoor 1,000-meter race.
Robb, Wood and the rest of the Bulldogs will return to action on Friday at the Prairie Wolf Invite hosted by Nebraska Wesleyan inside the Devaney Center in Lincoln. The meet schedule can be viewed HERE.