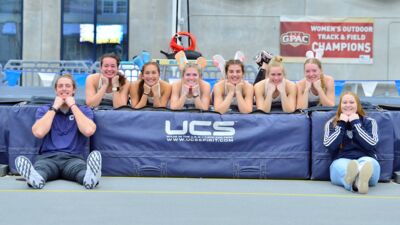 Live Coverage: Results | Streaming | Meet Preview
SEWARD, Neb. – The 2023 GPAC Indoor Track & Field Championships hosted by Concordia got underway on Friday (Feb. 17) with the women's pentathlon and men's heptathlon. Most significantly, Gresham, Neb., native Amy Richert became an individual GPAC champion for the first time while leading a Bulldog pentathlon crew that racked up 27 team points. Concordia is playing host to the conference indoor championships for the first time since 2019.
Head Coach Matt Beisel's squads entered the meet with NAIA national rankings of fourth on the women's side and 12th on the men's side, according to the USTFCCCA. The women's program is attempting to win its eighth-straight conference title.
Richert and company have helped position the Bulldogs for a repeat. The three-time All-American Richert produced a pentathlon point total of 3,446 and outdueled Jamestown's Jordynn Toliver, who placed second with 3,395 points. Richert came through with a personal best in the shot put (34' 11") and a season best in the long jump (17' 9 ¾"). As Richert told GPAC Commissioner Corey Westra in an interview, "It was a very good day. I'm really excited to have all my teammates around me, and they all did really well."
All-conference place finishes were also turned in by Elena Batenhorst (third; 3,102), Amanda Steinke (fourth; 2,987), Josi Noble (fifth; 2,984) and Isabelle Salters (seventh; 2,910). In addition, Faith Espinosa placed 11th (2,734). Personal bests were delivered by Batenhorst in the shot put, Steinke in the 800, 60 hurdles, long jump and shot put, Noble in the long jump, high jump and shot put and Espinosa in the 800 meters.
The 2023 GPAC Indoor Track & Field Championships will resume at 9 a.m. CT on Saturday with the last three events of the men's heptathlon. The Fieldhouse will heat up at noon when field events and the 3,000 meter racewalk get underway (the racewalk will not count towards team scoring). The next running event following the racewalk will be the 5,000 meter race at 2 p.m.
Amy Richert from @cunebulldogs wins the 2023 GPAC Pentathlon with 3446 points. pic.twitter.com/uCCh9WPbV4

— Great Plains Athletic Conference (@GPACSports) February 18, 2023
Matt Beisel from @cunebulldogs reflects on day one of the GPAC Indoor and hosting in Seward for 2023. pic.twitter.com/wulG8EmBJz

— Great Plains Athletic Conference (@GPACSports) February 18, 2023