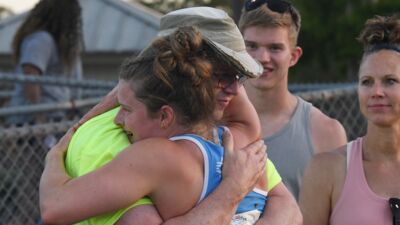 It was a moment of indescribable joy shared between father and daughter. It's the type of moment you would live in forever if it was possible. John Puelz wrapped up daughter Josie in a bear hug as her mother Angie and many other family members looked on. The achievement that had just occurred on that date, May 26, 2021, was much too big to fully grasp in that very instance.
There were many more hugs to come for Puelz, who had just made her mark as the most accomplished women's pole vaulter in Concordia Track & Field history. Due to COVID-19 restrictions, Josie could only celebrate with her teammates and coaches in the immediate aftermath of her first national title back in March 2021. The opportunity to share national title No. 2 with family made this one sweeter.
Said Puelz after winning the outdoor pole vault national championship, "It's so special. It's means so much more than I could have ever imagined. They all drove down here (to Gulf Shores, Ala.) to watch and that means so much to me that they are willing to support me in everything that I do."
Roughly 30 years after John Puelz starred on the hardwood for the Bulldogs, Josie has brought the Puelz name back to the forefront in a big way (Josie's brother Josh is now a freshman on the men's basketball team). One would be hard-pressed to find a more successful father-daughter duo in the history of Bulldog Athletics. John took his place in the Concordia Athletic Hall of Fame in 2016, 24 years after wrapping up a collegiate career that saw him pile up 1,955 career points and help guide the Bulldogs to an NAIA national semifinal appearance.
Two years into her collegiate career, Josie has already stated a compelling case for future Hall of Fame induction. The Lincoln Lutheran High School alum not only swept 2021 NAIA indoor and outdoor pole vault national titles, but also broke the program indoor and outdoor pole vault records, has won two GPAC titles and was named the 2021 State College Female Athlete of the Year by the Lincoln Journal Star.
What makes the accolades all the more special are the people, the relationships and the journey behind them.
John's hoops glory
In a way, the success of John and the Concordia Men's Basketball teams of the early 1990s paved the way for Josie and the star Bulldogs of today. After beginning his college career at the University of Nebraska, John transferred to Concordia prior to the 1988-89 season. He had landed at a program coming off an 11-19 record during the '88-89 campaign. At the time, the Bulldogs had never reached the national tournament.
Said John, "I'm so thankful that I ended up there because it really guided me to where I am today. I'm so thankful for President (Orville) Walz and (Brian) Friedrich because they loved athletics, especially basketball. They always seemed to be so involved in basketball. Concordia is an avenue as a witness to kids. The seed was planted there for me. It wasn't until many years after I graduated that it hit me what my priorities should be."
On the court, Puelz's priority was to chuck it from the cheap seats. The Lincoln native was pouring in 3-point shots at a high volume – before it was cool. Puelz racked up 353 career 3-point field goals (a program record) and finished his career as the program's second all-time leading scorer (now No. 4). Along the way, John formed close bonds with teammates such as Kyle Karsten, Matt List, Devin Smith, Todd Voss, Mike Works and others.
It just so happens that Voss is the uncle and Smith the Godfather of Josie. Surely Josie has heard some of the stories from those glorious days on the hardwood – like the time John dropped 28 points in the 1992 NAIA national quarterfinal victory over MidAmerica Nazarene. However, the memories of specific games are not necessarily what are discussed the most inside the Puelz family.
Said Josie, "I don't think he shares a whole lot about his time at Concordia. He played a lot of video games with his buddies. He felt so blessed. He talks about the relationships he was able to build here and the experience he had after he transferred after his first year at UNL. It was a big life changing choice for him to come here and be surrounded by believers. That's what he talks about the most."
It just isn't in John's nature to boast about the accolades or the accomplishments. However, his time as a Bulldog was something to be celebrated. Prior to the 1991-92 season, anyone who mentioned Concordia and national championship in the same sentence would have been met with a look of bewilderment. With the help of John Puelz, that team changed the game and the narrative for Concordia Athletics. He was named an Honorable Mention All-American that season after averaging 16.0 points per game.
In 2016, John took his place among the all-time greats when he made his acceptance speech at that year's Concordia Athletic Hall of Fame ceremony. Josie, Josh and the rest of their siblings took pride in seeing their father honored in that fashion. Said Josie, "We were all just so proud of him. I hear stories about my dad being this great athlete in college, but I wasn't there to witness that. It's just great to reflect on the past and celebrate what people have accomplished. That being my dad makes your heart warm. You become proud of your parents for the things they get recognized for. It was just really special."
John did not ask for the spotlight be shined upon him, but the Hall of Fame induction gave him an opportunity to show his appreciation for what Concordia means to him. "If it wasn't for Concordia and God, it would have been difficult (to get to where I am now)," Puelz said. "It wasn't such a top-rate basketball program when I came on board. God led me there for reasons that I didn't realize until years later. Concordia Athletics just does so much for kids."
Josie's journey
Josie grew up rooting for the Bulldogs. Her earliest memories of Concordia involve going to basketball games when her uncle Todd Voss coached the Bulldog women's team. Recalls Josie, "I remember coming into his office and he would have pretzels in his bottom drawer. After every game I was like, 'Can we please go get pretzels?' That's the first time I remember acknowledging it as a school. I don't even remember how old I was."
Those were the days before Josie knew anything about pole vaulting. She wouldn't have had any idea that she would one day claim the ultimate prize in something vastly different than basketball. With the nudging of her mother Angie, Josie (and her siblings) frequently attended sports camps put on by Lincoln Public Schools. It wasn't like Josie's arm had to be twisted. She was a born competitor as the daughter of two college athletes. Josie had to be involved in at least one sport throughout the fall, winter and spring seasons.
Said her father, "She loves the competition and that pushes her. Angie was the same way. Angie has a deep, competitive spirit to her. I think Josie got it from two avenues on that." Smiling as he said it, John continued, "Josie is sweet just like her mom – I'm not."
Josie took an early liking to gymnastics, which happens to translate well to pole vaulting. It was eighth grade when she first gave vaulting a try, at the urging of LPS pole vault coach Chris Johnson. It wasn't long before Josie became hooked. Instead of skying towards a basketball hoop, Josie would begin focusing more of her athletic pursuits on attempting to sky above bars.
"I fell in love with it," she said. "I spent a whole week just digging into the technique – and trying stuff out was awesome. I didn't have facilities or a coach at Lincoln Lutheran so I took private lessons with volunteer assistants at UNL. Once a week I would get to go practice and rent poles out. That was how I started the winter of my freshman year. That's the condensed version of a lot of decision making and a lot of question-asking to see how it would all happen. It's something I love so much."
Good genes may have helped, but so too has Josie's relentless desire to be the best. There are moments of adversity for any athlete, but Josie has enjoyed a storybook run through her high school and collegiate careers. She can think back fondly to the high school state track championships her senior year when she took home four gold medals while leading the Warriors to a team state championship. As she put it, "I can't remember ever smiling as much as I did that day."
Naturally, Josie was going to have some options when it came to a college decision. John knew Concordia would be a great fit for his daughter, but he got out of the way and let Josie make the call. The family prayed about it and ultimately, "God led her there." Josie wasn't going to choose Concordia simply because her dad had been a successful basketball player at the school. She saw how faith was at the core of the track and field program and wanted to be part of it.
Strong faith might even be one of the secrets to Josie's success. Pole vault coach Jason Berry had a good idea of what Concordia was being blessed with when Josie made her college decision official. Said Berry before Josie had ever attempted a vault in college, "She's lived on a stage where she's been a state champ and had the target on her back. She understands the pressure and how to deal with a pressure moment."
As a sophomore in 2021, Josie never backed down from the pressure. She rose higher than any female Bulldog vaulter ever had before, clearing school records of 13' 4 ½" in indoor and 13' 7 ¼" in outdoor. Due to COVID-19 restrictions, Josie's family was not allowed to be physically present for the NAIA indoor national meet when she won the first national title of her career. With fans allowed to attend the outdoor national championship meet in May 2021, the entire Puelz family made it a priority to be there.
John, Angie and a large group of supporters had a front row seat to witness national title No. 2 for Josie. Said John, "The indoor thing really was difficult because we wanted to be there to support here. We ended up watching it on the computer. It was nice to be able to support her in person in her quest to get the national championship. It was such a cool thing to be right there. It was very emotional for us. I think it was down to three vaulters. She has always been one to overcome expectations. All of our kids are that way. It was a very emotional experience and very happy we were able to be there in person and be a part of it."
Winning is far from the only thing that makes Josie one of the best to ever wear Bulldog blue. Well-rounded as an impeccable student and caring person, her status as an Academic All-American and homecoming queen are simply byproducts of her actions. But she isn't one to revel in her own accomplishments. As she enters 2022, Josie remains motivated. Said Josie, "I'm never settling for what I've reached. I always want to push for more. Nothing's ever perfect. There's always room to grow. That's what I keep in mind."
Making Concordia their big time
Josie knows her parents would be proud of her no matter where she went to college, but there's something uniquely special that is still unfolding regarding the Puelz connection to Concordia. This is the place they chose to make their big time. When her brother Josh settled on Concordia, Josie saw it as a cause for celebration and joked that, "I'm probably more excited about him being here than he is. I'm so proud of him."
John gushes when discussing the growth he's seen in Concordia in the years since his graduation in 1992. He may enjoy ribbing his former teammate turned Director of Athletics Devin Smith, but John has sincerely glowing remarks in regards to what Smith has done to transform the athletic department, now one of the exemplary outfits in the NAIA. John has noticed how Smith carefully considers everything that goes into each decision, both big and small.
John has had a role in this himself – and now so too does Josie. There just aren't many better ambassadors for Concordia Athletics.
Says John, "Her faith is basically everything to her. She's there to share what she has with other people. She's been such a blessing to us. She's very humble in everything she does. She's put in a lot of hard work. Some people don't even realize the amount of hard work she puts in with academics and athletics. She's at home during break doing workouts. It makes me hurt seeing the workouts she does."
There's going to be more to this story as Josie and her brother Josh continue on at Concordia, but the legacy for the Puelz family is rock solid. No matter what heights Josie reaches, her humility, her faith and her competitive fire will never be shaken. In turn, Concordia will always have a soft spot within her heart. Said Josie when discussing the support of her family, "They know how much I enjoy being at Concordia and what this school has done for me."