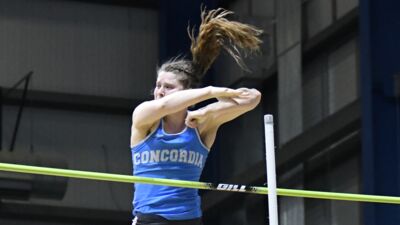 Omaha World-Herald news article
SEWARD, Neb. – Named the Lincoln Journal Star's 2021 State College Female Athlete of the Year, Josie Puelz has now added to her collected of awards, courtesy of the Omaha World-Herald. On Saturday (July 9), the news outlet announced Puelz as its Midlands Female Athlete of the Year. The honor is given to the top female collegiate athlete in the state of Nebraska from outside of NCAA Division I. Puelz has become the fourth Concordia University athlete all-time to be chosen as the Midlands Female Athlete of the Year. The existence of the award dates back to 1983.
As Puelz told the World-Herald, I have very high expectations. Knowing I have achieved national titles, you kind of have that extra drive to do it again." Added Concordia pole vault coach Jason Berry, "I see on a daily basis her drive and determination. She's not one to sit back and relax. She's always one who's looking for that next challenge."
Puelz was also recently tabbed the 2021-22 Academic All-America® Team Member of the Year for NAIA women's track and field by College Sports Information Directors of America (CoSIDA). Puelz has made her mark as the top female pole vaulter in program history. At the 2022 outdoor national meet, Puelz claimed her fourth NAIA pole vault national title in a row. She's one of only two female athletes in school history to have won at least four individual national titles. The Lincoln Lutheran alum also sports a perfect 4.0 GPA while studying Elementary Education. Puelz owns the GPAC conference meet records for both the indoor and outdoor pole vault, holds school records in the indoor (13' 5") and outdoor (13' 7 ¼") pole vault and is a four-time GPAC champion. She earned 2021 and 2022 CoSIDA Academic All-District and Academic All-America First Team accolades.
Puelz career accomplishments
· Four-time NAIA pole vault national champion
· Four-time GPAC pole vault champion
· 2021-22 Academic All-America® Team Member of the Year (NAIA women's track & field)
· 2022 Omaha World-Herald Midlands Female Athlete of the Year
· 2021 Lincoln Journal Star State College Female Athlete of the Year
· Two-time CoSIDA Academic All-American / two-time CoSIDA Academic All-District
· School records for indoor (13' 5") and outdoor (13' 7 ¼") pole vault
· GPAC meet records for indoor (13' 5") and outdoor (13' 7 ¼") pole vault
Concordia all-time OWH Midlands Female Athletes of the Year
2022 – Josie Puelz, Track & Field
2020 – Philly Lammers, Basketball
2019 – Philly Lammers, Basketball
2015 – Bailey Morris, Basketball
1998 – Stacey Miller, Basketball/Softball