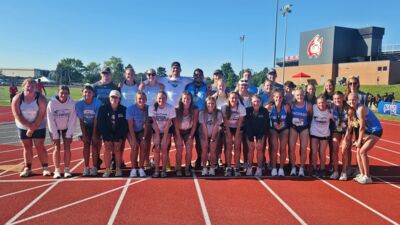 2023 USTFCCCA All-Academic Awards
SEWARD, Neb. – Five-time pole vault national champion Josie Puelz has raked in yet another award recognizing her combined athletic and academic excellence. The Lincoln Lutheran High School alum has been chosen as the 2023 NAIA Indoor Women's Field Scholar Athlete of the Year by the U.S. Track & Field and Cross Country Coaches Association (USTFCCCA). This marks the third consecutive year that Puelz has garnered Scholar Athlete of the Year accolades from the coaches' organization. Puelz was one of 40 student-athletes from the Concordia University Track & Field program to be recognized by the USTFCCCA as All-Academic Athletes.
For their work in the classroom, Head Coach Matt Beisel's men's and women's squads were also honored with All-Academic Team accolades. Teams are required to achieve a collective 3.0 grade-point average or better and individuals must achieve at least a 3.25 GPA while also recording an automatic or provisional national qualifying mark in either indoor or outdoor. In terms of team GPA among all NAIA track programs in 2022-23, Concordia ranked seventh on the women's side and 14th on the men's side. The women's program ranked as the national leader for most All-Academic Athletes while the men tied for fourth most.
Named 2022 NAIA Women's Track & Field Academic All-America Team Member of the Year by College Sports Communicators, Puelz picked up her fifth career national title this past indoor season. She is a seven-time NAIA All-American and a six-time GPAC champion in the pole vault. Puelz continues to own school records for both the indoor (13' 4 ½") and outdoor (13' 7 ¼") pole vault and has helped the Bulldogs continue their supremacy within the GPAC. Teammates Rachel Battershell and Zach Bennetts made for a clean sweep of 2023 NAIA Track & Field Academic All-America Team Members of the Year.
The 2023 track season saw the Concordia women claim GPAC indoor and outdoor championships while the men turned in conference finishes of third for both indoor and outdoor. The women's program placed sixth nationally at the 2023 indoor national meet.
2023 Concordia All-Academic Athletes
· Elena Batenhorst
· Rachel Battershell
· Keegan Beisel
· Zach Bennetts
· Chase Berry
· Erin Boggs
· Amira Cummings
· Lauren Dawson
· Jenna Esch
· Carson Fehlhafer
· Kylahn Freiberg
· Abigail Gerber
· Rylee Haecker
· Ethan Ideus
· Rhaya Kaschinske
· Kayla Kirchner
· Jordan Koepke
· Wyatt Loga
· Erin Mapson
· Colton Meyer
· Ben Moll
· Hannah Newton
· Josi Noble
· Erin Painter
· Kamryn Pokorney
· Josie Puelz
· Joel Rathe
· Kellie Rhodes
· Amy Richert
· Madeleine Robinson
· Adrianna Rodencal
· Calvin Rohde
· Isabelle Salters
· Darien Semedo
· Camden Sesna
· Amanda Steinke
· Gretchen Stottlemyre
· Kayla Svoboda
· Trinity Tuls
· Zach Zohner