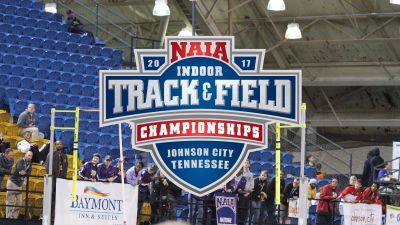 NAIA national championships pages: MEN | WOMEN
SEWARD, Neb. – The Concordia University track and field program's group of 2017 indoor national qualifiers departed from Seward on Monday, bound for Johnson City, Tenn. That's where 19 Bulldogs will compete at the 2017 NAIA Indoor Track & Field National Championships, set to take place Thursday through Saturday (March 2-4) at David E. Walker Track at Gentry Field. The indoor national meet had been held in Geneva, Ohio, for five years in a row before returning to Tennessee in 2016.
Stretch Internet, the NAIA's official video streaming company, will be broadcasting all sessions of the national championships. Packages can be purchased for $14.95. For more information, click HERE.
Head coach Matt Beisel's group of national qualifiers boasts an impressive haul of accolades. Both Cody Boellstorff (weight throw) and Zach Lurz (shot put) are defending indoor national champions. Together, they have a combined five individual national titles and were members of the 2015 Bulldog men's outdoor national championship team. Collectively, Concordia's national qualifiers have earned 43 career All-America awards. Lurz tops the list with 12 All-America honors in his distinguished career.
Based on the Track & Field Results Reporting System (TFRRS) lists entering the meet, the Bulldogs possess 14 top-eight national marks (see below). The top eight in each event at the national championships are recognized as All-Americans. Boellstorff (weight throw), Lurz (shot put) and Lucas Wiechman (heptathlon) all own national leading marks. Allie Brooks (pole vault) and Adrianna Shaw (shot put) are both sitting runner up. The GPAC Most Outstanding Athlete of the Year, Wiechman has three marks that rank inside the top four nationally.
Cody Boellstorff – 1st in weight throw (67' 2 ¼")
Zach Lurz – 1st in shot put (58' 1")
Lucas Wiechman – 1st in heptathlon (5,073)
Allie Brooks – 2nd in pole vault (12' 10 ¾")
Adrianna Shaw – 2nd in shot put (47' ¼")
CJ Muller – 3rd in the 600 meters (1:20.07)
Kali Robb – 3rd in shot put (46' 9 ½")
Kali Robb – 3rd in weight throw (59' 4")
Lucas Wiechman – 4th in pole vault (16' 4 ¾")
Lucas Wiechman – 4th in the 60 hurdles (8.18)
Men's 4x400 meter relay – 6th (3:20.37)
Allie Brooks – 6th in high jump (5' 7")
Sydney Meyer – 6th in weight throw (57' 5 ¾")
Zach Lurz – 8th in weight throw (62' 1 ¾")
The wealth of individuals with big point scoring potential means the Bulldogs will have a shot to continue their run of success on the national stage. At the 2016 national championship events, the Concordia men placed third in indoor and then runner up in outdoor. Meanwhile, the women were fifth at the indoor national championships and then won the national title at the outdoor meet. Both Bulldog squads have placed inside the top five nationally at three-straight NAIA championships. The current national rankings calculated by the USTFCCCA have Beisel's men ranked third and the women ninth.
Based on data that goes back to the 2000 NAIA indoor national championships, the Concordia men have turned in top 25 finishes 14 of 17 years. They have notched eight top-10 placements with a runner-up finish in 2000 during that same stretch. Meanwhile, the Bulldog women have 12 top 25 indoor finishes since 2000. Three of those placements were inside the top 10.
The NAIA indoor track and field championships are in their 52nd year on the men's side and 37th year on the women's side. The championships begin on March 2 with the women's pentathlon at 1 p.m. EST and the men's heptathlon at 1:30 p.m.
2017 Concordia indoor national qualifiers
Cody Boellstorff, Senior (All-America awards: 5; two national titles)
Allie Brooks, Sophomore (third trip to nationals)
Ben Hulett, Junior (first trip to nationals)
Scott Johnson, Sophomore (first trip to nationals)
Philip Kreutzer, Senior (All-America awards: 2)
Samantha Liermann, Sophomore (All-America awards: 2)
Zach Lurz, Senior (All-America awards: 12; three national titles)
Nathan Mattars, Sophomore (All-America awards: 1)
Sydney Meyer, Senior (third trip to nationals)
CJ Muller, Senior (All-America awards: 5)
Ryan Olson, Sophomore (first trip to nationals)
Johanna Ragland, Sophomore (first trip to nationals)
Tyrell Reichert, Sophomore (second trip to nationals)
Jake Rodgers, Junior (first trip to nationals)
Kali Robb, Senior (All-America awards: 7)
Adrianna Shaw, Freshman (first trip to nationals)
Tricia Svoboda, Senior (All-America awards: 2)
Lucas Wiechman, Senior (All-America awards: 6)
Marti Vlasin, Senior (All-America awards: 1)
Concordia indoor national finishes since 2000
2016: M – 3rd | W – 5th
2015: M – 5th | W – 11th
2014: M – 17th | W – 11th
2013: M – 27th | W – 13th
2012: M – 38th | W – 29th
2011: M – 7th | W – 26th
2010: M – 15th | W – 12th
2009: M – 12th | W – 11th
2008: M – 7th | W – 14th
2007: M – 19th | W – 36th
2006: M – 5th | W – 29th
2005: M – 26th | W – 15th
2004: M – 7th | W – 27th
2003: M – 5th | W – 9th
2002: M – 20th | W – 8th
2001: M – 12th | W – 21st
2000: M – 2nd | W – 12th
Concordia outdoor national finishes since 2005
2016: M – 2nd | W – 1st
2015: M – 1st | W – 5th
2014: M – 11th | W – 9th
2013: M – 42nd | W – 20th
2012: M – 57th | W – 15th
2011: M – 11th | W – 57th
2010: M – 24th | W – 14th
2009: M – 7th | W – 19th
2008: M – 11th | W – 29th
2007: M – 15th | W – 24th
2006: M – 7th | W – 28th
2005: M – 13th | W – 17th