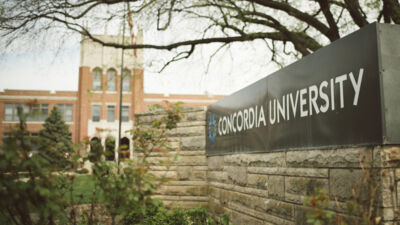 SEWARD, Neb. – For the fifth year in a row, the Concordia University women's track and field program is the national leader in number of Daktronics-NAIA Scholar-Athletes. Thirteen Bulldog women represented the program on the list of 2017 Scholar-Athletes. In addition, six men's track and field athletes also earned the same distinction (full list at bottom). Of the 19 total Scholar-Athletes, 12 are senior and seven are juniors.
Head coach Matt Beisel's squads are fresh off of fifth (men) and sixth (women) place finishes at the outdoor national championships. A junior academically, Sam Liermann is now a Scholar-Athlete in addition to becoming the national champion in the shot put. Five of the 19 Scholar-Athletes were in action this holiday weekend at the national championships in Gulf Shores, Ala.
In order to be nominated by an institution's head coach or sports information director, a student-athlete must maintain a minimum grade point average of 3.5 on a 4.0 scale and must have achieved a junior academic status. A total of 466 women's track and field and 316 men's track and field student-athletes across the nation were named 2017 Scholar-Athletes by the NAIA.
Concordia University ranks as the NAIA's all-time leader in number of Daktronics-NAIA Scholar-Athletes with 1,277 and counting (27 for the fall athletics season). The 2015-16 season produced a GPAC best 92 Bulldog scholar-athletes and a national best 20 NAIA Scholar-Teams. The 2014-15 season culminated with GPAC-leading totals of 94 Bulldog scholar-athletes and 17 NAIA Scholar-Teams. During the 2013-14 academic year, Concordia garnered 101 Scholar-Athlete honorees (most in the NAIA) and 17 NAIA Scholar-Teams (tied for fourth nationally).
2017 Track & Field Scholar-Athletes
MEN
Christian Egger, Sr. | Galva, Iowa | Secondary Education
Ryan Gross, Sr. | Riverside, Calif. | Physics/Chemistry/Music
Scott Johnson, Jr. | Kansas City, Kan. | Biology
Taylor Mueller, Sr. | Cedar Rapids, Iowa | Secondary Education/History
CJ Muller, Sr. | Omaha, Neb. | Biology
Ryan Olson, Jr. | Yankton, S.D. | Secondary Education/Behavioral Science
WOMEN
Andrea Anderson, Jr. | Omaha, Neb.
Anna Beune, Jr. | Dodge, Neb. | Biology; Pre-Nursing
Christy Beune, Sr. | Dodge, Neb. | Exercise Science; Pre-Physical Therapy
Alayna Daberkow, Sr. | Madison, Neb. | Marketing
Morgan Eggert, Sr. | Atkins, Iowa | Behavioral Science/Psychology
Bri Hallmark, Sr. | Longmont, Colo. | Marketing/Graphic Design
Sam Liermann, Jr. | Wisner, Neb. | Recreation and Sport Studies
Sydney Meyer, Sr. | Campbell, Neb. | Elementary Education
Beth Rasmussen, Sr. | Omaha, Neb. | World & Intercultural Studies
Emily Sievert, Jr. | Frankenmuth, Mich. | Secondary Ed/English/Music
Angie Steinbacher, Sr. | St. Charles, Mo. | Elementary Education
Jan Steinbrueck, Jr. | St. Louis, Mo. | DCE/Theology
Marti Vlasin, Sr. | Seward, Neb. | Middle Level Education