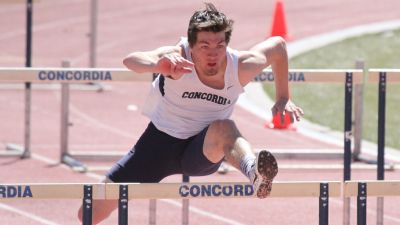 CRETE, Neb. – Concordia's top-five nationally-ranked track and field squads picked up action at the Jim Dutcher Memorial meet on Saturday, running their total number of event titles to nine by the conclusion of the day. Josh Slechta came out on top in the discus while narrowly falling short of a school record mark. Five of the Bulldog wins came in field events (four throwing events) and the other four came on the track.
This was the third outdoor meet of the 2016 season for 24th-year head coach Kregg Einspahr's squads, which had last weekend's scheduled outing at the University of Nebraska-Kearney canceled due to inclement weather.
"Our throwers had another great weekend. I thought some of our athletes could compete a little better than they did, but the wind held up some things," Einspahr said. "I don't know if last weekend (off) helped us or hurt us. Usually it helps us at this point. We looked a little rusty in some areas. Overall it was a good day."
Slechta's mark of 178' 5" in the discus represented a personal best by more than 15 feet. He was just three inches shy of the school record posted by Corbin Jones in 2011. Based on the NAIA national lists entering the weekend, Slechta now ranks second in the discus while leading in the hammer throw (210' 10"). Slechta passed up teammate Zach Lurz in the discus. Lurz was runner-up to Slechta with a throw of 175' 11." Lurz was also second in the shot put thanks to a mark of better than 56 feet.
The discus and shot put were the only throwing events to take place on Saturday (hammer and javelin were contested on Friday). Lurz, Trey Barnes and Jose Rojas finished second, fourth and fifth, respectively in the shot put as all three eclipsed the automatic national mark. Bulldogs Kali Robb (46' 1 ½"), Samantha Liermann and Stephanie Coley held down the top three placements in the women's shot put. Coley also claimed the discus title with a personal best of 160' 3" – second best in Concordia history.
In the pole vault, freshman McKenzie Gravo continues to climb higher. She set a personal outdoor best by again jumping the automatic national qualifying mark. Her clearance of 12' ranks No. 6 on the program's all-time list. She made attempts at breaking Cassie Starks' program standard of 12' 6 ¼" but came up just shy.
Concordia took the top spot in both 800 meter races. Junior CJ Muller (1:56.75) won on the men's side and senior Kim Wood (2:17.49) beat out the competition on the women's side. Wood was also the runner up in the 1,500 meter run, clocking in at 4:44.74. That was roughly six seconds slower than her personal best from the Concordia Invite on April 9. Also on the track, senior Trevor Bresson broke free with a win in the 400 hurdles, finishing in 55.61. In the 400 meter dash, senior Jaap van Gaalen placed third in a time of 49.93.
Said Einspahr of Bresson, "He's looking really good his senior year. He's putting it all together. He looked really good in the 400 intermediate hurdles today."
In the decathlon, junior Lucas Wiechman turned in a third-place finish thanks to a total of 6,400 points. His personal best of 6,561 points came at last year's national championships. Wiechman won both the 400 meter dash and pole vault portions of the decathlon.
Action continues for the Bulldogs on Wednesday with the Nebraska Wesleyan Spring Open in Lincoln. In addition, select members of the team will travel to Des Moines, Iowa, for the prestigious Drake Relays (April 28-30) next week. Those meets will serve as the final tune ups before the GPAC championships (May 6-7).
Based on scoring projections at this time, Concordia again looks like a strong contender for top-two or three spots in the conference. In this week's national rankings, the Bulldog women checked in at No. 2 while men appeared at No. 3. "We're right in the thick of things," Einspahr said. "We have a chance to do some good things."
Dutcher Memorial event winners
Trevor Bresson – 400 hurdles
Stephanie Coley – discus
McKenzie Gravo – pole vault
Liz King – javelin
CJ Muller – 800 meters
Kali Robb – shot put
Emily Sievert – 5,000 meters
Josh Slechta – discus
Kim Wood – 800 meters