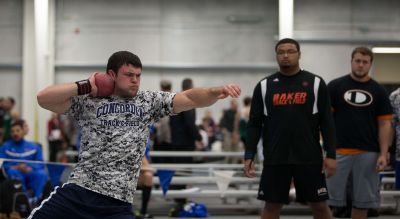 Nine automatic national marks highlight season-opening meet
By Taylor Mueller, Athletic Communications Assistant
CRETE, Neb. – The 2015 indoor track season is officially underway as the Concordia University track and field teams trekked to Crete, Neb., to compete in the Scott Nisely Memorial Meet at Doane College on Saturday. The Bulldogs' talented group of throwers turned in five automatic national qualifying marks and another three came from pole vaulters as part of a solid kickoff to the new campaign.
"We've got some rusty places to work on," head coach Kregg Einspahr said. "You can tell that we've been off for a while with break and we just need a little more consistency in practice now so we can get back in a routine. Overall it was a very promising start to our season."
Numerous Bulldog athletes started the season with impressive performances.
As the season progresses, the women's 600 meter run should provide plenty of entertainment as sophomores Randi Janzen and Marti Vlasin raced to second and third place finishes in 1:40.23 and 1:40.98 respectively.
Senior Erika Schroeder claimed first place in the women's 800 meter run with her time of 2:30 while junior Katelyn Shoup nailed a national qualifying mark in the triple jump with her effort of 36'10 1/4."
Einspahr also noted that senior Cassie Starks and sophomore Kali Robb had "very good starts to the season." Starks took third in the pole vault competition with her clearance of 11' 9" (automatic national qualifying mark) while Robb earned third place honors in the shot put with a toss of 46' 6 ¼" and fourth in the weight throw with a mark of 55' ¾" as she qualified for nationals in both events.
Robb was part of an impressive group of Bulldog women's shot put competitors. Robb, senior Brittany Erdmann (44') and junior Stephanie Coley (43' 10 ¾") each punched tickets to the national championships with automatic marks.
The 4x400 meter relay team of sophomores Janzen, Vlasin, Marielle Plunk and Christy Beune raced to a second place finish in 4:03. The 4x800 meter relay team of Schroeder, Junior Tallie Elbert and sophomores Elizabeth Rassmussen and Angie Steinbacher claimed second place as well in 10:25.
Einspahr was pleased with the performances of several male individuals as well.
Concordia placed five individuals within the top seven places of the 600 meter run in a race that should provide plenty of excitement and in-team competition in the meets to come. Sophomore CJ Muller placed second in the race in 1:22 while fellow teammate and senior Matthew Chapa took third in 1:24.
In a thrilling and nail-biting 4x400 meter relay Concordia came from behind to edge out Doane by .23 seconds as junior anchor Jaap Van Gaalen kicked into high gear to pass a Doane athlete with just meters to go. Muller, Chapa and junior Jacob Kettner filled in the rest of the relay squad.
"I'm very pleased with our long sprinters and our short distance guys," Einspahr said. "In the 600 and the 4x400 (meter relay) we looked real sharp."
Freshman Patrick Wortmann started his indoor Bulldog career well with a third place finish in the 1000 meter run in 2:39 while junior Jordan Potrzeba gutted out a second place finish in the 3000 meter run in 9:09.
Sophomore Lucas Weichman and junior Brandon Ramos both cleared 15'9" in the pole vault to earn third and fourth place, respectively, with automatic national qualifying clearances. Meanwhile sophomore Zach Lurz had a phenomenal day in the ring, taking first in the shot put with a throw of 54' 3 ¼" (ranked second nationally) and third in the weight throw with a heave of 56' 4 ¾".
"Our throwers looked good today," Einspahr said. "You can tell that our throwers put in some good time over Christmas break so I think they're ready to get going."
Concordia will look to improve on their solid start when they compete in the Prairie Wolf Invite at Devaney Center in Lincoln on Friday (Jan. 23).