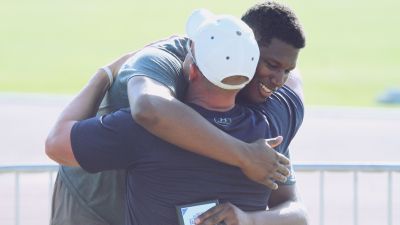 When Jacob Cornelio arrived at Concordia via Elk Grove, Calif., in 2016, he had the likes of teammates in national champions Cody Boellstorff and Zach Lurz to look up to. For some, that may have seemed like a difficult act to follow. Quite quickly, the young thrower with a bright future began to prove he belonged.
Even Lurz, a four-time national champion, predicted big things for the one teammates and coaches affectionately call "Cob." Throws coach Ed McLaughlin could tell that Cornelio brought something extra special with him from The Golden State.
Said McLaughlin, "Cob is in his second year being a team captain and that doesn't surprise me at all. He probably could be in his third year being a team captain. Cob has been a leader since he walked in the door. His freshman year obviously we had Zach (Lurz), Cody (Boellstorff) and Phil (Kreutzer) so he didn't really take a big leadership role, but you could just see it when he walked in. He has a confidence about him that other people feed off of."
The results in the ring speak for themselves. During the 2019 calendar year, Cornelio won GPAC championships in the weight and hammer throws and was the NAIA national runner up in the weight throw. On the program all-time lists, he ranks second in the weight throw (65' 11 ½) and fourth in the hammer throw (202' 5"). The potential is there for him to rise to the top of the charts and to add to the number of throws national titles under McLaughlin's leadership (current number is 16).
All that is impressive to be sure, but Cornelio stands out for much more than his accolades and his imposing physical stature. The Los Angeles-born Cornelio has a way of carrying himself with a swagger while still making it known he cares deeply about those around him, particularly his teammates. He's also a married man with a maturity that goes beyond his years.
"The biggest thing for me is having people look up to me and how that keeps me responsible as well," Cornelio said. "They're looking up to me to see how I practice, see how I prepare, see how I do things and see how I lead. I think that gives the rest of my teammates some confidence through my own confidence when we go into meets, practices and lifting."
During indoor season, Cornelio is focused on the weight throw. During outdoor, that focus shifts to the hammer. Cornelio has gotten incredibly good by specializing in these specific areas. At the Concordia Early Bird Meet this past December, he wasted no time in hurling an automatic national qualifying standard of 64' 8 ¾" in the weight throw. That mark currently puts him atop the NAIA and makes him one of the favorites on the national landscape.
Of course Cornelio is big and strong, but he's not necessarily the strongest competitor. Cornelio has gotten to this point by attempting to perfect his craft. When looking at many of the greats that have come through the Concordia throws program, one can see that a commonality has been their perfectionist traits.
"If you look at me in comparison to the rest of the guys in the ring, I'm not going to be the biggest," Cornelio said. "I'm not going to be the strongest, but I will out-technique some of those guys. That's the biggest key and factor that I have over other people. That's what I keep working on – getting better at technique while also getting stronger. Technique is a huge part of it."
The technical skills Cornelio has honed can also be a great benefit to his teammates, should they choose to observe his wondrous tosses and seek his guidance. Cornelio is already something of an athlete-coach with the way he goes about his business.
Said McLaughlin, "He's great at helping everybody else. In practice sessions he wants a full team effort. I always catch him at practice with younger kids helping them out on the side. It was a huge blessing when he decided to come to Concordia. His leadership qualities are very noticeable."
It seems Cornelio's desire for all others to feel welcome even outweighs his desire for his teammates to attain great feats of accomplishment. It was that feeling of belonging that convinced Cornelio to become a Bulldog in the first place. Said Cornelio, "I just loved that aspect that I had these people who were accepting and who were loving."
The nationally known throws group at Concordia is bonded through more than just their success in the ring. Added Cornelio, "We're a family. Through it all, through fights or whatever it can be, the throwers are a family. I just love that aspect. I can go to anyone on my team and be a big brother or little brother to them, in a sense. It's just a really fun atmosphere. Ed does a really good job of creating that family and welcoming us and bringing his family into the mix. Just being part of that group and union is a really awesome opportunity."
A big factor in the heights reached by throwers, or any athletes, is the mentality that is brought to competition. Cornelio has the right mindset, the type that helps make a champion. Once just one of the guys, Cornelio is now THE guy when it comes to the Bulldog men's throws group. His efforts to become the next in a long line of throws national champions is well underway.
Few people would be more excited than McLaughlin if that time comes in Brookings, S.D., or Gulf Shores Ala.
Says McLaughlin, "I can't even imagine the look on his face if he was blessed enough to win a national championship. He's more than ready to do that type of thing. It always comes down to what happens on that day."