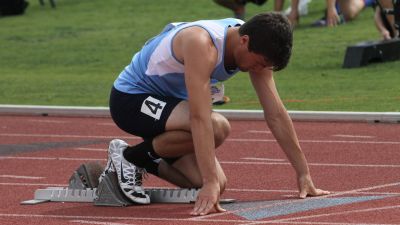 NAIA national championships pages: MEN | WOMEN
SEWARD, Neb. – For 11 seniors, the 2017 NAIA Outdoor Track and Field National Championships signal the end of the line for what's been a remarkable and unprecedented run when it comes to the history of Concordia University track and field. The national event is set to take place Thursday through Saturday at Mickey Miller Blackwell Stadium in Gulf Shores, Ala., where the NAIA outdoor championships have been held since 2014.
During the time the national championship meet has taken place in Gulf Shores, the Bulldog men's and women's teams have never placed lower than 11th. In each of the last two years, the program has celebrated either a men's (2015) or women's (2016) team national title. Entering this year's meet ranked third on the women's side and sixth on the men's side, Concordia again expects a lot of itself.
"The emotional intensity is high," said head coach Matt Beisel recently on the weekly coaches' radio show. "Our kids go into this ready to win. There's definitely a heightened sense of anticipation. We're going to have the potential to put a lot of points on the board on both the men's and women's sides. We'll see where it falls out. Lucas Wiechman is a name we've talked about a lot. He's not going to compete in the decathlon. We think he can put more points on the board by focusing on those other events."
For Wiechman, those other events are the 110 and 400 meter hurdles, the pole vault and the 4x400 meter relay. Now a 10-time All-American and a heptathlon national champion, Wiechman has put everything together as a senior. He's collected athlete of the meet awards at every championship meet in 2017 – GPAC indoor and outdoor championships and at the NAIA indoor championships. His highest current national ranking is a No. 3 slotting in the pole vault.
As announced last week, Beisel's qualifying field includes 33 individuals (one relay alternate). More than 40 percent (14) are making their first trips to the national stage. There are also plenty of seasoned veterans like throwers Cody Boellstorff and Zach Lurz, who own a combined seven individual national titles. Concordia's national qualifiers possess a combined total of 59 All-America awards. Lurz leads the pack with 14 during his incredible career. A defending champion in the shot put, Lurz has won all of his national titles in the shot.
Breaking it down further, 19 of the 33 qualifiers are women. On the men's side, four of the participants are throwers and six are traveling exclusively as relay runners. The women's group includes a large field of throwers with 10 qualifiers, including Samantha Liermann, the national leader in the shot put. The women also have a strong group of pole vaulters with Allie Brooks and McKenzie Gravo ranked second and sixth nationally, respectively, in the event.
Boellstorff (hammer) and Liermann (shot put) are the team's national leaders heading into the meet. Concordia athletes own a total of 16 marks that rank inside the top eight nationally (see list below). Four different Bulldogs hold marks that position them No. 2 on the national list: Brooks (pole vault), Lurz (shot put and discus), Kali Robb (hammer) and Tricia Svoboda (discus).
The multi-events kick off the NAIA National Championships on May 25 with the men's decathlon at 10 a.m. CDT. In the women's heptathlon, event's get started at 10:30 a.m. Opening Ceremonies are scheduled for 2 p.m. on May 25 and precede trials of the relays.
Stretch Internet, the NAIA's official video-streaming company of NAIA national championship events, will be broadcasting the events on www.NAIANetwork.com. A subscription package to view the entire three-day event is $14.95. For more information, including how to register and sign-up for an account, click here.
For more information on the 2017 NAIA Men's & Women's Outdoor Track & Field National Championships, click here.
Bulldogs in the top eight nationally
Cody Boellstorff – 1st in hammer (216' 6")
Samantha Liermann – 1st in shot put (49' 1")
Allie Brooks – 2nd in pole vault (12' 9 ½")
Zach Lurz – 2nd in shot put (58 9 ¼"); 2nd in discus (179' 9"); 3rd in hammer (206' 6")
Kali Robb – 2nd in hammer (190' 5"); 3rd in shot put (48' ¾")
Tricia Svoboda – 2nd in discus (158' 4")
Sydney Meyer – 3rd in hammer (179' 3")
Lucas Wiechman – 3rd in pole vault (16' 7 ¼"); 8th in 400 hurdles (53.98)
McKenzie Gravo – 6th in pole vault (12' 8")
CJ Muller – 7th in 800 meters (1:51.40)
Addie Shaw – 7th in shot put (47' 1 ¾")
Bethany Shaw – 7th in discus (153' 8")
2017 Concordia outdoor national qualifiers
Tori Beran, Sophomore (first trip to nationals; relay alternate)
Cody Boellstorff, Senior (All-America awards: 6; three national titles)
Allie Brooks, Sophomore (All-America awards: 1)
JC Cornelio, Freshman (first trip to nationals)
Alayna Daberkow, Senior (second trip to nationals)
Jazzy Eickhoff, Sophomore (first trip to nationals)
Jacy Embray, Sophomore (first trip to nationals)
Sam Ferguson, Sophomore (first trip to nationals)
McKenzie Gravo, Sophomore (All-America awards: 2)
Taylor Grove, Sophomore (first trip to nationals)
Ben Hulett, Junior (second-straight trip to nationals)
Philip Kreutzer, Senior (All-America awards: 2)
Samantha Liermann, Sophomore (All-America awards: 3)
Zach Lurz, Senior (All-America awards: 14; four national titles)
Nathan Matters, Sophomore (All-America awards: 1)
Josiah McAllister, Sophomore (first trip to nationals)
Sydney Meyer, Senior (earned first All-America award at 2017 indoor nationals)
Tristen Mosier, Freshman (first trip to nationals)
CJ Muller, Senior (All-America awards: 6)
Johanna Ragland, Sophomore (first trip to nationals)
Miranda Rathjen, Freshman (first trip to nationals)
Tyrell Reichert, Sophomore (third trip to nationals)
Jake Rodgers, Sophomore (second trip to nationals)
Kali Robb, Senior (All-America awards: 9)
Addie Shaw, Freshman (earned first All-America award at 2017 indoor nationals)
Bethany Shaw, Freshman (first trip to nationals)
Carley Skopera, Sophomore (first trip to nationals)
Jan Steinbrueck, Junior (second trip to nationals)
Tricia Svoboda, Senior (All-America awards: 2)
Thomas Taylor, Sophomore (first trip to nationals)
Lucas Wiechman, Senior (All-America awards: 10; one national title)
Marti Vlasin, Senior (All-America awards: 1)
Quinn Wragge, Sophomore (first trip to nationals)
Concordia National Championships Schedule
*All times are CDT
Thursday, May 25
10 a.m. – Women's Hammer Final (Liermann, Meyer, Robb, Svoboda)
1 p.m. – Men's Hammer Final (Boellstorff, Cornelio, Kreutzer, Lurz)
3 p.m. – Women's Javelin Final (Eickhoff, Meyer, Svoboda)
3 p.m. – Women's Pole Vault Final (Brooks, Gravo, Mosier)
4:25 p.m. – Men's 400m Hurdles Trials (Wiechman)
5:40 p.m. – Women's 4x800m Relay Trials
6:15 p.m. – Men's 4x800m Relay Trials
Friday, May 26
1 p.m. – Women's Shot Put Final (Eickhoff, Liermann, Robb, A. Shaw)
1:45 p.m. – Men's 110m Hurdle Trials (Hulett, Wiechman)
2:20 p.m. – Men's 800m Trials (Muller)
5 p.m. – Men's Discus Final (Boellstorff, Cornelio, Lurz)
5:30 p.m. – Women's 4x800m Relay Final
5:50 p.m. – Men's 4x800m Relay Final
8:15 p.m. – Men's 4x400m Relay Trials
Saturday, May 27
6 a.m. – Women's Marathon Final (Grove)
1 p.m. – Men's Shot Put Final (Boellstorff, Kreutzer, Lurz)
1 p.m. – Men's Pole Vault Final (Reichert, Wiechman)
2 p.m. – Women's Discus Final (Embray, Robb, A. Shaw, B. Shaw, Skopera, Steinbrueck, Svoboda)
3:30 p.m. – Men's 110m Hurdles Final (Hulett, Wiechman)
4:20 p.m. – Men's 400m Hurdles Final (Wiechman)
5 p.m. – Men's 800m Final (Muller)
6:25 p.m. – Men's 4x400m Relay Final
Concordia outdoor national finishes since 2005
2016: M – 2nd | W – 1st
2015: M – 1st | W – 5th
2014: M – 11th | W – 9th
2013: M – 42nd | W – 20th
2012: M – 57th | W – 15th
2011: M – 11th | W – 57th
2010: M – 24th | W – 14th
2009: M – 7th | W – 19th
2008: M – 11th | W – 29th
2007: M – 15th | W – 24th
2006: M – 7th | W – 28th
2005: M – 13th | W – 17th
Concordia indoor national finishes since 2000
2017: M – 2nd | W – 7th
2016: M – 3rd | W – 5th
2015: M – 5th | W – 11th
2014: M – 17th | W – 11th
2013: M – 27th | W – 13th
2012: M – 38th | W – 29th
2011: M – 7th | W – 26th
2010: M – 15th | W – 12th
2009: M – 12th | W – 11th
2008: M – 7th | W – 14th
2007: M – 19th | W – 36th
2006: M – 5th | W – 29th
2005: M – 26th | W – 15th
2004: M – 7th | W – 27th
2003: M – 5th | W – 9th
2002: M – 20th | W – 8th
2001: M – 12th | W – 21st
2000: M – 2nd | W – 12th