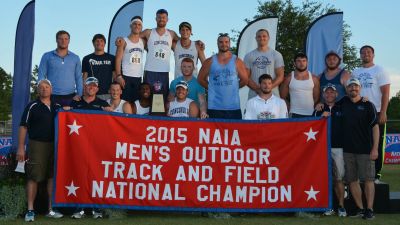 NOTE: A version of this story first appeared in the Concordia University Broadcaster magazine.
When Kregg Einspahr returned to his alma mater as head coach in 1992, members of the Concordia University track and field programs kicked up rocks while pacing an on-campus gravel track. Einspahr's very first Bulldog track teams placed near the bottom of the then Nebraska-Iowa Athletic Conference. In the 23 years since then, the circumstances have been turned completely around.
Says assistant coach Jason Berry, a GPAC pole vault champion and All-American on Einspahr's first team, "I know what he has gone through to build this program."
On May 23, 2015, Concordia men's track and field reached the pinnacle by capturing the first team national title for any sport in school history. In a three-day championship meet in which the outcome rested upon the final event (men's 4x400 meter relay), the Bulldogs held off a tightly-bunched top four for the No. 1 spot.
After overseeing six combined national runner-up finishes in cross country and track and field, Einsphar had reached the top. He and his tight-knit group of assistants – Berry, Ed McLaughlin and Mark Samuels – watched the 4x4 together. At its dramatic conclusion, they celebrated wildly, hugged and shared in a moment that will never be forgotten.
A year earlier, the men's program had busted loose with its first-ever conference championships. After breaking down that barrier, the Bulldogs went to work on adding the only thing missing from their trophy case. But they would have been lying to say they expected to win. As underdog title contenders, the unlikelihood of Concordia earning the oversized red championship banner made the moment all the more sweet.
"I think for anybody who's been coaching for a long time, it's an unspoken dream that you'd like to win a national championship,'' Einspahr told the Omaha World-Herald. "It's always something in the back of your mind you'd like to accomplish. You never know if you are going to have the guns to do it."
It turned out the heavy artillery came from the likes of meet most valuable performer Zach Lurz and a dominant group of throwers. Einspahr's 1993 Bulldogs did not possess a single all-conference thrower. But in 2015, McLaughlin's group of long tossers paved the way for a title. Lurz and company piled up 37 of the team's 59 points. Most impressive, Lurz was part of a hammer throw squadron, along with national champion Cody Boellstorff, that placed first, second, third and eighth.
The 25 points from the hammer throw alone put Concordia in the driver's seat for the entire meet. However, the Bulldogs entered the 4x400 meter relay finals with just a two-point lead over Indiana Tech. The quartet from Indiana Tech had finished first in the prelims. A duplicate performance would have leapfrogged the Warriors over Concordia.
The Bulldogs clung to a two-point advantage over Indiana Tech in an excruciatingly close battle. Despite maintaining the lead throughout the weekend, Concordia still found itself an underdog to the defending national champion Warriors. Something no one could have predicted happened next. Just when Indiana Tech appeared poised to win the title, a gasp rang out through the crowd.
"Receiving the baton for the last lap in the relay I was pretty bummed," Bulldog sophomore CJ Muller said. "I knew even if I ran another ridiculous time, Indiana Tech was out of my striking distance. Once on the back stretch I could see something was wrong, Jon Hester's (Indiana Tech anchor) head was bobbing side to side and it wasn't until the other schools passed I saw he had pulled something. It was really an unbelievable moment."
Said senior Trey Farmer, "I couldn't believe that it had happened and once I saw CJ pass the Indiana Tech guy, I was just beyond shocked."
Even days after it had happened, Concordia coaches and athletes struggled for the right words to describe just what it felt like. A Lincoln, Nebraska, TV station arrived in Seward three days following the championship meet. Said Lurz to KLKN-TV, "I can't even put it into words."
The ending could not have been any better for seniors like Tai Pleasant, another member of the 4x400 relay. "Winning a national title was amazing. I've been on cloud nine since then," Pleasant said. "I'm glad I got to leave Concordia on the highest note you can leave any school."
Beginning with Einspahr's national title in the 1980 steeplechase, the Concordia men have had 27 individual national championships with Boellstorff being the latest. Behind national titlists TJ Kloster (pole vault) and Brandon Seifert (one mile), the Bulldogs finished as the 2000 indoor national runner up. It was a major breakthrough that helped establish Einspahr's program as a national power heading into the 21st century.
Since 2005, the Bulldog men own 17 combined top-25 national finishes. During that stretch, they have posted impressive placements of fifth on two occasions and seventh a total of four times. Going into many championship meets Einspahr expects top-10 finishes, but to actually win it? That's a whole other dynamic that comes with a lot more hardware and hoopla.
Someone with intimate knowledge of Concordia track and field for the past 14 years, Samuels knew the toil involved in the building of a champion.
"Being a national championship team is the ultimate goal," Samuels said. "It's something you dream about but never really expect to actually see come true. Fourteen years ago I first stepped on this campus as an athlete not really knowing what Concordia was all about. Now all these years later I know how much this means, not only to our program or coaching staff, but to every Bulldog that has been fortunate enough to compete here. There is a piece of this championship that is theirs."
The national title dream started on a gravel track and ended with a celebration at Mickey Miller Stadium in Gulf Shores, Ala., site of the 2015 NAIA Outdoor Track and Field National Championships. As Muller told a TV reporter, "I just couldn't believe we had done this. Fifteen guys from Nebraska had just won a national championship."
Men's national championship team
Trey Barnes
Cody Boellstorff
Brock Braniff
Matthew Chapa
Brandon Cook
Trey Farmer
Philip Kreutzer
Zach Lurz
CJ Muller
Tai Pleasant
Brandon Ramos
Jose Rojas
Josh Slechta
Jaap van Gaalen
Lucas Wiechman