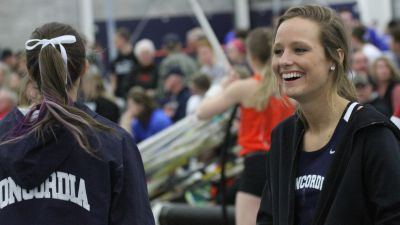 SEWARD, Neb. – A school record breaking and NAIA national leading performance helped Allie Brooks achieve the status of NAIA National Women's Indoor Field Athlete of the Week, as announced by the NAIA on Wednesday (Feb. 8). Earlier in the day, Brooks garnered weekly recognition from the GPAC.
"It was just a really special moment to me," Brooks said of breaking the pole vault school record. "It was awesome to have my mom and dad there. My dad and I always talked about how cool it would be if we both could have the records here. It's crazy and awesome that it's a reality. It was a crazy good feeling."
Brooks has flourished in her sophomore season. At last week's Fred Beile Classic hosted by Doane, Brooks broke her own school record in the pole vault and then bested a program standard of more than 30 years in the high jump. Her clearance of 12' 10 ¾" tops all NAIA female vaulters in the nation. She also ranks in a tie for fourth nationally in the high jump (5' 7"). A Seward High School product, Brooks qualified for nationals in the indoor and outdoor pole vault as a freshman.
Brooks won two state pole vault championships in South Dakota before she and her family moved back to Seward. Her father Gene won five pole vault national titles during his career as a Bulldog. He is both a Concordia and NAIA athletic Hall of Fame member and school record holder in the indoor pole vault.
Allie and both Bulldog track and field squads will return to action on Friday when they play host to the Concordia Indoor Invitational inside the Fieldhouse. The meet is set to get started at 2 p.m. CT. To view the event schedule, click HERE.