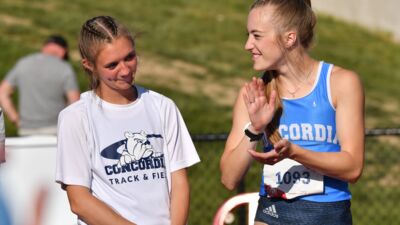 Day 1 Recap | Day 2 Recap | Results | Concordia T&F YouTube
MARION, Ind. – Concordia University Track & Field wrapped up the 2023 NAIA Outdoor Track & Field National Championships in style on Friday (May 26) as seven Bulldogs stepped up to the podium with All-America placements. The latest All-America plaques were claimed by the women's 4x400 meter relay, Rachel Battershell, Rylee Haecker, Darien Semedo and Zach Zohner. Haecker even clipped a school record that had stood since 2005. Those efforts headlined the third and final day of action at the Wildcat Track & Field Complex in Marion, Ind.
Head Coach Matt Beisel's squads ultimately combined to put nine individuals on the All-America stand while recording NAIA national team place finishes of tied for 23rd (13 points) on the women's side and tied for 26th (12 points) on the men's side. That is a wrap on track & field for 2023. Afterwards, Beisel made special mention of the seniors among the national qualifying roster: Battershell, Wyatt Loga and Erin Mapson.
"We have a lot of things to celebrate," Beisel said. "Our athletes came here and did an amazing job and, in many cases, exceeded their seed marks. Not all of them made All-American, but that's not how it works. We had some personal bests in every event area. A lot of great things happened. Obviously the highlights are the people who were able to make the podium. For our seniors, this was their last time and their last competition collegiately. I'm just grateful to God that He has given us this awesome experience and this awesome weather at Indiana Wesleyan."
Now an eight-time NAIA All-American, the Davenport, Neb., native Haecker has a way of rising to the occasion. Late in the season, Haecker wasn't certain to qualify for the 1,500 meters, but she made the cut and then thrived. She ran the finals of the event on Friday and placed sixth in a school record time of 4:33.84. That time just did eclipse the previous standard of 4:33.98 by Concordia Athletic Hall of Famer Molly Engel in 2005.
Said Haecker, "I was not expecting it. The last meet at Twilight I was just like, Obviously God just wants me to go in the 4x8 and I'll do the best I can for my teammates. It was an answered prayer that I was able to come and glorify Him with this gift. I've found a love for the 1,500 so I was excited to run it a couple more times this season."
Lefty throwers made a splash on back-to-back days for Concordia. After Austen Rozelle crashed the All-America party on Thursday in the discus, Semedo took his turn in writing an underdog tale. The junior from Sacramento, Calif., seized the moment on his third throw of flight one, unleashing a personal best of 54' in the shot put. That mark held up as the national leader until the third flight. Semedo ultimately took sixth place.
Said Semedo, "(Coach) Ed (McLaughlin) kept me ready to compete and do my best. Coming into this, I felt really good. I felt like I could do something here. It took a two-foot PR and it ended up working out. Being in the first flight, it was a nervous 30 minutes waiting for everything to settle down. There was one thing I felt like was missing and I finally got it, and it clicked."
The career of Zohner literally took flight in 2023. The Battle Creek, Neb., native enjoyed a major breakthrough at indoor nationals when he placed as the NAIA runner up. He can now add a third-place claim to his resume. Zohner landed at No. 3 in Friday's competition with a vault of 15' 11." It's been a big year for the vault crew. On the women's side, Josie Puelz placed as the national runner up two days earlier (for her seventh career All-America award). Mapson also qualified for nationals and will depart from Concordia as a six-time All-American.
The best may be yet to come for Zohner, the 2023 GPAC outdoor pole vault champion. As he said afterwards, "A lot of it probably started last year. I've had a lot of injuries. I was able to fight through them freshman year and they kind of stayed around sophomore year. I've found different stretches to stay loose – that's been the main key along with my coaches and teammates."
The career All-America count for Battershell finishes at 13. The Wheatland, Wyo., native placed eighth in the 400 meters while running the finals in 57.41. The Bulldog journey for Battershell included two 400-meter national titles. She then put a bow on her career by running the anchor leg for the 4x400 meter relay. Her teammates included Jenna Esch, Josi Noble and Trinity Tuls. They placed eighth in a time of 3:50.06. The 4x4 turned in All-America claims in both indoor and outdoor in 2023. Esch, Noble and Tuls will be back, but Battershell will move on to the next chapter of her life.
There were plenty of emotional hugs to go around with coaches and teammates as Battershell began to say her goodbyes. Said Battershell, "It's a long season and it's a long year. We've been through a lot of ups and downs together and have grown a lot together, succeeded and failed together. At the end, being able to say, 'Amen,' with someone and having that faith is what it's about. These people are my family. How can you not be emotional at the end of something like that?"
The 2023 GPAC outdoor high jump champion, Hannah Newton successfully cleared the first two heights (5' 3" and 5' 5") in the competition on Friday. The sophomore from Crete, Neb., narrowly missed out on being an All-American as she came up short on her three attempts at 5' 6" and placed ninth. This was the third career nationals appearance for Newton. The jumps crew in Indiana also featured Wyatt Loga and Joel Rathe. Loga earned two All-America awards in his Bulldog career.
In the women's discus, Erin Painter returned to the qualifying field after earning All-America accolades (fourth place) in 2022. Painter threw 134' 3" at the 2023 competition and placed 23rd out of 30 qualifiers. Teammate Emma Lloyd (134' 1") placed immediately behind Painter in 24th. The outing marked the first career nationals appearance for Lloyd, a transfer from the University of Nebraska.
The accomplishments in 2023 for the program included two more GPAC championships for the women (indoor and outdoor) and two conference third-place finishes for the men. In addition, Concordia led all track & field programs for number of 2023 NAIA Scholar-Athletes for both men and women. Said Beisel, "These are exceptional human beings and they are so much fun to be with. God keeps bringing great people to our teams, and they all build these close relationships."
2023 NAIA Outdoor All-Americans
· Rachel Battershell – 400 Meters (8th); 4x400m Relay (8th)
· Jenna Esch – 4x400m Relay (8th)
· Rylee Haecker – 1,500 Meters (6th)
· Josi Noble – 4x400m Relay (8th)
· Josie Puelz – Pole Vault (2nd)
· Austen Rozelle – Discus (6th)
· Darien Semedo – Shot Put (6th)
· Trinity Tuls – 4x400m Relay (8th)
· Zach Zohner – Pole Vault (3rd)