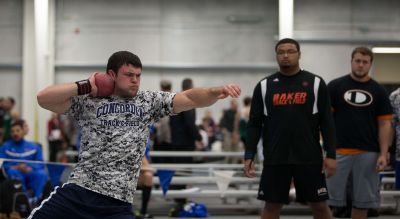 Multi eventers kick off Concordia Classic
By Taylor Mueller, Athletic Communications Assistant
SEWARD, Neb. – Concordia's first official home meet of the season got underway as the heptathlon competition kicked off the Concordia Classic in the Bulldog classic.
In a relatively quiet first of two days for the multi-event athletes, senior Brandon Ramos and sophomores Lucas Wiechman and Brandon Cook started their meets with respectable performances.
Ramos edged out Wiechman in the 60 meter dash to take second place in 7.33 seconds as Wiechman settled for third in 7.39 seconds. Wiechman notched a third place finish in the long jump as well, hitting a mark of 21' 1 ½." Cook earned the highest honors in the shot put with his toss of 39' 1 1/4."
At the end of day one, Wiechman currently sits in third place with 2646 points with Ramos and Cook in fourth and fifth with 2595 and 2514 points respectively.
The heptathlon competition will conclude tomorrow with the 60 meter hurdles, the pole vault and the 1000 meter run.
The rest of the Bulldog squad will be back in action tomorrow as well with field events commencing at 11:00 a.m. and running events at 11:30 a.m.