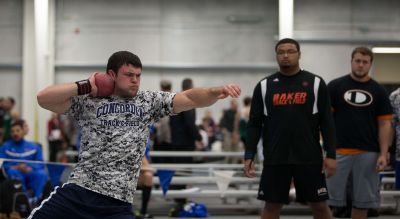 Muller, Slechta turn in national qualifying marks at Husker Invite
LINCOLN, Neb. – Five standout members of the fourth-ranked Concordia University men's track and field team competed on day one of two at the Sevigne Husker Invite held inside the Devaney Center in Lincoln, Neb., on Friday night. Junior Josh Slechta and sophomore CJ Muller automatically qualified for the national championships with personal best performances to provide the highlights for the Bulldogs.
Slechta, a native of Kennard, Neb., posted a mark of 58' 11 ½" in the weight throw – good for sixth on Concordia's all-time list and third best on the NAIA national list. Slechta placed 12th out of 23 competitors in a field loaded with NCAA Division I performers. In the same event, teammate Zach Lurz finished 15th with a throw of 53' 11."
On the track, Muller shaved .3 seconds off his personal best in the 400 meter dash. His time of 49.44 ranks fifth fastest in program history. Current assistant coach Mark Samuels holds the school record in the event with his 2002 time of 47.93. Also in the 400 meters, senior Tai Pleasant finished in 50.66.
Finally, accomplished senior Ben Sievert concluded the day by clocking in at 15:41.65 in the 5,000 meter run. The native of Frankenmuth, Mich., holds a personal best of 15:12.37 in the event.
Most of head coach Kregg Einspahr's squads will head to the Fred Beile Classic at Doane on Saturday. Meanwhile, another five Bulldogs will compete at the Husker Invite (see below). Freshman Emily Sievert is getting set for a particularly busy day with the one mile and 3,000 meter runs on her plate. View the event schedule for the Fred Beile Classic HERE.
Bulldogs at Saturday's Husker Invite
12 p.m. – Zach Lurz (shot put)
12:07 p.m. – Emily Sievert and Kim Wood (1 mile run)
12:15 p.m. – Ben Sievert (1 mile run)
12:48 p.m. – Kim Wood (800 meter run)
1:05 p.m. – Emily Sievert (3,000 meter run)
3:30 p.m. – Jack Babbitt (200 meter dash)