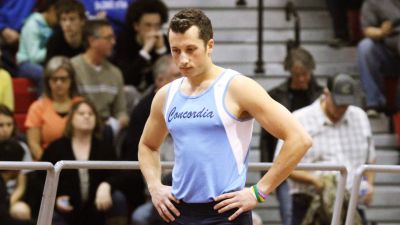 SEWARD, Neb. – Following an impressive start to his senior season, CJ Muller reeled in his third career GPAC weekly honor. The Omaha native collected GPAC/Hauff Mid-America Sports Men's Indoor Track Athlete of the Week, as announced by the conference on Wednesday (Jan. 18).
While competing at last week's University of Nebraska Holiday Inn Invitational, Muller shined on the track, turning an automatic national qualifying time in the 600 meter run before collaborating with three teammates on a national qualifying 4x400 meter relay performance. Muller's time of 1:20.98 in the 600 currently ranks third on the NAIA national leaderboard. As the anchor for the 4x4, Muller recorded a split of 49.01. The team's time of 3:20.59 ranks second nationally.
In his career, Muller has earned All-America honors twice in the 600 meters and has also been part of three All-American 4x4's. Muller is the GPAC's defending champion in the 600. In addition, he has been a high achiever in the classroom, garnering CoSIDA Academic All-District and NAIA Scholar-Athlete accolades in 2016.
Muller and the Bulldogs will return to action on Friday when they compete at Nebraska Wesleyan's Prairie Wolf Invite. The large majority of the meet will take place at the Bob Devaney Sports Center in Lincoln.