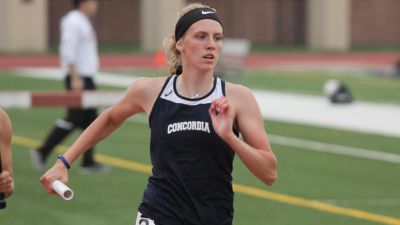 SEWARD, Neb. – While Bulldog athletes came up short of putting up any fresh automatic national qualifying marks on Friday (May 11), the Concordia University track and field programs emerged from the annual Twilight Meet with plenty to boast about. Freshman Kennedy Mogul starred with a personal best in the 400 meter hurdles and helped the women's 4x400 meter relay make a push for a bid to nationals. Meanwhile, throwers such as Jacob Cornelio and Adrianna Shaw popped off new personal standards.
Athletes from 20 different institutions convened upon Bulldog Stadium for a last chance meet and final tune-up prior to the NAIA national championships.
"I feel pretty good about where we're at," Beisel said. "Our kids are ready to perform. We've seen repeated, consistent national level performances from a lot of our athletes. We have some new guys and girls that have come in with some new personal bests that have gotten them into nationals recently. There are also some like Addie Shaw and Samantha Liermann, who just continue to push the barriers. The same with Jacob Cornelio. They just keep moving up the standings."
Mogul, a native of York, Neb., is on the bubble in more than one event for the national championships. Currently 16th in the NAIA in the heptathlon (the top 16 are automatic), Mogul ran the final leg for the 4x4 that clocked in at 3:55.12, a significant season best that will have the group very near the nation's top 16. Mika Brees, Miranda Rathjen and Tori Beran joined Mogul in the 4x4.
A week earlier, Mogul broke a GPAC meet record in the heptathlon 800 meter race. That performance is what gives her hopes of appearing at the national championships for the first time in her career. She followed that effort up by running the 400 hurdles in 1:04.31 on Friday.
"It's come a long way," Mogul said of the 4x4 improvement. "All of us have just worked really hard for this and it's really exciting what we ran today. We've all been waiting for this accomplishment."
Cody Williams (Imperial, Neb.) is another of the program's star freshmen. He's already qualified for nationals in the pole vault and is just about a lock to also make it in the decathlon. On Friday he turned in a personal best of 14.93 in the 110 meter hurdles, a 'B' standard time. He's still buzzing about becoming a GPAC champion for the first time after a big effort in the decathlon last week.
"I was very surprised by how I competed," Williams said. "I came out and PR'ed in the 100 and get off to a good start. I was definitely proud of how it ended. I was able to just kind of relax in the 1,500 which was definitely nice."
A 2017 indoor shot put national runner up, Adrianna Shaw is sometimes overshadowed by national titlist teammate Samantha Liermann. But Shaw proved once again that she's an elite thrower. At the Twilight Meet, she turned in a personal best of 159' 4" in the discus (third on the all-time school list) and a season best of 46' 2" in the shot put, placing second and fourth, respectively. Concordia is loaded in the women's discus where Carley Skorepa and Bethany Shaw again eclipsed 'A' standards of their own. Liermann upped the ante with a PR of 175' 10" in the hammer throw (fifth place).
Cornelio may jump into the top five nationally in the hammer throw after his personal best of 194' 8," which ranked first among all collegiate competitors at the Twilight Meet. Cornelio earned his first career All-America award this past indoor season. In the shot put, Jacob Dack again came up just shy of an automatic qualifying toss (51' 9"). On the women's side, Morgan De Jong was just off the 'A' standard in the discus (143' 1"). On the heels of a big GPAC meet, Johanna Ragland put up two more throws that surpassed auto marks.
For the third time this outdoor season, freshman Tucker Platt cleared the 'A' standard in the pole vault. He is one of three Bulldogs in the event headed to the outdoor national championships. Senior Scott Johnson will head to nationals on a high note after soaring 47' 3 ¾" in the triple jump for another 'A' standard. Elsewhere on the track, the men's 800 meter run was crowded with Concordia competitors. Josiah McAllister (1:54.73) and Thomas Taylor (1:55.13) placed sixth and seventh, respectively, to pace the Bulldogs.
All that remains on the 2018 outdoor schedule are the upcoming NAIA Outdoor Track & Field National Championships. The championship meet will take place at Mickey Miller Blackwell Stadium in Gulf Shores, Ala., May 24-26. For additional information on the meet, click HERE.