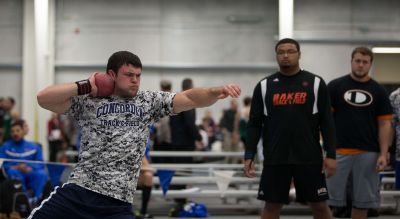 Men's heptathletes in running for All-America honors after day 1 at nationals
GENEVA, Ohio – A total of 12 Bulldogs competed on day one of the 2015 NAIA Indoor Track and Field Championships held at the Spire Institute in Geneva, Ohio. Three of those Bulldog competitors completed four of seven events on Thursday in the men's heptathlon, an event in which Lucas Wiechman excels for head coach Kregg Einspahr's Bulldogs.
With 2,656 points, Wiechman, a sophomore from Pilger, Neb., checks in at No. 4 in the heptathlon with the 60 meter hurdles, pole vault and 1,000 meter run set to be contested on Friday. Wiechman placed third in the long jump and fourth in the shot put. In addition, sophomore Brandon Ramos is within shouting distance of All-America honors with his 10th-place standing and 2,579 points. Teammate Brandon Cook is 14th with 2,545 points. All three Bulldogs entered the meet ranked in the top eight nationally.
A pair of relay teams took to the track in preliminary races for Concordia. The women's 4x800 meter relay (Randi Janzen, Marti Vlasen, Erika Schroeder, Talitha Elbert), coming off a GPAC meet record performance, placed 16th out of 29 quartets with a time of 9:30.38.
Finishing up the day for Concordia athletes, the men's 4x400 meter relay (CJ Muller, Tai Pleasant, Matthew Chapa, Jaap van Gaalen) finished 12th among 15 groupings. The Bulldogs' time of 3:22.08 was inflated by a dropped baton, meaning both relays up came short of qualifying for the finals.
"Our men's 4x4 still ended up with a pretty good time," Einspahr said. "Without that mishap we probably advance to the finals, which would have been real good for them."
Also on the track, standout freshman Emily Sievert placed 15th out of the field of 31 runners in the 5,000 meter prelims, but did not advance to the finals of the event. She clocked in at 18:14.48 for a personal best after making a hard charge down the stretch. The native of Frankenmuth, Mich., will get another shot to compete on Friday when she runs the 3,000 meter race.
"Emily had a real good race in the 5,000," Einspahr said. "She's had a great season for a freshman. She ran real well in the last 800 meters. She just got a little nervous and thought about things a little too much. She was not quite in the position she wanted to be in with a mile to go."
The action in Geneva heats up on Friday with 19 Bulldogs scheduled to participate. Concordia will unleash a group of five competitors in both the men's and women's weight throws. In addition, Kim Wood, a national qualifier in five different events, is set to run the one mile and 1,000 meter races while school record holder Cassie Starks will pole vault on Friday. View the complete Friday schedule for Bulldog athletes below.
"Kim will have a good amount of rest in between races. She needs to run them like it's the finals and make sure she advances," Einspahr said. "She has a chance to place real high. Some other runners have been involved in relays and other races. Kim will be fresh so it will be an advantage for her."
In the U.S. Track and Field and Cross Country Coaches Association rankings released this week, the Bulldogs are ranked fifth nationally on the men's side and eighth on the women's side.
Concordia's Friday schedule
MEN
-9 CT / 10 ET a.m. – Heptathlon (Brandon Cook, Brandon Ramos and Lucas Wiechman)
-11 CT / 12 ET p.m. – Weight throw (Trey Farmer, Philip Kreutzer, Zach Lurz, Jose Rojas, Josh Slechta)
-1:40 CT / 2:40 ET p.m. – 600 meter run prelims (CJ Muller)
WOMEN
-12:05 CT / 1:05 ET p.m. – 1 mile run (Kim Wood)
-1:30 CT / 2:30 ET p.m. – Pole vault (Cynthia Mick, Cassie Starks)
-2 CT / 3 ET p.m. – Weight throw (Kattie Cleveland, Stephanie Coley, Liz King, Nicole Perry, Kali Robb)
-2:45 CT / 3:45 ET p.m. – 1,000 meter run (Kim Wood)
-3:25 CT / 4:25 ET p.m. – 3,000 meter run (Emily Sievert)