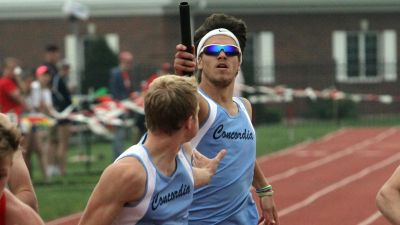 EMPORIA, Kan. – In final pushes for national qualifying marks, a small group of Bulldogs represented Concordia University track and field at the Sam Williams Twilight Qualifier hosted by NCAA Division II institution Emporia State University (Kan.) on Saturday evening. While the Bulldog men's 4x400 meter relay missed out the automatic national qualifying time it sought, it managed to top the field of seven relays in the event.
The men's 4x4, which placed second at last week's GPAC championships, finished in 3:17.77. The group included the usual suspects in Jaap van Gaalen, Nathan Matters, Trevor Bresson and CJ Muller. They were just off their season best time of 3:17.40 from the Drake Relays.
Senior Katelyn Shoup placed second in the triple jump by turning in a mark of just under 37 feet. Ranked fourth among GPAC triple jumpers, Shoup came up short of an automatic national qualifying triple jump this season. Her top mark of 2016 was 37' 4 ½" at Friday's Prairie Wolf Invite. Sophomore Tyrell Reichert also competed in the pole vault but did not record a height.
Concordia's large group of national qualifiers now gets set for the 2016 NAIA Outdoor Track and Field National Championships, which will unfold May 26-28 in Gulf Shores, Ala. For more information on the national meet, click HERE. The Bulldogs are coming off of third (men) and fifth (women) place finishes at the 2016 indoor national championships.