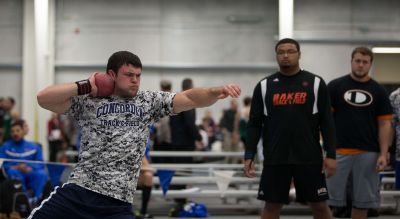 Men and women notch runner-up finishes at GPAC championships
SEWARD, Neb. – In the first GPAC indoor track and field championship meet ever hosted by Concordia University, both top 10 nationally-ranked Bulldog squads claimed second place. Individually, junior Kim Wood blazed on the track while Zach Lurz and Cassie Starks both broke program records in GPAC title-winning efforts.
Head coach Kregg Einspahr's men, champions of both the 2014 GPAC indoor and outdoor titles, put up 106 team points. The women, who got 30 tallies alone from Wood, checked in with 144 points.
"I don't think our coaching staff is ever happy unless we're conference champions but in this conference, runner up is not something to hang your head about," Einspahr said. "We're pleased to be GPAC runner ups. I feel pretty good about where the program's at and where it's headed."
Wood, who entered the conference meet with five automatic national qualifying marks to her credit, defended 2014 GPAC indoor titles in the 1,000 meter and one mile runs. She also bested the field in the 600 meter race with her time of 1:34.86. As part of her busy day, the Greeley, Neb., native then helped the women's 4x400 meter relay that placed third in a time less than two seconds off a school record.
Wood racked up her three titles in a span of roughly two-and-a-half hours in an impressive display.
"It feels really amazing," Wood said. "It's kind of unexpected in a way. It's nice to have all the hard work pay off after all these years of mileage. It's really exciting to see the results now."
Einspahr raved about Wood's near spotless day – one that ranks up with some of the all-time greats that Concordia's 23rd-year head coach has mentored.
"Three wins in the space of two-and-a-quarter hours in the middle distances is a feat that is very, very difficult to do," Einspahr said. "The mile and the 600 were an hour or less apart. The 600 and 1,000 were just over an hour apart. She won them with very impressive times – some of the top marks in the NAIA. That was something else."
Lurz came within centimeters of a GPAC meet record with his new program standard toss of 58' 4" in the shot put. The sophomore from Torrington, Wyo., added three-quarters of an inch to his NAIA-leading mark.
"I finally settled down," Lurz said. "My big issue is I get in my own head. For that throw I finally settled down and let it happen."
In the pole vault, Starks broke an eight-year program record by clearing 12' 6 ¼" on the way to her first career GPAC title. The native of Haigler, Neb., is less than five inches off the NAIA's top mark entering the weekend after toppling Michelle Anderson's former record.
Vault coach Jason Berry helped develop the hard-working Starks into a GPAC champion four years after arriving at Concordia with a personal best of 8' 6" during her high school career.
"She has shown amazing work ethic and put in the time," Berry said. "She's improved four feet. That's amazing. All the hard work has paid off. She's walking out a conference champion and one of the top vaulters in the nation after being a girl that no one recruited. You don't see that very often."
Concordia's additional conference event title on the weekend came in the women's 4x800 meter relay. The quartet of Marti Vlasin, Randi Janzen, Erika Schroeder and Talitha Elbert clocked in at 9:29.84 for an automatic national qualifying time that ranks 16th best on the program's all-time list. Runner-up finishes were delivered by Lurz (weight throw), Cynthia Mick (pole vault), Kali Robb (weight throw), Jose Rojas (shot put), Katelyn Shoup (triple jump) and Lucas Wiechman (pole vault and heptathlon). Meanwhile, freshman Emily Sievert turned in a solid day on the track with third-place times in both the 3,000 and 5,000 meter races.
The Concordia men edged out Briar Cliff, 106-105, for second place. The Bulldogs leapfrogged the Chargers by getting 15 points in the men's pole vault – the final event to be completed on Saturday evening.
Not surprisingly, the Bulldogs' vaunted group of throwers contributed big points. The women's weight throw resulted in 20 team points thanks to second, fourth, fifth and sixth place claims. Robb, the reigning NAIA national field athlete of the week, placed in the top three of the shot put and weight throw. Teammate Stephanie Coley collected fourth-place honors in both throwing events.
On the men's side, Concordia throwers made up four of the top eight in the shot put and three of the top five in the weight throw. Lurz's personal best of 58' 3 ¼" in the weight throw moved him into the top 10 in school history and automatically qualified him for nationals in the event.
Doane went home with GPAC trophies for both of its second-ranked men and women.
The Bulldogs now look forward to the 2015 NAIA Indoor Track and Field Championships March 5-7. The event is set to take place at the SPIRE Institute in Geneva, Ohio.