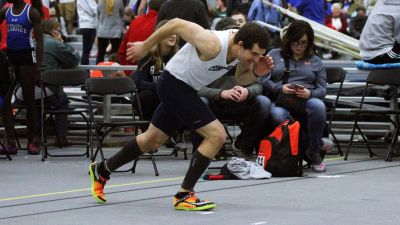 Concordia Indoor Invite Schedule | PDF
SEWARD, Neb. – The Concordia University track and field programs are getting set to host an indoor meet for the third time already in 2018. The Concordia Indoor Invitational will play out Saturday inside the Fieldhouse. Field events are slated to get started at 11 a.m. with running events to get underway at 12:30 p.m. A live webcast will be provided by the Concordia Sports Network.
Head coach Matt Beisel's squads remained ranked in the top 25 of the NAIA computer ratings released on Wednesday by the U.S. Track & Field and Cross Country Coaches Association. The women checked in at No. 10 while the men appeared at 24th. The Bulldogs hope to add to their totals of 10 automatic national qualifying marks and eight 'B' standard marks. The women maintained a top 10 national ranking on the strength of a women's shot put group that boasts individuals with national standings of fourth, fifth, ninth, 13th and 18th.
Concordia will welcome athletes from nine competing institutions to campus on Saturday. The field includes sister school Concordia University Irvine, a former NAIA member now affiliated with NCAA Division II. Another NCAA DII attendee at the Concordia Classic will be Fort Hays State University (Kan.), ranked 19th nationally on the men's side. The competition will also feature GPAC rivals Doane, Hastings and Midland.
The Concordia Indoor Invitational serves as the final tune up prior to next week's GPAC championships (Feb. 16-17) hosted by Doane. The Bulldogs have already been at Doane for the Nisely Invite (Jan. 13) and the Fred Beile Classic (Feb. 3).
Competing teams at Concordia Invite
*National rankings in parentheses)
Bethel College (Kan.)
Concordia University Irvine
Concordia University, Nebraska (M: 24 | W: 10)
Doane University (M: 3 | W: 5)
Fort Hays State University (Kan.) (M: 19, NCAA DII)
Hastings College (M: 6 | W: 6)
Midland University
University of Nebraska-Kearney
Tabor College (Kan.)
York College
Bulldogs on NAIA indoor qualifying list
Men's distance medley – B (10:25.56)
Anna Baack – A; pole vault (11' 6 ½")
Blake Becher – ranked 22nd in the heptathlon (4,314)
Simon Brummond – B; pole vault (15' 1")
Jacob Cornelio – A; weight throw (56' 6 ½")
Jessica Deterding – ranked 15th in the pentathlon (3,020)
Jazzy Eickhoff – A; shot put (44' 7 ½")
Jodi Fry – B; shot put (44' 7 ½")
McKenzie Gravo – A; pole vault (12' 4 ½")
Ben Hulett – B; 60 hurdles (8.32)
Leah Larson – B; triple jump (36' 11")
Samantha Liermann – A; shot put (46' 11 ½"); A; weight throw (54' 9 ½")
Josiah McAllister – B; 1,000 meters (2:33.58)
Johanna Ragland – A; shot put (45' 1 ½")
Tyrell Reichert – B; pole vault (15' 1")
Adrianna Shaw – A; shot put (46' 11"); A; weight throw (53' 1 ¾")
Kara Stark – B; high jump (5' 5")
Cody Williams – A; high jump (6' 7"); ranked seventh in the heptathlon (4,723)