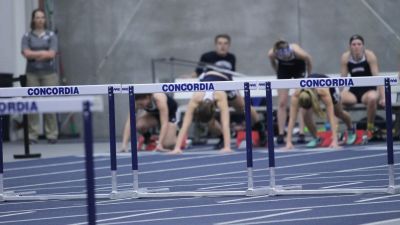 Concordia Classic schedule | PDF
Links: Live meet video | live results | Post-meet video
SEWARD, Neb. – For the second week in a row, head coach Matt Beisel's squads will remain within the friendly confines of the Walz Fieldhouse. After hosting the Polar Dog Invite on Jan. 19, the Bulldogs are now set to put on the Concordia Classic this Friday and Saturday. This week's meet will be much larger than the four-team gathering that took place at the Polar Dog Invite. Thirteen teams will be on hand this weekend.
This season's first set of NAIA national ratings were released today (Jan. 24) by the U.S. Track & Field and Cross Country Coaches Association (USTFCCCA). The rankings are based upon national seed listings from results that have occurred so far this indoor season. With the help of five automatic national qualifying marks, the Concordia women checked in at No. 12 in the NAIA national rankings.
Eight different Bulldogs have combined to produce a total of 10 marks that meet either the 'A' or 'B' national qualifying standard. The likes of Jacob Cornelio (weight throw), McKenzie Gravo (pole vault), Samantha Liermann (shot put and weight throw), Johanna Ragland (shot put) and Adrianna Shaw (shot put) have guaranteed themselves spots in the NAIA indoor national championships. Concordia has been exceptionally strong in the women's shot put, where Liermann (2nd), Shaw (4th) and Ragland (10th) all rank in the top 10 nationally.
The Concordia Classic will feature seven nationally-ranked teams: Concordia women (12th), Doane men (2nd) and women (4th), Hastings men (4th) and women (3rd), Midland men (23rd) and Nebraska Wesleyan women (24th).
The indoor season continues next week with the Fred Beile Invite hosted by Doane on Saturday, Feb. 3. The Bulldogs will return home to host the Concordia Indoor Invitational on Feb. 10.
Competing teams at Concordia Classic
Concordia University
Creighton University
Doane University
Graceland University
Hastings College
Kansas Wesleyan University
Midland University
Nebraska Wesleyan University
Northwest Missouri State University
Pratt Community College
Sterling College
Tabor College
York College
Bulldogs on NAIA indoor qualifying list
'A' standards
Jacob Cornelio – weight throw (56' 6 ½")
McKenzie Gravo – pole vault (11' 6 ½")
Samantha Liermann – shot put (46' 10 ¼"); weight throw (54' 4 ½")
Johanna Ragland – shot put (44' 3 ½")
Adriana Shaw – shot put (46' 4 ¾")
'B' standards
Jazzy Eickhoff – shot put (43' 6")
Leah Larson – triple jump (36' 9 ½")
Adrianna Shaw – weight throw (52' 6 ½")
Cody Williams – high jump (6' 6")