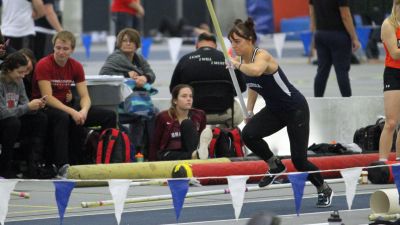 SEWARD, Neb. – It's national championships week for NAIA track and field programs around the country. Seventeen Bulldog athletes will be present for the 2018 NAIA Indoor Track & Field National Championships, which will unfold Thursday through Saturday inside the Robert W. Plaster Center in Pittsburg, Kan. The schedule of events can be viewed HERE.
NAIANetwork.com, the NAIA's official video streaming platform powered by Stretch Internet, will be broadcasting all sessions of the national championships. Packages can be purchased for $14.95. For more information, go to NAIANetwork.com.
The last time head coach Matt Beisel's squads were in action, they placed fourth on the men's side and fifth on the women's side at the GPAC indoor championships. On a national scale, Concordia will enter this weekend with NAIA rankings of 10th (women) and 24th (men), according to computer ratings released by the U.S Track & Field and Cross Country Coaches Association (USTFCCCA).
The bar has been set high in recent seasons in regards to what the Bulldogs can accomplish on the national stage. While several past national champions have graduated, Beisel has hopes of seeing his athletes outperform their seeding.
"We've been very good traditionally at getting our kids to perform their best at nationals," Beisel said. "There are always going to be kids who aren't ranked in the top 12 or 14 that have the day of their life and suddenly they're scoring for us. That happens every year. Anything can happen. You have to be prepared to perform at your best and not be focused on the opposing athletes. You just never know. It makes it both exciting and nerve wracking."
On paper, Concordia has potentially big point scorers on the women's side with Samantha Liermann (second in shot put), McKenzie Gravo (third in pole vault) and Adrianna Shaw (fifth in shot put) each holding down a top five national mark. Liermann has placed in All-America territory in each of the four national meets she's appeared at as a Bulldog. That run has included a 2017 outdoor shot put national title. She was also an All-American on the 2016 outdoor national championship team. Gravo is a three-time All-American in the pole vault while Shaw posted a national runner-up claim in the shot put at last year's NAIA indoor meet.
Liermann has the most national championships experience of anyone on the roster. She's making her fifth trip to a national meet. This weekend's meet will mark the fourth nationals appearance for Gravo and Tyrell Reichert. Ten of the 17 Bulldog national qualifiers have competed in at least one national championship. The seven newcomers to the national scene include five freshmen as well as juniors Simon Brummond and Leah Larson.
"It's difficult to get to nationals," Beisel said. "For our kids who are going for the first time, it's a testament to the training they've put in for months and months. To be able to make it as a freshmen shows potential for future accomplishments. It's a big stage and it's important to get that first national meet done so that you can relax. At the same time, our conference is one of the most competitive in the nation at many events. We're going to see a lot of the same athletes we competed against at the GPAC meet. We're glad our conference is so competitive. It helps us out at the national level."
At the 2017 indoor national championships, the Concordia men placed second behind national champions Cody Boellstorff (weight throw), Zach Lurz (shot put) and Lucas Wiechman (heptathlon). The women placed seventh with national runner-up finishes from Kali Robb (weight throw) and Shaw (shot put).
The first Bulldogs to compete this week will be freshmen Blake Becher and Cody Williams in four heptathlon events on Thursday. Ten Concordia athletes will be in action on Friday and as many as 11 could be active on Saturday, depending upon whether Ben Hulett (60 hurdles) and Josiah McAllister (1,000 meters) reach the finals of their respective events.
2018 Concordia indoor national qualifiers
Anna Baack, Freshman (first trip to nationals)
Blake Becher, Freshman (first trip to nationals)
Simon Brummond, Junior (first trip to nationals)
Jacob Cornelio, Sophomore (second trip to nationals)
Jazzy Eickhoff, Junior (second trip to nationals)
Jodi Fry, Freshman (first trip to nationals)
McKenzie Gravo, Sophomore (three-time All-American; fourth trip to nationals)
Ben Hulett, Senior (third trip to nationals)
Scott Johnson, Senior (second trip to nationals)
Leah Larson, Junior (first trip to nationals)
Samantha Liermann, Junior (All-America awards: 4; 2017 outdoor shot put national champ)
Josiah McAllister, Junior (second trip to nationals)
Johanna Ragland, Junior (third trip to nationals)
Tyrell Reichert, Junior (fourth trip to nationals)
Adrianna Shaw, Sophomore (third trip to nationals; 2017 indoor shot put national runner up)
Kara Stark, Freshman (first trip to nationals)
Cody Williams, Freshman (first trip to nationals)
Concordia indoor national finishes since 2000
2017: M – 2nd | W – 7th
2016: M – 3rd | W – 5th
2015: M – 5th | W – 11th
2014: M – 17th | W – 11th
2013: M – 27th | W – 13th
2012: M – 38th | W – 29th
2011: M – 7th | W – 26th
2010: M – 15th | W – 12th
2009: M – 12th | W – 11th
2008: M – 7th | W – 14th
2007: M – 19th | W – 36th
2006: M – 5th | W – 29th
2005: M – 26th | W – 15th
2004: M – 7th | W – 27th
2003: M – 5th | W – 9th
2002: M – 20th | W – 8th
2001: M – 12th | W – 21st
2000: M – 2nd | W – 12th
Concordia outdoor national finishes since 2005
2017: M – 5th | W – 6th
2016: M – 2nd | W – 1st
2015: M – 1st | W – 5th
2014: M – 11th | W – 9th
2013: M – 42nd | W – 20th
2012: M – 57th | W – 15th
2011: M – 11th | W – 57th
2010: M – 24th | W – 14th
2009: M – 7th | W – 19th
2008: M – 11th | W – 29th
2007: M – 15th | W – 24th
2006: M – 7th | W – 28th
2005: M – 13th | W – 17th