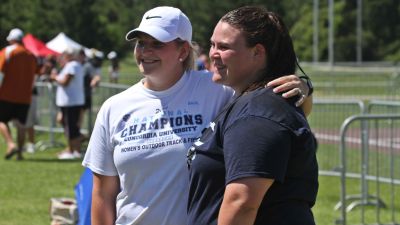 NAIA outdoor meet schedule | Meet info
SEWARD, Neb. – It's that time of year again. A bus load of Bulldogs representing the Concordia University track and field programs began their journey south early on Monday morning (May 21). Qualifying members of head coach Matt Beisel's squads are making final preparations to compete at the 2018 NAIA Outdoor Track and Field National Championships, set to play out Thursday through Saturday (May 24-26) at Mickey Miller Blackwell Stadium in Gulf Shores, Ala.
Based upon the U.S. Track & Field and Cross Country Coaches Association computer ratings, Concordia enters the national meet with NAIA rankings of sixth on the women's side and 30th on the men's side. This year's list of 26 qualifiers from Concordia possess combined totals of 32 previous national championship meet experiences and 12 career All-America awards. Eight Bulldogs will experience the national championships (indoor or outdoor) for the first time ever.
The group headed to nationals is led by Samantha Liermann, a six-time All-American and two-time shot put national champion. She sat atop the NAIA leaderboard in the shot put for most of this outdoor season before being bumped to her current spot at No. 2. Other past All-Americans looking for repeat success include Jacob Cornelio, Nathan Matters, Johanna Ragland, Addie Shaw and Cody Williams. The GPAC champion in the decathlon, Williams has acclimated quickly to the college level.
"We graduated five guys who scored all of our points at nationals and a huge percentage of our points at conference," said Beisel during last week's radio interview on 104.9 Max Country. "We knew at this time last year that the next year would be different. It's just taking a while to get back to where we were, but we have absolute confidence that we will. You look at Cody Williams as someone who has done some great things. For him to go and win the decathlon is exciting. He has taken to the training and works his tail off. He had never held a pole vault pole and he's going 15' 5.""
Liermann and the group of throwers give the Bulldogs a strong chance at another top 10 national finish. The women have placed inside the top 10 at four-consecutive outdoor national championships. The run includes the 2016 team national title. The women's team will be particularly well represented in the discus and the hammer throw with five competitors apiece set to compete. Liermann (second in shot put, fourth in hammer), Shaw (third in discus) and Carley Skorepa (fifth in hammer) all project for top five finishes according to the current NAIA national list.
On the men's side, Cornelio and Williams have their sets sight on collecting All-America awards as they did at the 2018 indoor national championships. The men have hopes of improving upon their 42nd-place finish at the NAIA indoor meet. Williams will be one of three Bulldog competitors in the pole vault, joining Simon Brummond and Tucker Platt. This will be the last hurrah for Scott Johnson (triple and long jump), one of two senior Concordia athletes (Jan Steinbrueck) in the qualifying field.
The meet will get started at 10 a.m. on Thursday with the men's decathlon and the women's hammer throw. The women's heptathlon will get going at 10:30 a.m. Fourteen Bulldogs will be in action on the meet's first day. A large number of Concordia athletes will focus on relay races. The trials for the men's 4x800 meter relay will take place Thursday with the women's 4x400 meter relay trials to follow on Friday.
There have been 27 individual outdoor national titles (14 men, 13 women) in the history of Concordia track and field. The Bulldogs left the 2017 outdoor championships with three titles: Cody Boellstorff (hammer), Liermann (shot put) and Lucas Wiechman (pole vault). Liermann will have an opportunity to join Carol Bailey (seven outdoor titles) and Liz King (two outdoor titles) as female athletes with multiple career outdoor national championships.
Stretch Internet, the NAIA's official video-streaming company of NAIA national championship events, will be broadcasting the events on www.NAIANetwork.com. A subscription package to view the entire three-day event is $19.95. For more information, including how to register and sign-up for an account, CLICK HERE. Also keep up with the meet by following @cunebulldogs on Twitter. Concordia athletic communications will be live from Gulf Shores with social media updates, daily recaps and video interviews with Concordia athletes.
2018 Concordia indoor national qualifiers
Blake Becher, Freshman (second trip to nationals)
Tori Beran, Junior (second trip to nationals)
Mika Brees, Freshman (first trip to nationals)
Simon Brummond, Junior (second trip to nationals)
Jacob Cornelio, Sophomore (third trip to nationals; 2018 indoor weight throw All-American)
Jessica Deterding, Sophomore (first trip to nationals)
Taylor Grove, Junior (second trip to nationals)
Madison Holt, Freshman (first trip to nationals)
Scott Johnson, Senior (third trip to nationals)
Leah Larson, Junior (second trip to nationals)
Michael Leapley, Sophomore (first trip to nationals)
Samantha Liermann, Junior (six All-America awards; two-time shot put national champ)
Nathan Matters, Junior (fourth trip to nationals; one All-America award)
Josiah McAllister, Junior (third trip to nationals)
Kennedy Mogul, Freshman (first trip to nationals)
Jamie Nikodym, Junior (first trip to nationals)
Tucker Platt, Freshman (first trip to nationals)
Johanna Ragland, Junior (fourth trip to nationals; 2018 indoor shot put All-American)
Miranda Rathjen, Sophomore (second trip to nationals)
Addie Shaw, Sophomore (fourth trip to nationals; two All-America awards; 2017 indoor shot put national runner up)
Bethany Shaw, Sophomore (second trip to nationals)
Carley Skorepa, Junior (second trip to nationals)
Jan Steinbrueck, Senior (third trip to nationals)
Thomas Taylor, Junior (second trip to nationals)
Christian Van Cleave, Freshman (first trip to nationals)
Cody Williams, Freshman (second trip to nationals; 2018 indoor heptathlon All-American)
Concordia indoor national finishes since 2000
2018: M – 42nd | W – 9th
2017: M – 2nd | W – 7th
2016: M – 3rd | W – 5th
2015: M – 5th | W – 11th
2014: M – 17th | W – 11th
2013: M – 27th | W – 13th
2012: M – 38th | W – 29th
2011: M – 7th | W – 26th
2010: M – 15th | W – 12th
2009: M – 12th | W – 11th
2008: M – 7th | W – 14th
2007: M – 19th | W – 36th
2006: M – 5th | W – 29th
2005: M – 26th | W – 15th
2004: M – 7th | W – 27th
2003: M – 5th | W – 9th
2002: M – 20th | W – 8th
2001: M – 12th | W – 21st
2000: M – 2nd | W – 12th
Concordia outdoor national finishes since 2005
2017: M – 5th | W – 6th
2016: M – 2nd | W – 1st
2015: M – 1st | W – 5th
2014: M – 11th | W – 9th
2013: M – 42nd | W – 20th
2012: M – 57th | W – 15th
2011: M – 11th | W – 57th
2010: M – 24th | W – 14th
2009: M – 7th | W – 19th
2008: M – 11th | W – 29th
2007: M – 15th | W – 24th
2006: M – 7th | W – 28th
2005: M – 13th | W – 17th