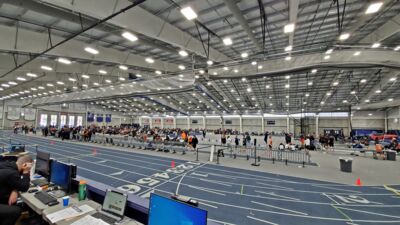 SEWARD, Neb. – The official start to the 2022-23 indoor season is coming this Friday and Saturday as Concordia University Track & Field gets set to host the Concordia Early Bird Meet. The program will welcome eight competing institutions to the Walz Fieldhouse for the meet, which will feature a heptathlon and pentathlon. The first action is slated to get underway at 2 p.m. CT on Friday. Then on Saturday, things will heat up with field events starting at 12 p.m. and running events following at 2 p.m.
Meet Info
Concordia Bulldog Early Bird Meet
Friday/Saturday (Dec. 9-10) | Walz Fieldhouse
--Meet Schedule | Live Results (field events will update mark-by-mark)
--Live Streams:
· Running Events: https://www.youtube.com/c/BulldogTrackandField
· Men's & Women's High Jump: https://www.youtube.com/channel/UCCnWh95Lz6dW3OUosomZyoA
· Women's Jumps (north runway): https://www.youtube.com/channel/UChWMXJ0G97vIWXuBqGS3Iww
· Men's & Women's Throwing Events: https://www.youtube.com/channel/UCqn-dBHnX9YmlOunOX9cweA
· Men's & Women's Pole Vault: https://www.youtube.com/channel/UCIerIQe-tQv53fnpGwp_wTQ
· Men's Jumps (infield jumping events): https://www.youtube.com/channel/UCIerIQe-tQv53fnpGwp_wTQ
Competing Institutions
Briar Cliff University
College of Saint Mary
Concordia University
Dordt University
Doane University
Kansas Wesleyan University
Midland University
Mount Marty University
Northwestern College
Head Coach Matt Beisel and company are slated to host five 2022-23 indoor meets, including the 2023 GPAC Indoor Track & Field Championships. The Bulldogs are coming off 2022 indoor/outdoor seasons that saw the women's program extend its run of consecutive GPAC championships to seven (dating back to the 2019 GPAC indoor meet). The women also earned two national trophies for placing third at indoor and fourth at outdoor. Meanwhile, the men are looking to move up after 2022 GPAC place finishes of fourth for indoor and third for outdoor. Concordia returns 20 of the 34 athletes it traveled to the 2022 indoor national meet in Brookings, S.D.
Foremost among the list of returners are past national champions Rachel Battershell (two-time 400m national champ) and Josie Puelz (four-time pole vault national champ). A 10-time All-American, Battershell is back for her fifth year inside the program. Other current Bulldogs who have claimed All-America awards are Zach Bennetts, Chase Berry, Jenna Esch, Kylahn Freiberg, Rylee Haecker, Wyatt Loga, Erin Mapson, Colton Meyer, Alli Owings, Erin Painter, Amy Richert and Chris Wren. Also worth noting, Bennetts is the reigning GPAC pole vault champion for both indoor and outdoor.
This will be the fourth year that Concordia has hosted the Early Bird Meet in the first semester. Said Beisel of the Early Bird, "The speed and power kids have been practicing for three-and-a-half months and are ready to compete. A lot of them are in a really good place physically and mentally. They'll go in and make a big impact right off the bat. Each year typically, we end up with 8-to-14 national qualifying marks between the men and women. That's always a goal to try to get those early marks and punch our ticket, so that we can relax a little and focus on refining things. It gives you a boost of confidence."
Following the Early Bird, the Bulldogs will break for the holidays and resume indoor action the weekend of Jan. 13-14 for the Graduate Classic hosted by the University of Nebraska-Lincoln and the Scott Nisely Memorial Classic hosted by Doane. The next home meet on the slate will be the Concordia Polar Dog Invite on Jan. 21.