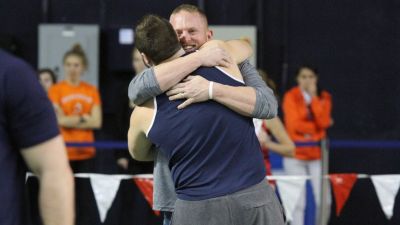 SEWARD, Neb. – Following a dominant performance by Bulldog throwers at last week's NAIA indoor national championships in Johnson City, Tenn., Concordia University throws coach Ed McLaughlin has garnered the distinction of 2016 NAIA National Men's Indoor Assistant Coach of the Year honors, as awarded by the U.S. Track and Field and Cross Country Coaches Association. McLaughlin was also named the Midwest regional men's and women's assistant coach of the year by the USTFCCCA.
The 18th-year assistant has elevated the Bulldog throws program to heights never before reached in program history. At the conclusion of the 2015 indoor/outdoor seasons, "The Throwers Page" formula ranked Concordia throwers as the best in the NAIA for the year. During the 2016 indoor season, Concordia swept all four GPAC throwing titles and then Cody Boellstorff (weight throw) and Zach Lurz (shot put) both collected national titles. Under McLaughlin's guidance, Boellstorff and Lurz own two national titles apiece.
At the 2016 GPAC indoor championships, Concordia throwers went 1-2-5-7-8 in the men's shot put and 1-2-4-5-6-8 in the men's weight throw. At the NAIA Championships, McLaughlin's athletes went 1-2-8 in the shot put and 1-3-5-7 in the weight throw, equating to a total of 41 team points. Only four entire teams surpassed that lofty total at the national championship meet. For his effort in the weight throw, Boellstorff garnered NAIA National Championship Performance of the Meet recognition. At the indoor championships, Concordia throwers (male and female) combined for 14 All-America honors, eight personal bests, two national titles and the male performance of the meet award.
Also announced by the USTFCCCA this week, Lurz earned 2016 NAIA National Men's Indoor Field Athlete of the Year accolades.