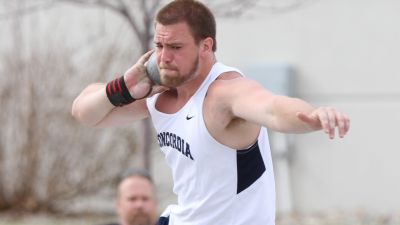 SEWARD, Neb. – For the second time in his career, junior Zach Lurz has been named the NAIA national field athlete of the week, as announced by the NAIA on Wednesday. Earlier in the day, Lurz also received his fourth GPAC/Hauff Mid-America Sports Men's Field Athlete of the Week accolade in the past two years. Lurz led the Bulldogs to the 2015 NAIA outdoor national championship with an effort that earned him national championships most valuable performer honors.
Lurz's level of excellence reached new heights last week as he broke his own school record in the indoor shot put with an NAIA-leading toss of 59' 6 ¼" at the Prairie Wolf Invite. The seven-time NAIA All-American also qualified for the national championships in the weight throw with a mark of 59' 9 ½" that currently ranks third among all NAIA competitors. That measurement also represented a personal best for the native of Chadron, Neb., and former Wyoming high school state champion.
Lurz owns program records in both the indoor and outdoor shot put. He ranks in the top five in school history in all five throwing events in which he has competed in (see list below). The 2015 indoor shot put national champion will be back in action this weekend at the Concordia Indoor Classic on Saturday.
Bulldog track and field has now produced NAIA award winners in back-to-back weeks. On Jan. 20, senior Kim Wood garnered NAIA national track athlete of the week recognition.
Lurz all-time school ranks
INDOOR
Shot put: 1st (59' 6 ¼")
Weight throw: 4th (59' 9 ½")
OUTDOOR
Shot put: 1st (57' 9 ¾")
Discus: 2nd (177' 9")
Hammer throw: 3rd (198' 3")
2016 Concordia GPAC athletes of the week
Jan. 20 – CJ Muller, Kali Robb, Jose Rojas, *Kim Wood
Jan. 27 – *Zach Lurz
*NAIA national athlete of the week