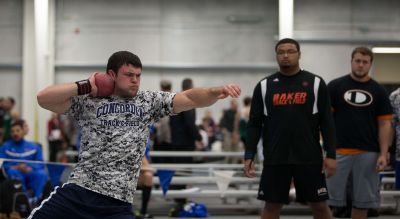 Lurz, Wood break school records as part of busy weekend
By Taylor Mueller, Athletic Communications Assistant
It was a busy day for the Bulldog track and field programs as a handful of athletes completed their second day of action at the Frank Sevigne Husker invite at the Bob Devaney Center in Lincoln while the rest of the track and field team members competed at the Fred Beile Classic at Doane College.
Not unaccustomed to standout performances, Concordia saw two athletes take down school records in the same day. Junior Kim Wood stole the show in the 800 meter run, taking fourth place in 2:12.25. Competing amongst top level NCAA Division I competition, Wood's mark surpassed the previous record of 2:13. 26 set by Bethany Sutton at the national meet in 2011.
Coming off a record-setting performance just a week ago, sophomore Zach Lurz out-distanced his own school record in the shot put with a toss of 56'3 1/4". Lurz marked up at 55'02 1/4."
Competing in his second event of the meet, senior Ben Sievert placed 18th in the mile run with a finishing time of 4:32 while his sister Emily clocked in at 10:38 in the 3,000 meter race to finish in 18th as well.
Over in Crete, assistant coach Mark Samuels was keeping tabs on his athletes in the Fred Beile Classic.
"We're starting to rest back as we get closer to the conference championship which is a couple weeks away so we're starting to see some runners with some fresh legs that are coming around," Samuels said.
Numerous female athletes had strong performances and top finishes, among whom was junior Shelby Stolze, who Samuels noted had an impressive breakout performance in the 60 meter hurdles. Stolze placed fifth in 9.26.
Sophomore Randy Janzen sprinted to a first place finish in the 400 meter run in 1:00 while junior Talitha Elbert clocked in a 1:39 finish in the 600 meter run to take second place.
Sophomore Ashley Canfield and senior Renee Williams went 1-2 in the 3,000 meter run with Canfield finishing in 11:19 and Williams in 11:34. Fellow distance training mate Megan Burma took third in the 5000 meter run with a time of 19:33.
There was plenty of success to be had in the field events as well as junior Katelyn Shoup jumped to a second place finish with a mark of 36'11 3/4." In the throwing ring, junior Stephanie Coley were busy all day long cleaning house. Coley took first in the shot out with a toss of 46'6" while sophomore Kali Robb took second with a mark of 46'05 1/2." Robb trumped the weight throw, however, taking first with a throw of 46'05 1/2" while Coley settled for second with a toss of 57'11."
Junior Cynthia Mick garnered a personal best in the pole vault competition, taking second with a clearance of 11'10 3/4." Fellow vaulter Lucas Wiechman took first in the event with a personal best of his own at 15'11."
"The pole vaulters did great," pole vault coach Jason Berry said. "They're progressing really nice as we hope every year to have them peaking at conference and at nationals. All the other vaulters are progressing nicely and I am happy with how things are going. I'm expecting some big things here in the next few weeks."
Other male Bulldogs competing well were senior Josh Allwardt, who took third in the 3000 meter run in 9:08 and sophomore CJ Muller who notched a first place victory in the 600 meter run in 1:22.
Senior Trey Farmer took third in the shot put with a toss of 51'09 3/4" while junior Josh Slechta took second in the weight throw with a mark of 57'06 1/4."
The Bulldogs will play host to one last regular season meet as they gear up towards the conference championship meet when they compete in the Concordia Indoor Invitational at Walz Fieldhouse on Thursday, Feb. 12.
As the end of the season approaches, Samuels expressed optimism with the direction the team is heading in.
"Overall I think we're making some progress building towards the conference championship," Samuels said. "We have our last regular season meet at home where we're hoping to have some really good performances and sharpen up and gear up for having the conference championship at our place in two weeks."