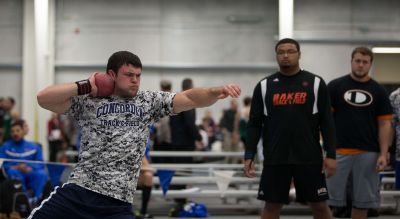 Lurz wins shot put national title; Bulldog men place 5th, women 11th
GENEVA, Ohio – A stellar two-day stay for Concordia University track and field concluded with a pair of top dozen team finishes at the 2015 NAIA Indoor Track and Field National Championships held at the Spire Institute in Geneva, Ohio. A total of six Bulldogs were recognized as All-Americans on Saturday to bring the weekend count to 11 (13 total All-America finishes) for head coach Kregg Einspahr's squads.
One day after Concordia junior Josh Slechta captured a national title in the weight throw, teammate Zach Lurz did the same in the shot put. Their efforts were a big reason why the Bulldog men placed fifth nationally with 47 points. The women finished 11th with 22 points.
"We had a goal to earn top-10 finishes as a team for both the men and women," Einspahr said. "Had everything gone perfect we may have accomplished that, but fifth and 11th are tremendous finishes. It speaks very well for the program. Our men were in the hunt for the top four, but we're very pleased with fifth."
Lurz, part of a deep field of Concordia long tossers, hurled the shot put 58' 7 ¼", again breaking his own program record in the event. That measurement was enough to out-distance runner-up finisher Jacob Armbrust of Olivet Nazarene University by more than two-and-a-half feet. Lurz, a native of Torrington, Wyo., also won the conference title in the same event.
The three-time All-American and three-time GPAC titlist helped make it a special weekend for Concordia's highly-regarded throwers.
"It was quite an accomplishment for Coach (Ed) McLaughlin to have the national champion in both the weight throw and shot put," Einspahr said. "It was an exciting meet for the throwers in particular."
Winner of three GPAC titles two weeks ago, Kim Wood continued her tremendous junior campaign with a national runner-up finish. Wood, now a five-time GPAC titlist, defended her All-America race from last year's indoor championships with her school record-breaking time of 2:53.46 on Saturday in the 1,000 meter run. That performance pushed her past the former program standard held by Rachael Geidel (2:55.81).
"To be national championship runner up is a great accomplishment," Einspahr said. "She ran a very good race. I think the nerves got to her a little bit in the prelims of the mile. She bounced back and showed toughness. She gave a great effort. She feels like she might have been able to do a little bit more to have a different outcome. She was in it to try to win the race."
A standout career in the shot put continued for junior Stephanie Coley, who recorded her fourth career All-America plaque in the event. Coley turned in a personal best and program record of 47' 7 ¼" on Saturday for a fourth-place finish. The native of Gering, Neb., has placed in All-America territory in each of her three appearances at the indoor national championships.
Ranked 31st nationally in the 600 meter run entering the national championships, sophomore CJ Muller far exceeded his position on the national list. Muller ran an impressive 1:20.02 in the preliminaries on Friday and then backed it up with a 1:20.84 on Saturday. The Millard West High School product placed sixth for his first career individual All-America honor.
Loaded in the shot put on both sides, Concordia also had ninth- (Kali Robb) and 12th-place (Brittany Erdmann) finishers in the women's shot put. In the men's competition, Jose Rojas flanked Lurz with a fourth-place slotting thanks to a mark of 54' 5 ¼". Trey Farmer also placed 14th in the shot put.
In the men's pole vault, both Brandon Ramos and Lucas Wiechman cleared top-10 marks. Ramos, already a 2015 All-American along with Wiechman and Brandon Cook in the heptathlon, grabbed All-America honors with a sixth-place clearance of 15' 5."
Since 1997, the Bulldog men have placed inside the top 25 on 15 occasions, including seven top 10 finishes. During that same time period, the women have finished in the top 25 a total of 13 times with three top 10 placements.
Concordia 2015 indoor All-Americans
Stephanie Coley (shot put – 4th)
Brandon Cook (heptathlon – 8th)
Zach Lurz (shot put – 1st; weight throw – 5th)
CJ Muller (600 meter run – 6th)
Brandon Ramos (heptathlon – 4th; pole vault – 6th)
Kali Robb (weight throw – 3rd)
Jose Rojas (shot put – 4th)
Josh Slechta (weight throw – 1st)
Cassie Starks (pole vault – 6th)
Lucas Wiechman (heptathlon – 3rd)
Kim Wood (1,000 meter run – 2nd)