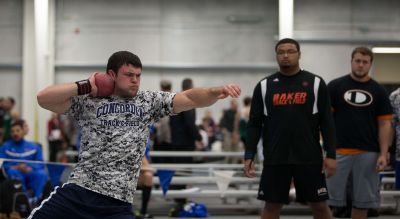 Lurz, Slechta reflect upon national titles
By Jake Knabel, Director of Athletic Communications
SEWARD, Neb. – The Concordia men's track and field program entered last week's indoor national championships with 27 all-time individual national titles. None of those had come in throwing events. That changed in a big way on back-to-back days that saw sophomore Zach Lurz claim the shot put title and junior Josh Slechta seize the weight throw plaque in a performance that may have surprised some.
While expectations were high for the dominant group of Bulldog throwers, a sweep of throwing national titles took things a step further than what throws coach Ed McLaughlin can comprehend even two days after the conclusion of the meet.
"I can't even explain it," McLaughlin said. "I asked both of them Friday and Saturday if it had settled in yet because it hasn't settled in for me yet. I'm still in shock. I go back to thinking about it. It's just amazing. Josh was one of the few guys on Friday that actually improved his seed marks. Nobody wanted it, and Josh did. It was amazing to watch him win that thing."
Lurz, a three-time GPAC titlist, headed to the Spire Institute in Geneva, Ohio, expecting to be a national champion. With a target on his back as the NAIA leader in the shot put, Lurz performed at his best under pressure. He again broke his own indoor school record in the shot with his winning toss of 58' 7 ¼".
The 19 other competitors in the shot put found out quickly that they were all competing for second place. Lurz won the competition by more than two-and-a-half feet.
"It's a lot to live up to. Sitting No. 1 you know everyone is gunning for you," Lurz said. "The marks you put up in the weeks leading up to nationals don't mean anything once you get there. People can jump you. You still have to compete to be the best."
McLaughlin characterizes Lurz as one who is never willing to settle for second best, as well as the finest throwing technician he has ever coached. While at Torrington High School in Wyoming, Lurz won a state title in the shot and had a runner-up finish in the discus. He wasn't about to stop there. At the 2014 GPAC outdoor championships he garnered the conference athlete of the year award thanks to championships in the shot and discus.
With another two-and-a-half years of collegiate competition remaining, Lurz is seemingly taking his performance to greater lengths with each throw he hurls.
"It's pretty much the same feeling," Lurz said when comparing the national title to his state title. "It's nice to end the season on a PR. It was fun winning a state title in high school. Winning a national title is hard to describe. You sit there at the end of the year and it doesn't really settle in right away. Then you realize you did what you needed to do. It's been a fantastic season."
Slechta checked in at No. 5 on the NAIA's national weight throw list heading into the competition on March 6. The native of Kennard, Neb., aspired to be an All-American, but a national title was like a "fairy tale" in the words of Slechta.
Unlike the other 19 throwers in the competition, Slechta got a late start because of his role as a tight end on the Bulldog football team and an injury that held him out of part of the football season. His story is a definite underdog tale. The 6-foot-6 Slechta had reached the state championships in high school, but he had never won a weight throw competition at any level.
"My goal was to be an All-American and get on that podium," Slechta said. "After my first throw I started thinking, 'wow, I could actually do something.' It was nerve racking watching everyone throw and figuring out what marks they had. It started to sink in that I could win it."
Slechta rattled off a mark of 59' 6 ¾", winning the event by less than three inches. In some years, a national championship in the weight throw requires gargantuan tosses of at least 60 feet. The timing was right for Slechta, who accomplished something never before done by a Concordia male athlete. In 2010, Bulldog James Refenes finished as a national runner up despite a mark of 63' 7 ½" (school record).
Now Slechta can hardly believe that his name has been added to the program's list of national titlists.
"I was honestly shocked," Slechta said. "It didn't really sink in until about an hour afterwards. I was pretty speechless. Someone asked me how I felt and I just said, 'I don't have anything for you right now.'"
Both Lurz and Slechta credited their teammates as well as McLaughlin for pushing them to reach their max potential. Few could be happier for the pair of national champions than McLaughlin, who speaks of them like a proud papa.
"Once it's over, you relax, you breathe and you have a great time with it," McLaughlin said. "I probably jabber too much. It was really an amazing weekend."
The two throwing national titles were a big boost to Concordia's team finish of fifth place (one point out of fourth). The Bulldogs were tied for first entering the meet's final day.
Both Lurz and Slechta now prepare for the outdoor season, which is slated to begin on March 28 with the Wildcat Classic hosted by Wayne State College.
McLaughlin on Lurz
I've never brought a kid in saying, 'hey I expect you to win a national championship.' That's not what we're here for. We're a developmental program and we want to give kids an opportunity to compete for four more years and have some fun. Along the way, we want All-Americans and all-conferences. We want them to want it. He was a state champion in high school. He doesn't like to get second – never has. He works so hard. He's putting on the right weight. He's all muscle. He's fast and he's strong. He does everything the right way. He's by far the best technician of any thrower I've ever worked with. His rhythm was amazing on Saturday. He walked into the meet and just took it over.
McLaughlin on Slechta
We took it real easy with him the first couple months when he got done with football. When we got back from Christmas break, we threw him into it. He misses out on a lot of fall stuff. He throws really far with a lot of heart and size. He walks into the ring and he's got a lot of advantages at 6-6. Technically compared to everybody else, he's always a couple months behind. He just works hard. He does everything he's supposed to do. He just started throwing as a junior in high school. Josh is an amazing athlete. I'm just happy for him.
Concordia men's track and field all-time national champions
2015 – Josh Slechta (weight throw; indoor)
2015 – Zach Lurz (shot put; indoor)
2011 – Chris Tegtmeier (race walk; indoor)
2008 – Michael Saalfeld (800 meter run; indoor)
2008 – Micahel Saalfeld (800 meter run; outdoor)
2008 – Chris Tegtmeier (race walk; indoor)
2003 – Jeb Myers (pole vault; indoor)
2002 – TJ Kloster (pole vault; outdoor)
2001 – TJ Kloster (pole vault; indoor)
2001 – Quinton Furr (long jump; indoor)
2000 – TJ Kloster (pole vault; indoor)
2000 – TJ Kloster (pole vault; outdoor)
2000 – Brandon Seifert (mile run; indoor)
1998 – TJ Kloster (pole vault; indoor)
1998 – TJ Kloster (pole vault; outdoor)
1990 – Gene Brooks (pole vault; indoor)
1989 – Gene Brooks (pole vault; indoor)
1989 – Gene Brooks (pole vault; outdoor)
1988 – Gene Brooks (pole vault; indoor)
1987 – Gene Brooks (pole vault; indoor)
1985 – Patrick Gellens (pole vault; indoor)
1985 – Patrick Gellens (pole vault; outdoor)
1985 – Patrick Gellens (decathlon; outdoor)
1982 – Kregg Einspahr (mile run; indoor)
1982 – Kregg Einspahr (steeplechase; outdoor)
1981 – Kregg Einspahr (2 mile run; indoor)
1981 – Kregg Einspahr (steeplechase; outdoor)
1980 – Kregg Einspahr (2 mile run; indoor)
1980 – Kregg Einspahr (steeplechase; outdoor)