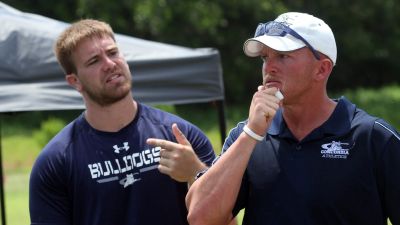 SEWARD, Neb. – It's become a regular occurrence for athletes and staff associated with Concordia's throws program to earn national awards. On Thursday (June 1), the U.S. Track & Field and Cross Country Coaches Association (USTFCCCA) recognized Zach Lurz as the 2017 NAIA National Men's Outdoor Field Athlete of the Year and named Ed McLaughlin the 2017 NAIA National Women's Outdoor Assistant Coach of the Year.
Lurz earned the same national award from the USTFCCCA for his work during the 2016 indoor season. Meanwhile, McLaughlin has collected his fourth national assistant coaching award from the USTFCCCA over the past two seasons.
At last week's outdoor national championships, Lurz completed his collegiate career with three more All-America awards, giving him 17 as a Bulldog. A native of Chadron, Neb., Lurz took third place in both the shot put and hammer and fourth in the discus. Lurz's 17 points led the Bulldogs, who finished fifth in the team standings. Also this outdoor season, Lurz won GPAC titles in the hammer and discus and fourth in the shot put. Lurz departs from Concordia as a four-time national champion.
McLaughlin has been the mastermind behind a throws program that has been a major reason for team national titles in 2015 and 2016. In his 20th year as an assistant coach, McLaughlin led his throwers to a total of 12 All-America awards at the 2017 NAIA outdoor championships. Cody Boellstorff (hammer) and Sam Liermann (shot put) both came away with individual national titles. McLaughlin also coached 2016 NAIA National Women's Outdoor Field Athlete of the Year Liz King. Concordia throwers have won 12 national titles under McLaughlin's tutelage.