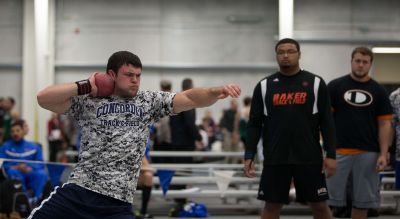 Lurz elevated to national field athlete of week
SEWARD, Neb. – Named GPAC field athlete of the week earlier in the day, Concordia University sophomore Zach Lurz was elevated to NAIA National Field Athlete of the Week on Wednesday afternoon. Lurz joins fellow sophomore Kali Robb as the second Bulldog track and field thrower to receive the honor in 2015.
Lurz has been a dominant thrower ever since beginning his Concordia career in 2014. The 2015 indoor shot put national champion put up automatic national qualifying and runner-up marks in three different events at UNK: discus, hammer throw and shot put. His shot put measurement of 53' 9 ¼" ranks No. 3 on the NAIA national list. The four-time All-American from Torrington, Wyo., has three career GPAC titles to his credit.
A former Wyoming high school state champion, Lurz owns Bulldog program records in both the indoor and outdoor shot put (see ranks below). He also owns top 10 Concordia rankings in four other events.
Lurz all-time school ranks
INDOOR
Shot put: 1st (58' 7 ¼")
Weight throw: 7th (58' 3 ¼")
OUTDOOR
Shot put: 1st (57' 3")
Discus: 2nd (177' 9")
Hammer throw: 5th (186' 3")