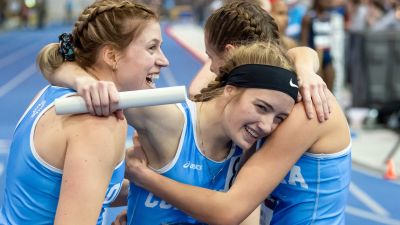 Just in the nick of time, NAIA track and field managed to see the 2020 indoor season to its completion. The indoor national championships wrapped up on March 7 with 12 Bulldogs claiming All-America honors in at least one event. It seemed like a fine way to lead into an outdoor campaign that was originally scheduled to begin this weekend (March 28).
Suddenly, the momentum built up by a GPAC championship season and fourth-place national finish for the Concordia women was halted. However, this is only temporary. In the days since the outdoor season was canceled, head coach Matt Beisel has made it a priority to keep his student-athletes thinking positively.
"You go to nationals and have a meet like we did and that was the icing on the cake," Beisel said. "We were finished (for the school year) without knowing we were finished. We finished on a really high note. I think that's one thing that is giving our kids strength. Almost every one of our seniors had a fantastic finish and I'm very grateful to God for that. My biggest highlight was to see God's hand working in the relationships between our athletes and our coaches. I feel like there is something really big happening within our team."
Ranked in the top five nationally by the USTFCCCA for much of the indoor season, both the Bulldog men and women appeared on track to equal or surpass recent achievements by way of their efforts this spring. Who didn't want to see what national champions Rachel Battershell (400 meters) and Jacob Cornelio (weight throw) would do for an encore? Then there was senior Addie Shaw, who had hopes of claiming the NAIA discus national title for a third year in a row.
Battershell and Shaw were two of the headliners for a women's team that crushed it this indoor season. The team is made up of not only elite athletes at the top, but depth throughout the roster. As Beisel pointed out, if Battershell wasn't the current school record holder in the 60 meter hurdles, then Sarah Lewis would be (Kennedy Mogul is No. 3 on that list). Battershell did not stop with just one record. She broke a 31-year-old school standard in the 400 meters and helped the 4x400 meter relay to yet another school record.
Shaw and senior pole vaulter Allie Brooks were also consistently excellent at their crafts. Shaw kept out-distancing her own program record in the weight throw before landing a PR of 64' 4" for a runner-up placement at nationals (also placed runner up in the shot put). Meanwhile, Brooks cleared 13 feet in the pole vault on three separate occasions. Only an incredible performance by an opponent prevented Brooks from earning a national title of her own.
"There's been great leadership among the women and a work ethic second to none," Beisel said. "Three different girls broke our old 60 hurdles record and you have two sophomores and a junior between them. That's exciting for our hurdles squad. With Addie, she not only beat the record, but has flown past it. Then to have Allie Brooks with her huge increase and to see what Rachel did, it was just one thing after another. A lot of freshmen also contributed in a big way."
Meanwhile, the men's team put together a solid indoor season (third in the GPAC; 17th nationally) while competing without a particularly noteworthy competitor in Cody Williams (out due to injury), the 2019 GPAC Outdoor Athlete of the Year. Cornelio grabbed a large portion of the attention, but the Bulldogs also boasted a strong pole vault crew (All-Americans in Chase Berry and Gavin DeHaai), a rising sophomore in Xavier Ross (400 meter All-American) and a potential future star in freshman Colton Meyer, among others.
Many of those names have provided a foundation, but Beisel hopes to take things to a higher level while hitting the recruiting trail this offseason.
"We are re-doubling our efforts to recruit guys who are going to commit to the program and bring athletic talent," Beisel said. "They want it more than I do. They earnestly desire this and they're all getting better. It's just a matter of time before we have the same combination of developed talent, work ethic and numbers that the women do. It could happen as early as this next year. I'll never be satisfied until both teams are up their as true competitors for the GPAC title and being top five nationally."
There's plenty of time right now to reflect upon the indoor season that finished, but also additional opportunity to look ahead and think about what is next. The coronavirus pandemic has not only wiped out all outdoor meets, it has erased valuable team workouts that now will have to be delayed until the fall. Realizing there are bigger concerns worldwide, one can also ponder the impact on athletes who must find creative means to train.
The cancellation of spring sports compels athletes to consider whether to return for an extra year of unused outdoor eligibility. Imagine what some of Concordia's elite athletes may be capable of as fifth-year seniors next year and beyond.
"Our staff has been very proactive," Beisel said. "The kids know we love them and care about them very much. We are reinforcing that. I've been working my way through the entire roster and making a personal phone call to every kid. I ask them what they want to talk about. I've had some kids break down in tears and I've had some say they're rolling with this. For some who have injuries it's a time to heal. A number of kids have formed video chat groups to support each other. It's going to be okay. My major focus is to consistently touch base with our current, incoming and future athletes."
Cross country season will be up next for Beisel and athletes involved with that particular program. The Bulldog women's cross country team won the 2019 GPAC title and placed 12th at the national championships.
2020 Indoor All-Americans
Rachel Battershell (1st in 400 meters; 2nd in 4x400 meter relay)
Chase Berry (8th in pole vault)
Mika Brees (2nd in 4x400 meter relay)
Allie Brooks (2nd in pole vault)
Jacob Cornelio (1st in weight throw)
Morgan De Jong (7th in weight throw)
Gavin DeHaai (8th in pole vault)
Sarah Lewis (2nd in 4x400 meter relay)
Jacee Pfeifer (2nd in 4x400 meter relay)
Josie Puelz (3rd in pole vault)
Xavier Ross (7th in 400 meters)
Addie Shaw (2nd in weight throw/shot put)
2020 GPAC Indoor Champions
Full All-GPAC list: https://www.cune.edu/athletics/teams/track-and-field/news/battershell-beisel-garner-major-gpac-awards-all-conference-honors-announced
Women's 4x400 Meter Relay (Rachel Battershell, Sarah Lewis, Kennedy Mogul, Jacee Pfeifer)
Rachel Battershell (400 meters; 60 hurdles)
Jacob Cornelio (weight throw)
Kylahn Heritage (3,000 meters)
Kennedy Mogul (pentathlon)
Josie Puelz (pole vault)
Addie Shaw (weight throw)