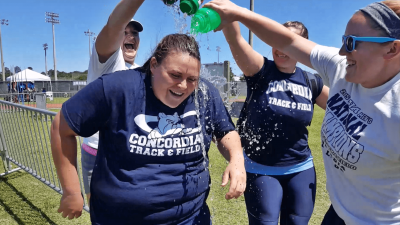 GULF SHORES, Ala. – The emotional rollercoaster of a national championship meet continued into day two at Mickey Miller Blackwell Stadium in sunny Gulf Shores, Ala., on Friday. Immediately after disappointment creeped in, sophomore Sam Liermann picked the mood back up for the Concordia University track and field programs with her first career national title. Her efforts headlined the day that included three All-America performances by Bulldog athletes.
With most running events yet to be scored on Saturday, head coach Matt Beisel's squads own national leads on both sides. Concordia emerged from the outdoor national championships with a men's team title in 2015 and then a women's championship in 2016. The Bulldogs' current national best point totals stand at 29 on the women's side and 26 on the men's side.
Liermann entered the weekend seeded first in the shot put. She lived up to the pressure, nearly equaling her personal best with her winning toss of 48' 8 ¼." In the process, Liermann recorded the 12th individual throwing national title achieved under the tutelage of assistant coach Ed McLaughlin since 2014. Liermann joined Liz King as one of two female throwers to win national titles over the past two years.
A transfer from the University of Nebraska, Liermann claimed her fourth career All-America award. All of them have come in the shot put.
"I kind of had an idea that I could do it," Liermann said. "I just didn't know. I definitely didn't think this year would be the year with coming off surgery earlier in the year. I didn't expect it this year, but I thought it was possible and I wanted it."
The national titles will never get old for McLaughlin, who also helped guide Cody Boellstorff to a championship in the hammer throw on Friday.
"It's super special," McLaughlin said. "To be a national champion is just amazing. I feel it for them and I know how happy Sam was and how excited she was. For her to do it today in a tough competition is pretty amazing. I'm really excited for her."
Liermann was the first of three Concordia All-Americans in the throws on Friday. In the men's discus, Zach Lurz added his second All-America award (16th career) of the weekend, by throwing the discus 171' 1 ½." While outperforming his 15th-ranked mark, Boellstorff took eighth place for his toss measuring 164' 8 ¾." That gave Boellstorff his first career All-America honor in the discus.
"Anytime you're an All-American it's a huge achievement," McLaughlin said. "No one should ever take it for granted. That's Zach's fourth discus All-America honor, and it was his best finish ever in it. That's great for him. With Cody, he just started throwing discus two years ago. During his redshirt season last year he never touched. He's thrown discus for about 12 weeks in his life."
Three other Concordia women competed in the shot put on Friday. Kali Robb (45' ¼") just missed the finals, placing 10th. Addie Shaw placed 18th (43' 3 ¾") and Jazzy Eickhoff came in 23rd (41' 9 ¾"). In his first weekend of national championships experience, JC Cornelio placed 26th (146' 10") in the discus.
On the track, things did not play out as hoped. In the prelims of the 110 meter hurdles, senior Lucas Wiechman got out of the blocks slowly and did not finish the race. Teammate Ben Hulett clocked in at 16.77 (23rd place) as part of a tough sequence for the Bulldogs. A bit later in the afternoon, senior CJ Muller checked in at 1:59.31 in the 800 meters. He did not qualify for the finals of the event.
The day concluded with the men's 4x400 meter relay taking the track. Concordia placed seventh in its heat and 13th overall with a season best time of 3:16.42. The quartet included Wiechman, Jake Rodgers, Nathan Matters and Muller.
Saturday will mark the end for a talented senior group of Bulldogs. Lurz will take aim for his fifth career shot put national title. McLaughlin will try not to get too emotional.
"Hopefully they're dealing with it the right way," McLaughlin said. "Now is the time to go all out and just enjoy it. No matter what happens tomorrow, all six of them (senior national qualifying throwers) have had amazing careers. Everybody would love to have had their careers. We still have one more day of work to do. It's a very special class for me. The last two senior classes have been very special."
2017 All-Americans
Cody Boellstorff: hammer (1st); discus (8th)
McKenzie Gravo: pole vault (4th)
Philip Kreutzer: hammer (5th)
Sam Liermann: shot put (1st)
Zach Lurz: hammer (3rd); discus (4th)
Sydney Meyer: hammer (5th)
Kali Robb: hammer (3rd)
Tricia Svoboda: javelin (5th)
Concordia Saturday Schedule
6 a.m. – Women's Marathon Final (Grove)
1 p.m. – Men's Shot Put Final (Boellstorff, Kreutzer, Lurz)
1 p.m. – Men's Pole Vault Final (Reichert, Wiechman)
2 p.m. – Women's Discus Final (Embray, Robb, A. Shaw, B. Shaw, Skopera, Steinbrueck, Svoboda)
4:20 p.m. – Men's 400m Hurdles Final (Wiechman)