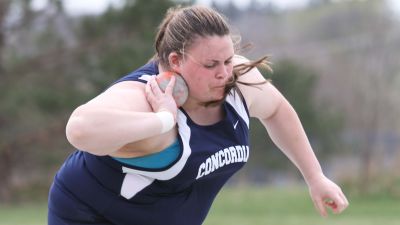 SIOUX CITY, Iowa – A particularly solid meet on the women's side continued on Saturday with Samantha Liermann claiming the third GPAC shot put title of her career. The Bulldogs also produced big points in the women's discus and got a third conference championship of the weekend courtesy of Cody Williams in the decathlon. The 2018 GPAC Outdoor Track & Field Championships were hosted in Sioux City, Iowa, by Morningside on Friday and Saturday (May 4-5).
When the dust settled after a long day that included a lengthy lightning delay, head coach Matt Beisel's squads placed third on the women's side (131.5 points) and sixth on the men's side (71 points). The GPAC is rated as the NAIA's top track and field conference by the U.S. Track & Field and Cross Country Coaches Association.
"On one hand I'm really pleased," Beisel said. "You always want to win (the conference title), but I'm never unhappy with a top-three finish. Our women got third and that's a big improvement from indoor. Our men dropped some points that we shouldn't have. I think it's just going to take another year of developing and bringing in some great, new recruits. With that said, there were a lot of great things today for both the guys and girls."
A well-established star with two shot put national championships to her credit, Liermann is as consistent of a high level performer as it gets. She came close to her NAIA national leading mark of 48' 9 ½" by coming through with a toss of 48' 4 ¾" on Saturday. She completed the meet with a team best 16 points when factoring in her third-place claim in Friday's hammer throw competition. Liermann has now swept 2018 GPAC indoor and outdoor shot put championships.
A freshman from Imperial, Neb., Williams made sure the Bulldog men did not go home without a title. Throughout the two-day decathlon competition, Williams compiled 6,239 points while staving off Doane's Michael Lucas (6,077) and teammate Blake Becher (5,733), a third-place finisher. Williams has risen to the top after placing third in the heptathlon at the GPAC indoor championships. He will be headed to the national championships later this month. Williams amassed 11 team points (eighth in the 110 hurdles).
Liermann is far from the only standout in Concordia's group of women's throwers. She was joined in the finals of the shot put by teammates Adrianna Shaw (sixth), Johanna Ragland (seventh), Jazzy Eickhoff (eighth) and Jodi Fry (ninth). In the discus, Adrianna Shaw placed third with Skorepa (fifth) and Morgan De Jong (seventh) following with all-conference finishes. Female throwers accounted for 50 team points. Twenty-two came in the hammer, where Skorepa and Ragland both turned in big personal bests.
In the heptathlon, freshman Kennedy Mogul made a push for the national championships with a personal best point total of 4,314. In the process, Mogul broke a GPAC heptathlon record in the 800 meters with her time of 2:23.08 in the final of the seven events. Mogul produced 12 team points while also placing third in the 400 hurdles with a PR that met the 'B' national qualifying standard.
"She's an outstanding freshman," Beisel said. "She's done so much so well. She got over 4,300 in the heptathlon and what that did is move her back to 14th place nationally. She has to be top 16 to get in. She had a bad throw in the javelin. Mark Samuels calculated what she would need to run to have a hope making nationals. She had to run under 2:24 and her all-time best was basically 2:28. She went out and ran the race perfectly."
Collectively, Bulldog athletes combined for thirteen top-three performances at the GPAC championships. Junior Josiah McAllister was one of three runners up (joining Simon Brummond and Skorepa) courtesy of his 800 meter time of 1:54.78. The first conference title for Concordia was turned in by Taylor Grove, who won Friday's 10,000 meter race.
Additional third-place claims not previously mentioned were achieved by the Bulldog women's 4x400 meter relay and by Jessica Deterding (14 team points) in the triple jump. The women's 4x4 had hoped to make a run at a first-place finish. It wound up behind Doane and Morningside despite a season best of 3:59.71. The 4x4 team was made up of Mika Brees, Miranda Rathjen, Tori Beran and Jami Nikodym. A blossoming sprinter, Brees also collected all-conference placements in the 100 and 200 meter dashes. Meanwhile, Beran placed fourth in the 400 hurdles.
In the throws on the men's side, Jacob Cornelio placed fourth in the hammer and eighth in discus this weekend. Other All-GPAC men's throwers were Jacob Daack (sixth in shot put), Ryan Sanchez (sixth in hammer) and Jake Rodgers (seventh in javelin).
There will be one last chance for Bulldogs to add their names to the national qualifying field. The program will hold the annual Concordia Twilight Meet this coming Friday (May 11). The meet is set to get started at 2 p.m.