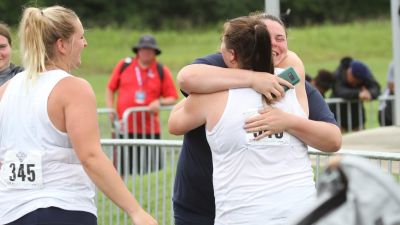 SEWARD, Neb. – Not only were both Concordia University track and field programs and 17 individuals honored on Thursday (July 26), national champions Samantha Liermann and Adrianna Shaw both collected NAIA Scholar Athlete of the Year accolades, as chosen by the U.S. Track & Field And Cross Country Coaches Association. The announcement comes roughly two months after 16 Bulldogs from head coach Matt Beisel's programs were named NAIA Scholar-Athletes.
In order to be in contention for Scholar Team of the Year, a program must finish well at the respective national championship meet and have at least a 3.00 cumulative team GPA. Scholar Athletes of the Year were selected as the highest finishing performers at the NAIA Indoor and Outdoor Track & Field Championships who achieved All-Academic status. Those athletes who won individual NAIA titles ranked higher in the tie-breaking process and cumulative GPA is weighed as the final advantage.
With a team GPA of 3.71, the Concordia women led all NAIA schools and were a strong contender for the Scholar Team of the Year Award. They placed ninth and 12th, respectively, at the 2018 NAIA national championship meets.
A junior from Wisner, Neb., Liermann is piling up awards with one year of competition left at Concordia. Liermann is the USTFCCCA's choice as the 2018 NAIA Women's Indoor Field Scholar Athlete of the Year. Back on June 18, Liermann earned distinction as the College of Sports Information Director's (CoSIDA) Google Cloud Academic All-America® of the Year for women's track and field in 2018. Sporting a near perfect grade point average, Liermann won the 2018 NAIA indoor shot put title and then placed as the shot put national runner up at the outdoor championships. She swept GPAC indoor and outdoor shot put championships this past season. Liermann also broke the school record in the shot put with her performance at the outdoor national championships. She is majoring in recreation and sport studies and business administration.
A sophomore from Bassett, Neb., Shaw became a national champion for the first time this past outdoor season courtesy of her winning effort in the discus. For her combined work athletically and academically, Shaw was named by the USTFCCCA as the 2018 NAIA Women's Outdoor Field Scholar Athlete of the Year. She was also a third-place NAIA indoor finisher in the shot put. At the NAIA outdoor national championships, Shaw qualified in three separate events. Shaw is majoring in TESOL (teaching English to speakers of other languages).
2018 Concordia USTFCCCA All-Academic Individuals
*Individuals were honored based on combined academic and athletic performance in 2018; a GPA of 3.25 or higher was required.
Evan Asche
Tori Beran
Jacob Cornelio
Jessica Deterding
McKenzie Gravo
Taylor Grove
Scott Johnson
Samantha Liermann
Nathan Matters
Josiah McAllister
Johanna Ragland
Miranda Rathjen
Adrianna Shaw
Bethany Shaw
Carley Skorepa
Jan Steinbrueck
Patrick Wortmann