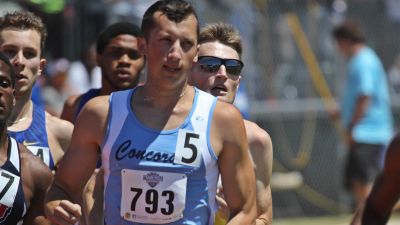 SEWARD, Neb. – A trio of Bulldogs from the powerhouse Concordia University track and field programs have been selected by the College Sports Information Directors of America (CoSIDA) for their work in the classroom and in athletics. Taking CoSIDA Academic All-District accolades are seniors CJ Muller and Lucas Wiechman and sophomore Sam Liermann. Muller is now a two-time Academic All-District choice. The all-district selections were announced on May 25.
The CoSIDA Academic All-District® Track and Field/Cross Country Teams have been released to recognize the nation's top student-athletes for their combined performances athletically and in the classroom. For more information about the Academic All-District™ and Academic All-America® Teams program, please visit http://cosida.com.
Liermann enjoyed a big outdoor season that included championships at both the GPAC and NAIA national meets in the shot put. The native of Wisner, Neb., also placed fifth in the shot put at the 2017 indoor national championships. A transfer from the University of Nebraska, Liermann has already collected four All-America awards as a Bulldog. She is a recreation and sport studies major.
An Omaha native, Muller concluded his collegiate career with six All-America awards. Muller won individual GPAC titles in the 600 meters in each of the last two years. He's also a two-time NAIA Scholar-Athlete. Muller ran a leg for the 2015 All-America 4x400 meter relay that clinched the first-ever team national title in the history of Concordia University. Muller earned his degree in biology.
Wiechman put together an impressive senior season that included an indoor national title in the heptathlon and then an outdoor national championship in the pole vault. His 2017 seasons also were highlighted by seven individual GPAC titles and two conference championships as part of the 4x400 meter relay. Wiechman garnered performer of the meet awards at the GPAC indoor and outdoor meets and at the NAIA indoor championships. He was tabbed the 2017 GPAC athlete of the year for indoor and outdoor. He is now a 12-time NAIA All-American.
District 3 of the College Division covers institutions in the states of Iowa, Kansas, Minnesota, Missouri, Montana, North Dakota, Nebraska, South Dakota and Wisconsin. Academic All-District™ honorees advance to the CoSIDA Academic All-America® Team ballot, where first-, second- and third-team All-America® honorees will be selected. The selections are scheduled to be announced on June 20.
2016-17 academic all-district honorees
(*Academic All-American)
Amy Ahlers, Golf
*Chandler Folkerts, Basketball
Le'Dontrae Gooden, Football
*Hallick Lehmann, Football
Sam Liermann, Track & Field
CJ Muller, Track & Field
Lucas Wiechman, Track & Field
2015-16 academic all-district honorees
(*Academic All-American)
*Amy Ahlers, Golf
*Stephanie Coley, Track & Field
*Chandler Folkerts, Basketball
*Hallick Lehmann, Football
Adam Meirose, Football
Becky Mueller, Basketball
*CJ Muller, Track & Field
*Kim Wood, Cross Country/Track & Field
2014-15 academic all-district honorees
(*Academic All-American)
Amy Ahlers, Golf
*Brendan Buchanan, Soccer
Stephanie Coley, Track & Field
*Chandler Folkerts, Basketball
Jaydee Jurgensen, Baseball
Adam Meirose, Football
Bailey Morris, Basketball
*Rachel Mussell, Soccer
Shawn Rodehorst, Golf
Ben Sievert, Cross Country/Track & Field
Melissa Stine, Soccer