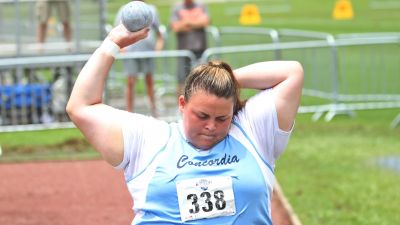 GULF SHORES, Ala. – Star thrower Samantha Liermann keeps finding ways to raise her own high standards. In Friday (May 25)'s action at the 2018 NAIA Outdoor Track & Field National Championships, Liermann broke the program's shot put record while placing as the national runner up. She was one of 14 Concordia University track and field athletes to compete on the second day of the championships in Gulf Shores, Ala.
With 10 of 24 events scored, Liermann and the women's team currently shares 18th place nationally with nine points. On the men's side, head coach Matt Beisel's squad is tied for 38th with one point.
Liermann appeared destined for her third career shot put national title after her second throw landed at 50' 8 ¼," expanding upon her already impressive opening mark of 49 9 ¼." She was the clear frontrunner until Kylie Davis popped off by far her best throw of the day. Davis' winning toss measured in at 51' 2 ¾." Liermann's five throws (one scratch) each out-distanced Davis' second best effort of the afternoon.
A native of Wisner, Neb., Liermann edged above Tierra Hubbard (50' 2") for the school record that had stood since 2010. Liermann has developed into the most consistently elite women's shot put performer in the NAIA.
"I was really excited just to throw over 50. I didn't realize it was a school record," Liermann said. "That's pretty big, I guess. I'm excited about that.
"You try not to get too comfortable (when jumping out on top with the first throw). Probably today I got a little too comfortable. You just try to keep duplicating how that (record breaker) felt."
Sophomore Jessica Deterding made a run at a top eight finish in the heptathlon. She leapt from 14th at the conclusion of day one to 10th by the time everything settled on Friday. Deterding had a strong showing in the long jump (third) and in the javelin (second) on day two of the meet. She finished with 4,413 points – 52 behind the eighth place finisher. With an All-America placement out of reach going into the final heptathlon event (800 meters), Kennedy Mogul pulled out in order to keep fresh for the 4x400 meter relay later in the day.
An indoor All-American in the heptathlon, freshman Cody Williams came up a bit shy of capturing All-America accolades in this weekend's decathlon. He rose all the way up to fourth place on Friday after winning the pole vault (15' 3") competition. He held on to seventh place going into the final event (1,500 meters) before settling for 10th with a personal best point total of 6,344. Teammate Blake Becher placed 16th in the decathlon with 5,840 points.
Senior Scott Johnson, who will also compete in Saturday's triple jump, competed in the long jump on Friday afternoon. He turned in a mark of 21' 8" and placed 26th. On the track, the Bulldog women's 4x400 meter relay clocked a time of 3:58.50 (23rd place), about three seconds slower than its season best. The relay was made up of Mika Brees, Miranda Rathjen, Tori Beran and Mogul.
A day after an eighth-place All-America finish in the hammer throw, Jacob Cornelio checked in 15th in the discus with his toss of 152' 3." In the women's triple jump, Deterding (36' 11 ½") and Leah Larson (no mark) made appearances in the sand pit. Deterding placed 13th.
Ten Concordia athletes will be in action on the meet's final day. It will get started early on Saturday with Taylor Grove pacing the marathon trail in muggy Gulf Shores. The Bulldogs will also have five throwers in the women's discus and three athletes in the men's pole vault. They all have hopes of joining Cornelio, Liermann and Johanna Ragland as 2018 outdoor All-Americans.
Live results can be followed HERE. Stretch Internet, the NAIA's official video-streaming company of NAIA national championship events, will be broadcasting the events on www.NAIANetwork.com. A subscription package to view the entire three-day event is $19.95. For more information, including how to register and sign-up for an account, CLICK HERE. Also keep up with the meet by following @cunebulldogs on Twitter.
2018 outdoor All-Americans
Jacob Cornelio (hammer throw – 8th)
Samantha Liermann (shot put – 2nd)
Johanna Ragland (hammer throw – 8th)
Bulldogs competing on Saturday
6 a.m. – Women's marathon (Taylor Grove)
12 p.m. – Men's pole vault (Simon Brummond, Tucker Platt, Cody Williams)
12:30 p.m. – Men's triple jump (Scott Johnson)
1 p.m. – Women's discus (Samantha Liermann, Adrianna Shaw, Bethany Shaw, Carley Skorepa, Jan Steinbrueck)