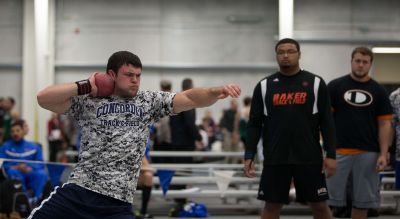 King turns in seventh-place javelin finish at Drake Relays
DES MOINES, Iowa – Six of the 14 Bulldogs who made the trip to Des Moines, Iowa, for the annual Drake Relays competed on Friday afternoon. The first wave of Concordia track and field standouts included a pair of female throwers in addition to the men's 4x400 meter relay. Nine of the 14 Bulldogs will be in action on Saturday (full schedule at bottom).
Defending javelin national champion Liz King acquitted herself well while competing alongside several NCAA Division I throwers. The field of 26 produced six marks better than 150 feet. King came in just under with her throw of 149' 3," placing her seventh. That measurement outdistanced athletes from the institutions such as DePaul, Iowa, Nebraska and Ohio State. King currently ranks second on the NAIA national list in the javelin (150' 5"). Said throws coach Ed McLaughlin, "She had a solid performance. She didn't throw at the level she wanted to, but she did what she had to do to place."
In the college division of the men's 4x400 meter relay preliminaries, the Concordia quartet placed 20th out of 28 while clocking in at 3:16.65. The group of Jaap van Gaalen, Tai Pleasant, Matthew Chapa and CJ Muller finished just off the automatic national qualifying time of 3:16, but did hit the 'B' standard mark of 3:17.
Making her first-ever appearance at the Drake Relays, sophomore Katricia Svoboda recorded a toss of 127' 7" in the discus. She ranks No. 4 in the NAIA in the event with her personal best of 157' 6" posted at the UNK Loper Invite on April 4.
Saturday, April 25
9 a.m. – Men's discus (Zach Lurz)
9 a.m. – Women's hammer throw (Liz King, Kali Robb)
11:05 a.m. – Women's 4x800 meter relay prelims (Randi Janzen, Kim Wood, Erika Schroeder, Marti Vlasin)
12 p.m. – Men's hammer throw (Cody Boellstorff, Josh Slechta)
1:30 p.m. – Men's shot put (Zach Lurz)