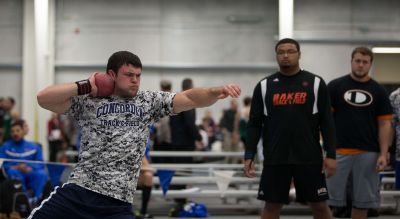 King, Lurz named GPAC field athletes of week
SEWARD, Neb. – For the third-consecutive week, the highly-rated Concordia University track and field program has swept weekly field honors from the GPAC. On Wednesday the conference announced sophomore Zach Lurz and junior Liz King as the latest GPAC/Hauff Mid-America Sports Field Athletes of the Week. It's the third time Lurz has garnered the award in 2015. He was named NAIA national field athlete of the week on April 8.
Lurz enjoyed a monster meet over this past weekend at the Jim Dutcher Memorial Classic hosted by Doane. The native of Torrington, Wyo., put up season best marks in each of his three events while winning event titles in the shot put and discus. Lurz regained the national lead in the shot put with his toss of 56' 5 ¼". The 2015 indoor shot put national champion also ranks fourth nationally in the hammer throw (186' 3") and fifth in the discus (174' 1").
Meanwhile, King continued her domination in the javelin. She won the event at Doane by nearly 13 feet with her throw of 148 feet. The defending javelin national champion currently ranks second nationally with her season best toss of 150' 5." The native of Billings, Mont., also checks in at No. 3 on the NAIA national hammer throw list (182' 7").
Lurz, King and the rest of the Bulldogs will be in action this week at three different meets. They host the Concordia Mid-Week Challenge on Wednesday (April 22). View the event schedule HERE.
2015 Concordia GPAC athletes of the week
Jan. 28 – Zach Lurz
Feb. 11 – Stephanie Coley
Feb. 18 – Kali Robb*
April 1 – Cody Boellstorff
April 8 – Zach Lurz* and Cassie Starks
April 15 – Cody Boellstorff and Cassie Starks
April 22 – Zach Lurz and Liz King
*NAIA National Field Athlete of the Week