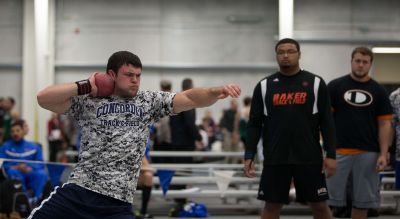 King breaks conference record, wins two of four Bulldog GPAC titles on day one
SIOUX CENTER, Iowa – Liz King broke a GPAC meet record as part of one of her two conference titles and the Bulldog men's hammer throw nearly swept all eight all-conference placements as part of an impressive first day of the GPAC outdoor track and field championships on Friday. Both Concordia University track and field squads own conference-leading point totals entering day 2 at Dordt College in Sioux Center, Iowa, which is serving as host for the first time ever at a GPAC outdoor meet.
Both of head coach Kregg Einspahr's teams entered the conference championships with No. 3 national rankings. The Bulldogs stand a good chance of capturing the 26th and 27th all-time top-two combined conference finishes in school history. The men have 57.5 points (five events scored) compared to second place Doane's 28. The Concordia women have totaled 60 points (five events scored). Doane has totaled 42.
"By and large some great things happened today," Einspahr said. "We had some real good performances in the throws and from Jordan Potrzeba in the 10,000. We came through with some huge points in the men's hammer throw. To score 37 out of 39 points in one event is outstanding. And Liz King set a new meet record. We got off to a good start."
Not surprisingly, King, defending national champion in the javelin, won the GPAC javelin title for the third-straight season. She did so with a season best mark of 151 feet, outdistancing the second-place finisher by more than nine feet. Rising to the occasion, King then busted out a GPAC meet record hammer throw of 189' 10" for another conference title. She now owns conference records in both the javelin and hammer.
Similarly impressive, Bulldog men's hammer throwers took first, second, third, fourth, fifth, sixth and eighth in a complete wipe out of their conference competition. National event leader Cody Boellstorff won the event with yet another mark over 200 feet (203' 8") for his first career conference title. In addition, Zach Lurz (second), Josh Slechta (third), Jose Rojas (fourth) and Trey Farmer (fifth) all eclipsed national qualifying marks as part of all-conference efforts.
Concordia's other event title on Friday was delivered by Cassie Starks, who continued her huge senior season. She won her second career GPAC pole vault title by clearing 12' 4 ½" in holding off Michelle Toukan of Hastings. Starks, the program record holder in the indoor and outdoor pole vault, swept GPAC pole vault titles in 2015. The Bulldogs also got a third-place finish in the event from Cynthia Mick (11' 6 ½").
Also in the women's hammer throw, all-conference throws were turned in by Kali Robb (third, 168' 5"), Kattie Cleveland (sixth, 157' 8") and Nicole Perry (eighth, 156' 11"). Assistant coach Ed McLaughlin's javelin competitors produced two all-GPAC honorees other than King: Katricia Svoboda (fifth, 131' 2") and Slechta (164' 2").
Potrzeba, lauded by Einspahr, broke through with a second-place 10,000 meter time in 32:59.86 for eight team points. In the same race, teammate Josh Allwardt finished seventh. On the women's side, freshman Emily Sievert placed fifth in the 10,000 meters (40:19.03).
In the prelims of the 100 meter hurdles, junior Shelby Stolze checked in fourth at 14.81 for a new school record. In the men's 110 meter hurdles, sophomore Lucas Wiechman places third in 14.89. The finals of both races will take place on Saturday.
In the 4x800 meter relays, the Bulldog women (Marti Vlasen, Erika Schroeder, Randi Janzen, Kim Wood) ran a season best of 9:18.46 for a third-place claim. The Concordia men (CJ Muller, Matthew Chapa, Patrick Wortmann, Jaap Van Gaalen) finished fifth in 7:48.42.
In the multi events, two Concordia women's heptathletes rank among the top eight heading into Saturday: Karissa Segelke (fourth, 2,681 points) and Ericka Fisher (eighth, 2,206 points). On the men's side, Lucas Wiechman (second, 3,351 points) and Brandon Ramos (eighth, 2,917 points) are in position to earn all-conference recognition.
The conference championships continue on Saturday with multi events resuming at 9 a.m. Field events pick up at 12 p.m. and running events begin at 12:30 p.m. The awards ceremony is slated to begin at 6 p.m. from Sioux Center. Follow live results HERE.