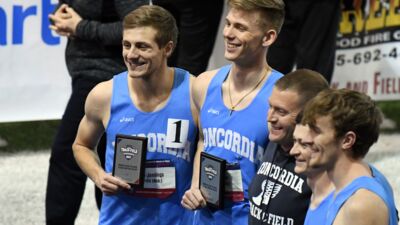 In his words, Jacob Jennings was taking a "risk." About this same time two years ago, Jennings began transitioning into a sport he had never competed in. He hadn't bothered to pay much attention to it because he thought it to be a "pretty boring sport." A pandemic shutdown, a broken foot and a desire to keep competing all led into a brave new world for the native of Shawnee, Kan. Let's be honest, it wasn't totally unlike Jennings to reverse course without much notice.
A few years earlier, Jennings was all set to move into a dorm and start classes at a school near his hometown. Then in the spring of April 2020, instead of ending his collegiate athletic career, Jennings had an idea. He was going to stay in school to get his master's degree anyway.
"I reached out to Coach (Matt) Beisel probably in April of 2020," Jennings said. "I didn't do track in high school or anything. I was mainly able to play basketball because I was athletic and could guard okay. I was a go-getter. I could jump and run and I was hoping those skills would translate. I just told him my background and we talked – and he said he would love to have me. That summer I worked out and did my own thing. I knew I was going to be working on my MBA. Why not do something? Track seemed like a good fit."
Jennings is now two full years into a collegiate track career that has seen him go from having no idea what events best suited him to helping two different 4x400 meter relays to All-America awards. Not only that, he's one of the top open 400 meter runners for Concordia Track & Field and was part of a GPAC champion 4x100 meter relay squad. In other words, he's become an essential member of the Bulldogs while competing in a sport he previously didn't understand. He's also earned an undergraduate degree, finished a master's and already has a foot in the door in the business world.
It could only be God's plan. That would explain how Jennings abruptly walked away from the University of Kansas and took up a spot on the Concordia Men's Basketball team. No, Bill Self didn't recruit Jennings to play for the Jayhawks – "I wish," jokes Jennings. But Jennings originally felt like KU was the place for him to grow up and get his education.
Recalls Jennings, "It was a Wednesday morning and I was supposed to move into KU on Thursday. Then school started the following Monday. I decided, along with my parents, to switch at the last minute. I called Coach (Ben) Limback to see if I could still play and he said he would still love to have me. That Wednesday morning I switched and that Friday morning I drove up and moved in for school. It was stressful, but it worked out."
Jennings eventually worked his way onto the varsity roster and appeared in six games for the 2019-20 Bulldog squad that won the GPAC tournament title and advanced to the national tournament. That was Jennings' final season of basketball. He broke his foot in February and that could have been the end. It could have been the moment he decided to ride off into the sunset and simply finish out his academic course work. Not only did Jennings give track a try in 2020-21, he enjoyed it so much he chose to run it back again in 2021-22.
"The way that year ended with COVID was so weird," Jennings said. "I broke my foot in practice that February so I didn't really get to be involved. It just didn't finish how I wanted it to. I wanted to do more for myself and really liked the community. With basketball you immediately had 25 friends when you joined the team. I knew a couple track guys, but I was still mostly new to track. The decision this year to come back was because I really grew into that team. It's really fun to be with your friends every day. I'm half in the workplace and half in college still."
There's been a close bond that has formed between Jennings and relay teammates like Cade Kleckner, Colton Meyer, Joel Rathe, Xavier Ross and others. The stories that have brought them together are part of what makes the friendship that much more special. Like Jennings, Kleckner came to track after starting out in another sport (baseball) at Concordia. He's now the school record holder in the outdoor 200 meters.
Said Kleckner prior to the start of indoor season, "We're super close. We see each other every day and we practice every day. Those are guys I'm very close with. We've grown that bond. Jacob and I came over from different sports. We just didn't know what we were getting into. We were a young group on the track even though some of us were older academically."
For Jennings, it will be hard to top the moment that occurred this past March 3 when he and his fellow 4x4 teammates entered the national meet seeded 16th in the NAIA. The Bulldogs appeared to be longshots to even sniff any type of All-America award in the event. They were even down a couple key runners who were unable to be at the meet. Jennings, Kleckner, Meyer and Maccoy Menke beat the odds and placed eighth in the prelims in a performance Jennings will never forget. That put them on the podium once again.
The humble Jennings says that even to this day, he's still learning the ins and outs of perfecting his craft. Admitted Jennings, "I'm still learning. Just a couple weeks ago I pushed way too hard on the back stretch and had nothing left the last 100. I had a better one at Doane where I maintained speed throughout. There's definitely technique to it. I didn't realize that at first. The most unathletic I've ever felt was running my first time trial in the 400. I had to learn how to run it better. Coach (Mark) Samuels was telling me things I didn't understand."
Through some of those trials, the frustrating moments and the triumphant achievements, Jennings has packed in more experiences than most people will get out of a collegiate athletic career. It's not the path he could have envisioned years ago, but it's one he's thankful for. When track finally does come to a halt, Jennings will still be around the area, working for the Seward Chamber of Commerce. It's a position that pole vault coach Jason Berry helped connect him with.
For a few weeks longer, the rigors of a full-time job can wait. Says Jennings, "It's nice to not grow up yet, sort of. I still get to be with my friends every day and get to run."